ZetaChain partners with SushiSwap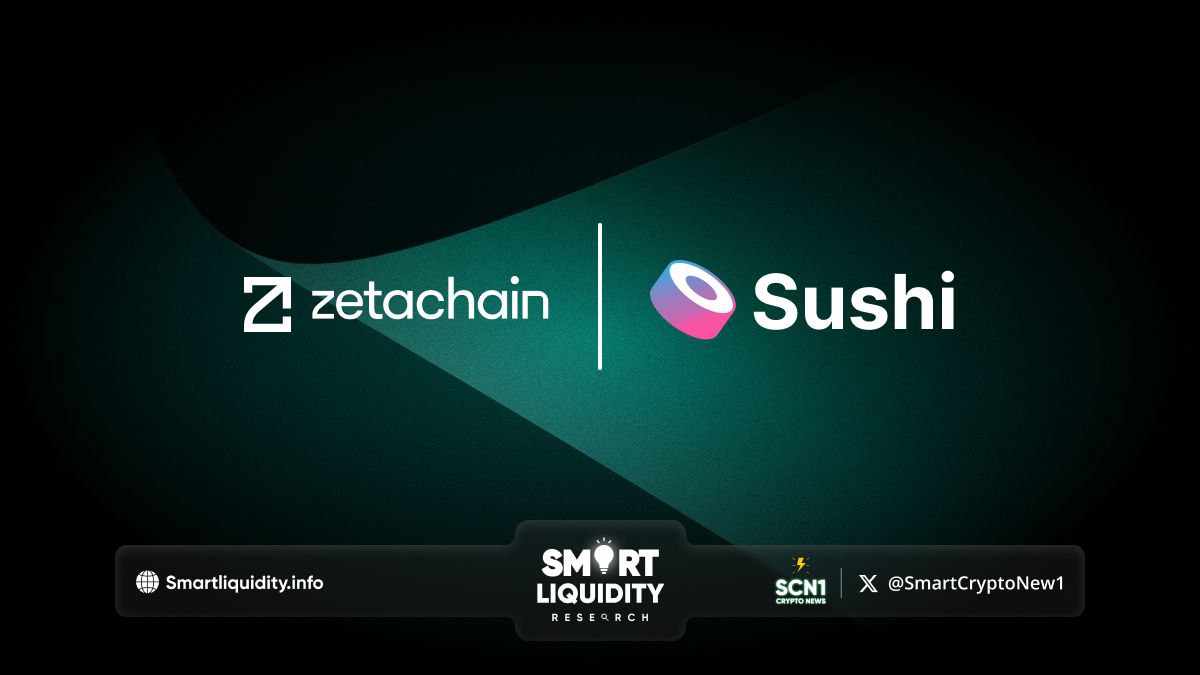 ZetaChain partners with SushiSwap, a leading multi-chain decentralized exchange (DEX) deployed across 30+ chains and featuring unique cross-chain swaps via SushiXSwap.
Sushi's Omnichain DEX on ZetaChain will let you swap Bitcoin and any other asset in a single step without wrapping or bridging.
ZetaChain's Vision for a Borderless Blockchain Ecosystem
ZetaChain aims to create a platform that provides global access, simplicity, and utility on any blockchain. To achieve this objective, they are committed to delivering a cost-effective, speedy, and secure method for users to transfer value across any chain. They are thrilled to announce their collaboration with Sushi to establish an omnichain DEX that accommodates all chains, including non-smart chains such as the Bitcoin network.
Head Chef Jared Grey says, "Sushi's partnership with ZetaChain represents a significant advancement for DeFi. The capability to swap Bitcoin natively, eliminating the need for wrapping or bridging, is a game-changer for the industry. It's not only about the increased liquidity from Bitcoin; it's about beginning a new chapter in DeFi, where we see more practical use cases of interoperability and enhanced connectivity".
Leveraging Omnichain Smart Contracts for Interoperable Applications
ZetaChain's Omnichain Smart Contracts allow developers to write and deploy EVM-compatible smart contracts with access to data and assets across all chains. With this capability, developers can use trusted Ethereum smart contracts, such as those used by Sushi, to build interoperable applications on ZetaChain. It's as if everything were on a single chain!
Lead Sushi Developer Jiro says, "ZetaChain's EVM compatibility streamlines our integration process. Using our existing Ethereum smart contracts on ZetaChain will create a lot of new use cases for Sushi. For example, with the introduction of SushiXSwap, our cross-chain swap, we'll be able to offer Bitcoin swapping across 30 different chains. We're keen to deploy on the testnet and see where the native Bitcoin swap will take us!"
Understanding Omnichain dApps and the ZRC-20 Token Standard
Omnichain dApps come with built-in support for the cutting-edge ZRC-20 token standard. This allows developers to create applications that use and transact with native fungible tokens, including ERC-20s, Gas Assets, and Bitcoin, all on a single chain. Essentially, ZRC-20 is an extension of the popular ERC-20 standard, and it's capable of supporting deposits from and withdrawals to connected chains.
The deployment of DEX on ZetaChain for Sushi empowers trading of BTC without wrapping, allowing for seamless trading between DeFi assets on different networks in a decentralized and permissionless manner. This application unlocks the potential for untapped liquidity on the Bitcoin network, which has traditionally operated independently from the rest of the DeFi ecosystem.
Transforming User Experience with Omnichain dApps
Omnichain dApps offer a seamless user experience, eliminating the need to manage various wallets across networks, worry about gas assets, and deal with complex UIs that have questionable trust models. With a single wallet, you can easily engage with apps like Sushi to exchange real assets like BTC.
The assets settle instantly, as if everything is on a single chain. This reduces fees, gas costs, and slippage because users deal with a single contract that manages multiple tokens with simple token transfers instead of multiple smart contracts on different chains that rely on asynchronous message passing for cross-chain transactions.
FOLLOW ZetaChain
RESOURCES