Introducing SIDUS HEROES, A New Game That Addresses Shortcomings in the Blockchain and Traditional Gaming Industries.
SIDUS HEROES is a new Play-to-Earn (P2E), NFT and RPG game that is about to compete with AAA-level video games and set new standards in the blockchain gaming market. The game inherits traditional NFT gaming attributes like a DAO community and NFTization of in-game items. SIDUS HEROES also addresses issues that are relevant to the blockchain industry, for instance low content quality and lack of fascinating storylines that keep players gripped.
The game is set in a space metaverse at a time when technological advancements have reached the level of merging with all living beings. All characters belong to one of several blockchain races and embody that chain's strongest attributes. The game provides users with multiple gaming scenarios: interstellar exploration, battles and settlements, as well as scope for political, social and economic development.
SIDUS HEROES is a multi-player RPG game that transports users to a universe that is inhabited by 12 races, where Heroes that have become one with technology and represent one of the top blockchains. Irreconcilable differences between the races and constant power struggles resulted in an intergalactic war and never ending clashes in the Battle Arena. The Arena is the main ingredient of SIDUS HEROES' fighting mechanics. Players fight solo or form fighting legions to compete with an enemy race or team. Through their fighting, Heroes get to upgrade themselves, earn the trust of other players and if elected, represent their race on the political stage.
The Original SIDUS: NFT Heroes collection consists of 6,000 unique characters that have different levels of rarity (Original, Rare, Legendary, Exclusive and Partnership) and 13 different inherited traits. This combination of attributes determines each Hero's rarity level. Besides serving as an entrance ticket to SIDUS, NFT Heroes from the Founders collection can be used for NFT staking and NFT wrapping.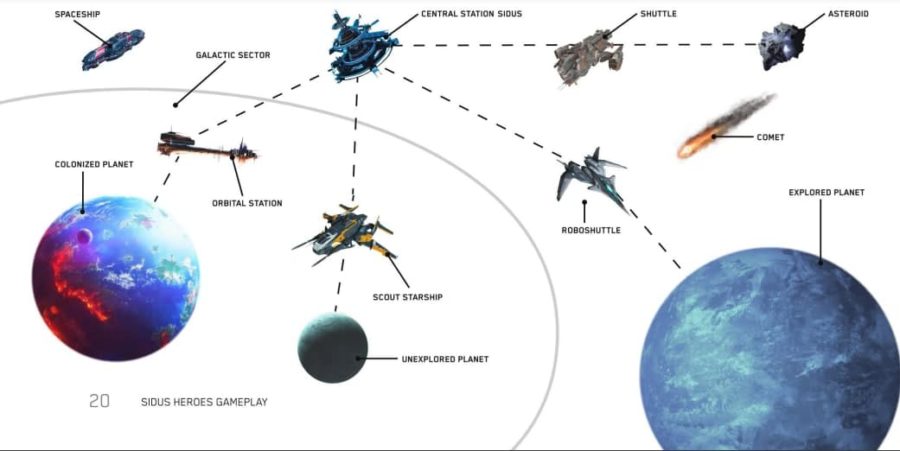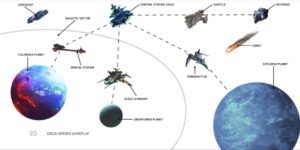 SIDUS HEROES IGO will be held on BLOKPAD
The BLOKPAD IGO for SIDUS NFT Heroes will take place in early December using $BLOK as the token to stake to gain an allocation. The $BLOK token is available to purchase on QuickSwap, KuCoin, Gate.io and many other exchanges.
Bloktopia is a VR skyscraper made up of 21 floors to commemorate 21 million Bitcoin. It will act as a central hub and welcome all levels of crypto experience. For the first time ever, users will have access to crypto information and immersive content all in one place.
SIDUS takes this concept to another level and extends the game's reachability by being accessible in one click. To start playing, users don't need to download an application onto their Android, iOS, PC or Mac. They just have to open up their browser and type in the game's URL. This is possible because of the unique WebGL technology that the SIDUS team has been working on for 3 years. The technology is compatible with Unreal Engine 5 and supports high-quality 3D art and a high-efficiency engine. The technologies powering SIDUS are what gives a larger number of users access to the game, since all they need to do is type the website URL. Players from anywhere in the world can enjoy SIDUS gaming scenarios and monetize the time they invest in the game.
SIDUS HEROES Unique Selling Points?
Battle Arena
A player can challenge other players to duels in the Battle Arena or build fighting legions and try to rise to the top.
It is the most important and exciting event in the Universe – players entering the PvP battlefield and fighting one another.
Explore the open universe
Players can explore all corners of the metaverse and seek out many adventures in Sidus NFT Heroes
Heroes can equip their spaceship for long travels and pillage the galaxy as pirates plunder the seas.
The game starts out at the central station, where every player is located. Every corner of the universe is an economic pretext, except for the central station, which is in the public domain. Players can travel between planets, stations, solar system, and complete various tasks. Planets are also economic entities.
Leveling and character development
During their spare time in between completing tasks and battling against other clans, the Heroes are engaged in the development of their indicators, which will later be used on the battlefield against a formidable opponent. Players are involved in the leveling of their Hero's characteristics and choosing the best weapons and clothes. Every Hero can be improved and may acquire new talents and skills.
Become a builder
Heroes with a creative bent can become builders and farmers, generally working to transform their own little corner of the universe into an oasis amid the world of chaos.
There are three types of land on each planet and station – neutral, disputed and private. Neutral land cannot be acquired and is not owned by anyone. The disputed land is given as tournament trophies and belongs to the player until the next tournament. Private land can be sold to a player at a fixed price, auctioned off by the system or purchased on the secondary market.
Become a politician
Players leaders can participate in the political life of SIDUS City. They can take part in

political races

, representing their people and lobbying for their interests.
The game implements an intricately developed political system, with factions, parties and council members. Elections are even held, transparently and honestly, all of which influence the development of the game and the adoption of

key decisions

within the framework of the evolving universe.
Pets
On their journey through the universe, Heroes will encounter various space creatures. If a user finds an animal they like, they can buy it and raise it to be the most loyal companion who will defend them in battles and accompany them on their travels.
Every player can adopt a pet or acquire one in any of the missions. A player can have several pets, but only 1 can be taken with them onto the

battlefield

. The pet is also a playable character and is the companion of the main Hero who helps them and boosts them up.

Pets

can be found on different planets and may easily be sold or exchanged at the bazaar.
Craft and trade
Exchange and trade your in-game items at the inter-galaxy bazaar, where anything from skilled fighters to artifacts from distant comets can be found. Some items: gun, clothes, backpack, glasses, etc.
SIDUS HEROES TOKEN 
SENATE

(

DAO Token

)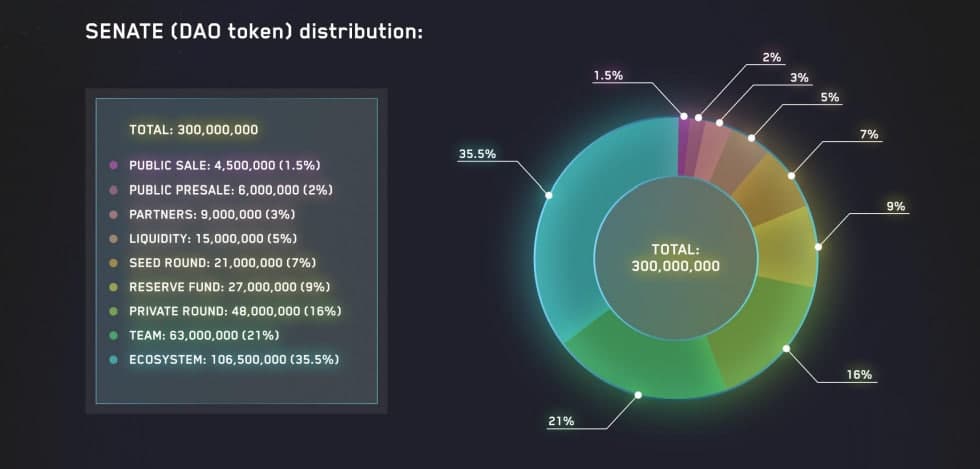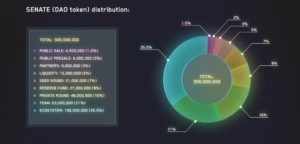 SIDUS

(

Gaming Token

)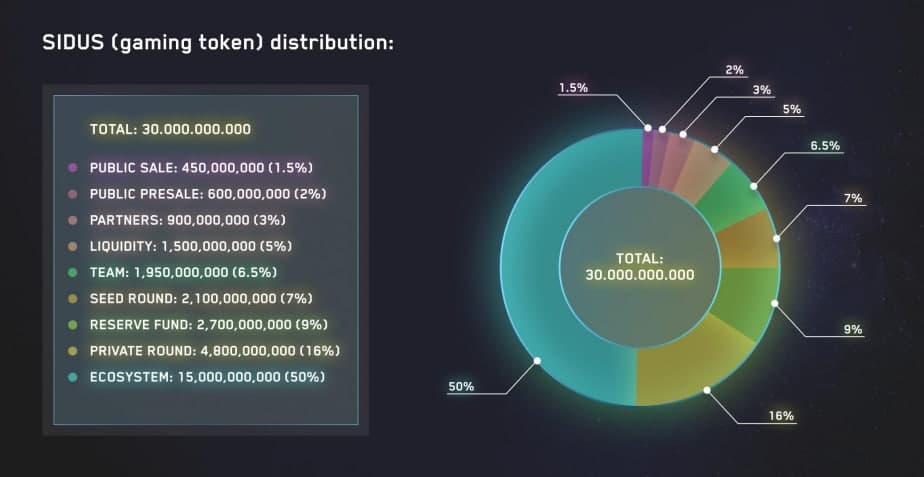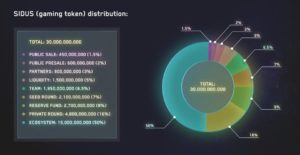 SIDUS HEROES SOCIAL
Website | Twitter | Discord | Medium | Telegram | Youtube | OpenSea |