Monaco Planet is an NFT/Crypto Social Financing (SocialFi) platform. Monaco Planet is committed to becoming the leader on the next-generation SocialFi circuit and playing an essential role in the road from Web 2.0 to Web 3.0.
To make their platform more immersive, the company has created a metaverse (a virtual world that users can access via the internet) with a unique story behind it. As per the story, in 2150, a giant black hole is approaching the solar system which will turn Earth into stardust. Thus, humans are looking for a new place to settle down and find "Monaco", which is a planet covered entirely in water. To survive, humans have now begun living on yachts. The users of the platform are supposed to imagine themselves as the people who have migrated to Monaco Planet.
After going live on November 28, Monaco Planet has exploded out of the starting blocks, gaining over 60,000 active users in just three weeks. While these numbers would be impressive for any new crypto project, they're especially important for a new decentralized social media platform. Users initial enthusiasm and rates of activity seem to support the idea the Monaco Planet's "write to earn" content mining model is an innovative and attractive approach.
As users connect to Monaco Planet directly through their crypto wallets, NFT collections are on display and currently feature over 400,000 digital assets with a combined value of over $100 million. Early users are already holding MONA tokens and top contributors are earning in the neighborhood of over 88,895 MONA (worth $19,000).
Functionality
The most attractive feature of the platform is that, unlike the NFTs we have seen so far, Monaco Planet's NFTs are actually functional. It means that they work just like cryptocurrencies, with which users can make financial transactions. Users earn Yacht NFTs by creating content. All NFT holders will also have the privilege of receiving exclusive offers and access to a whitelist regarding joining hot projects and the ability to pin posts, broadcast and set up groups.
Any advertisers who want to use the platform to make money off of this user-generated content will need to buy and burn NFTs. The burning process permanently deletes the NFT off the blockchain. The burning process is considered a transaction and, thus, advertisers are charged a certain fee for burning the NFT. The platform uses the burning fee as a source of revenue and passes along benefits to users by paying them in NFTs.
Imagine for a moment if the large incumbent social media platforms paid you to use their platforms and share your content! While this seems very unlikely to happen anytime soon, the fact that Monaco Planet's platform and content mining model are being so warmly embraced suggests that web3 social media could eventually give the big boys a run for the money.
"Monaco's "write-to-earn" approach is the correct way to build a social platform in the age of web 3.0," says current #2 top user 'L'. "It rewards users for sharing and engaging in the community. With MONA now tradable on BSC, I already see people writing more posts and improving content quality. If this positive trend continues, I believe Monaco can build a powerful crypto native community. This is just the beginning. WAGMI!"
Currently ranked in the top 10 alt coins on Pancake Swap and number 28 of the entire BSC ecosystem, MONA and Monaco Planet are enjoying early success in drawing and driving users to the platform. While good DeFi and GameFi projects hope to have users in the thousands after their first month, Monaco looks on track to top 10 by year's end.
Monaco Planet's current top user has displayed over $3.5 million worth of NFTs, which are factored into the weighting of the rewards generation system. Based on the weighting and their activity in generating content and participating in the platform, the top user is currently generating rewards upwards of $19,000.
"An advantage of Monaco is the wallet address login. They're making good use of this to develop the market," says current top user 9x9x9. "Through the lottery function, users can directly initiate a lottery and pledge their NFTs. Users are more comfortable participating in this type of lottery because their wallets are already linked. While 99% of the NFT draws on other social media are dubious, they can avoid this problem by logging in with our wallets."
Another feather in Monaco's cap is its position in helping give birth to a whole new wave of crypto native KOLs, who now earn their own rewards on the platform.
Monaco platform is already LIVE for general public. All users will be able to start earning rewards through content mining.
While all new projects experience certain hiccups or speed bumps in their early days, Monaco seems to have met some of the more frequently occurring challenges with grace. For example, in response to certain malignant actors who tried to game the platform, Monaco implemented DAO-style governance where users can vote to ban or restrict certain types of activity and actors.
Another early challenge came with the initial Yacht NFT drop on Ethereum, which sparked a massive gas price war. Responding to users concerns, Monaco implemented a gas subsidy program to compensate users for the high gas fees.
Recently, with the switch to Binance Smart Chain, users have avoided most fees all together. Furthermore, the bridge effect from BSC has been bringing more and more new users to Monaco.
Having set sail in early December, the first month of success seems to support Monaco's original bet that the world is finally ready for decentralized social media. While planning to "return control of social media to the hands of the actual users" may have sounded like an extremely bold statement at first, that's exactly where Monaco Planet appears to be headed.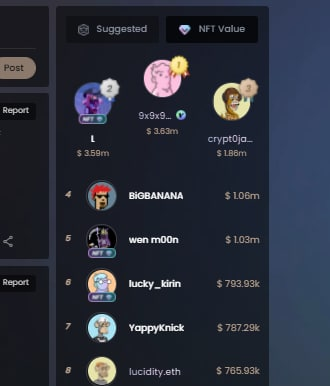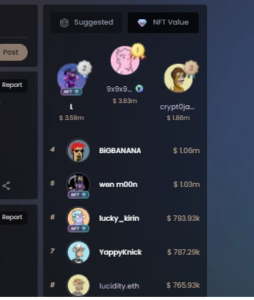 The person who received the highest reward of MONA on the platform so far is actually the person with the highest NFT valuation in wallet, who is 9x9x9. He hold $3.6 million worth of NFTs in his wallet, and he has obtained a total of 88,895 MONA, which is worth $19,000 at current price.
All you need to do is connect your wallet, showcase your NFTs, and you can enjoy free-mining MONA on Monaco Planet!
MONACO PLANET SOCIALS 
Website | Twitter | Opensea | Discord | Instagram | CoinMarketCap | CoinGecko