Nomadland IDO Launching on Oxbull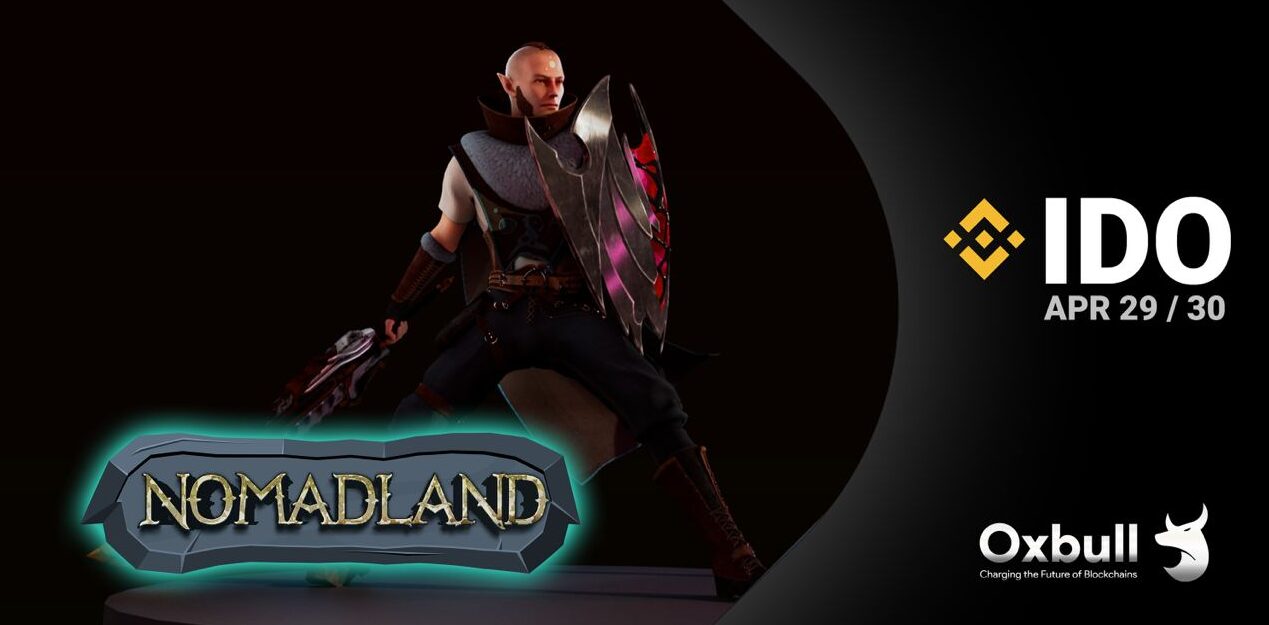 TL;DR
To buy Nomadland, a Blockchain based NFT Action RPG and Strategy game built on the Unreal Engine:

1. Hold the minimum required OXB amount for Smart-Stake before 27th April 2022, 0001 UTC.

2. head over to the BSC pool page to buy on the 29th April 2022, 1630UTC onwards.

For full details, read on:
Overview of Nomadland
Nomadland is an action RPGis a genre of games that combines core elements from both the role playing and Action genre that emphasizes real-time combat where the player has direct control over the characters.
Built with Unreal Engine, NOMADLAND uses their proprietary "NOMADLAND NFT GAME FRAMEWORK" as a means of providing players in-game immersion whilst hoping to provide:
a platform for players to showcase their own NFTs
Managing inventory and items across the Nomadland NFT Framework as each NFT serves multiple uses.
a means of generating income from NFT ownership
Tokenomics
The native $NOMAD tokens will primarily be used as a the in-game currency and as a medium to acquire NFTs.
$NOMAD can be obtained via:
Ranking game rewards
Trading of In-game farming and resource production
Staking
Trading game resources such as land or NFTs
Total NOMAD Supply: 100,000,000
Seed: 12%, 7.5% to be released during Token Generation, followed by linear release over the subsequent 20 months
Private: 10%, 8.5% to be released during Token Generation, followed by quarterly linear release over the subsequent 1 year
Public Sale: 2%, 20% to be released during Token Generation, followed by 20% each subsequent month.
Team Tokens: 20%, Locked for 10 months, followed by 24 months linear release
Advisors: 3%, Locked for 6 months, followed by 18 months linear release
Liquidity Pool: 10%
Ecosystem and incentives for creators: 10%, Locked for 1 month, to be used as incubation fund for creators
Reserve: 13%, Locked for 6 months
Marketing: 20%
IDO Price: $0.25
Listing Price: $0.25

Listing date is currently being planned on on the 2nd May 2022
Participating in the IDO
To find out more about how to participate in the IDO on the day itself, read here. Using the Smart Staking approach to Oxbull.Tech's IDO model, The IDO details as follows:
Tier-1 and 2 Qualifying Deadline: Hold OXB by 27th April, 0001UTC
Tier-1 Contribution: 29th April 2022
Tier-2 and 3 Contribution: 30th April 2022
Tier-3 Gleam Link: To Be Released
Contribution opens here:https://www.oxbull.tech/#/presale
Claiming the Tokens:
Upon TGE, token claims can be done manually via Token Claim.
Any unclaimed tokens will be accumulated for future claims.
Please follow the official Oxbull telegram group for further details of the claim time and changes, if any.
About Nomadland
Nomadland is a blockchain based NFT's Action RPG & strategy game built on Unreal Engine. Gamers can buy land, build farms, battle epic monsters, evolve in rank and produce new weapons and armours, fight in Arena against other players.
About Oxbull
OxBull is the launchpad and startup incubator developed by a group of talented and avant-garde tech enthusiasts, and was launched in February 2021. OXB is the governance token of the OxBull infrastructure.
SOURCE