Orbs Network collaborates with Crypto.com which results to all Orbs project information can now be found in the Crypto.com price page.
Through the Orbs (ORBS) Price Page, you can now directly access Orbs's RSS feed and acquire the latest news and updates on Orbs. On the price page, you can also obtain all of the information you require on the Orbs project, including price tracking and statistics, Orbs trading market data, Orbs ERC20 smart contract information, links to additional content and social media, etc.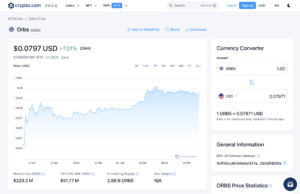 (Photo courtesy of Orbs Network)
In addition, the Crypto.com price page enables users to add the ORBS token price tracker to their watchlist as well as set up price and price movement alerts.
Orbs Price Widget by Crypto.com
In addition to being added to the Crypto.com price page, the Orbs team has integrated a live price widget on the Orbs PoS Analytics webpage. The Widget also links to the Orbs price page on Crypto.com, which allows Orbs token holders easy access to the Orbs token information provided by Crypto.com.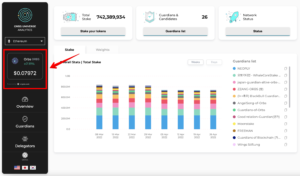 (Photo courtesy of Orbs Network)
The addition of Orbs to the ecosystem of a major crypto project like Crypto.com is an important step to establish the credibility of the ORBS token as well as raise awareness about the project with a huge number of crypto users. Orbs team hope that this will pave the way for additional integrations and collaborations with Cypto.com.
"Orbs' unique features designed for interoperability with EVM-compatible blockchains, together with its decentralized network of nodes, allow it to be set up as a separate execution layer ("L3") operating to enhance the capabilities of EVM smart contracts. By working in conjunction with other L1 and L2 solutions as part of a tiered blockchain stack, Orbs opens up a whole new spectrum of possibilities for Web 3.0, DeFi, NFT and GameFi."
ABOUT Orbs Network
Orbs is a public blockchain infrastructure executed by a decentralized network of permissionless validators using Proof-of-Stake (PoS) consensus.
ABOUT Crypto.com
Crypto.com is the cryptocurrency and payment platform encompassing a range of products aimed at promoting the adoption of cryptocurrencies on a wider scale.
RESOURCES
Orbs Network News