Matrixswap x Cronos Integration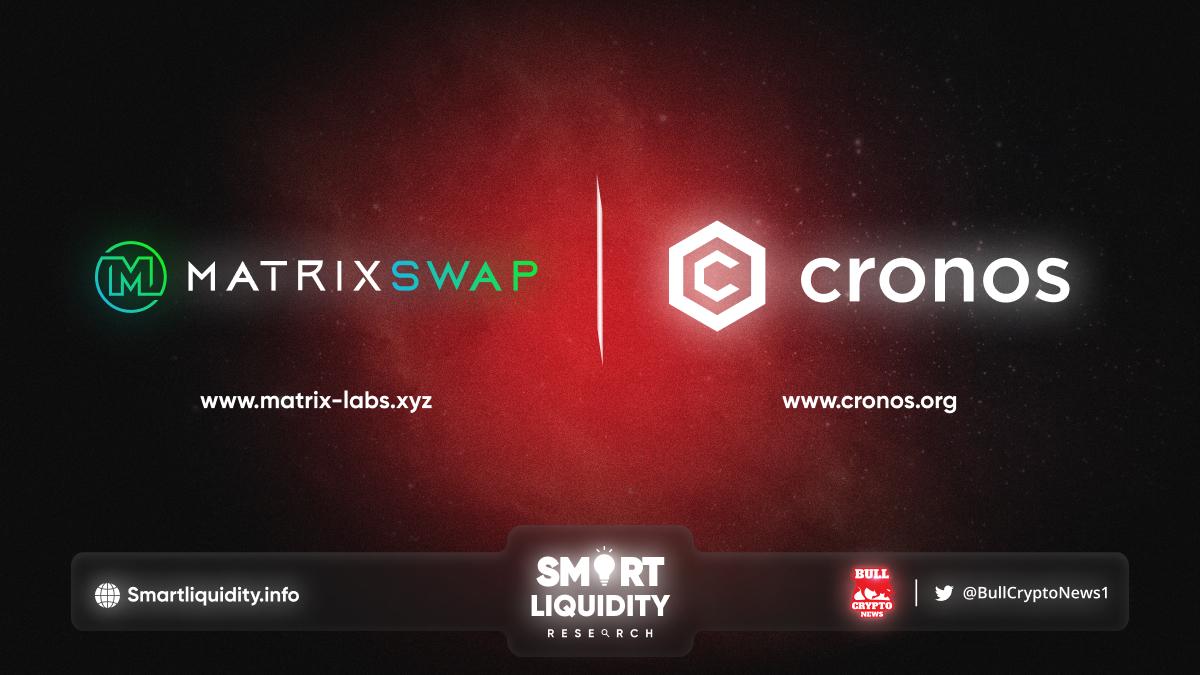 Matrixswap is thrilled to announce its strategic integration with Cronos.
Matrix has been hard at work the past few months to constantly improve Matrixswap and set the standard for what a multi-chain DEX aggregator should look like. Months of fine-tuning, planning, and testing have led us to this point and now they're proud to integrates with Cronos.
What is Cronos?
Cronos is the first blockchain network that interoperates with both Ethereum and Cosmos ecosystems and provides support for DeFi, NFTs, as well as the metaverse. EVM compatible and powered by Ethermint, Cronos allows for rapid porting of apps and smart contracts from Ethereum and EVM compatible chains. Cronos' base settlement currency is CRO, which is the native token of its parallel blockchain, the Crypto.org chain.
Cronos is currently ranked #9, right behind Fantom, in terms of TVL at a staggering, $2.5billion locked. With over 50 protocols built with Cronos, it is certainly a no-brainer to include this fast and efficient blockchain to our DEX aggregator, Matrixswap.
Brand New UI for Matrixswap
They are also pleased to announce a new and innovative user interface for Matrixswap. This clean interface will allow you to easily understand the many functions of Matrixswap including multi-token buys and sells, an emergency nuke button, and to easily swap your favorite tokens amongst 7different chains.
Swapping multiple tokens has never been easier.
What's Next?
Milkomeda allows them to implement Cardano in a seamless and secure way and will allow users to start swapping tokens on Cardano without the headache of writing new code or implementing Cardano's native programming language, Haskell.
This will be their next huge milestone as they've always wanted to implement Cardano.
About Matrix Labs
Matrix Labs is building an ecosystem of DeFi products that will interoperate to maximize returns while minimizing risks for users. Matrix Lab's products focus on capturing unaddressed demand in DeFi in an innovative and user-friendly way that is open to everyone.
About Cronos
Cronos is the first Ethereum-compatible blockchain network built on Cosmos SDK technology. An open-source and permission-less Layer 1 chain, Cronos aims to massively scale the DeFi, GameFi, and overall Web3 user community by providing builders with the ability to instantly port apps and crypto assets from other chains while benefiting from low transaction fees, high throughput, and fast finality.
SOURCE: