PembRock Finance Sale on Boca Chica!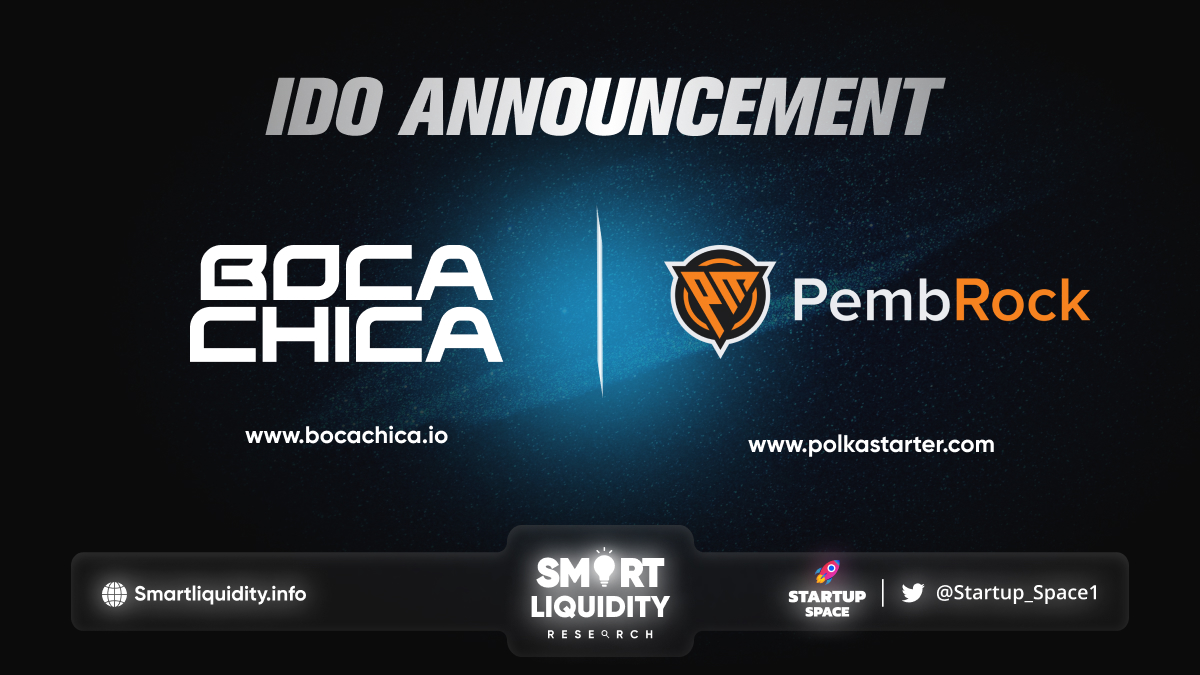 Boca Chica is thrilled and filled with prospects sales going on right now on their platform and have quite a contender to be one of the most promising projects ever launched! Meet PembRock Finance!
Yield Farming is one of the most attractive features of DeFi. Arguably, it is one of the biggest factors of the success of DeFi as a whole. This is the reason why Yield Farming protocols have become so prolific in the Blockchain ecosystems as they supply an increased demand which then lead to a much higher network activity in general.
Realizing the importance of that, NEAR Foundation has granted PembRock a hefty grant to pursue the endeavor.
So what is PembRock Finance under the microscope?
PembRock Finance is very much uniquely positioned in the current NEAR ecosystem as it lacks any Yield Farming opportunities of this scale. PembRock is not simply a yield farming solution, it is a leveraged Yield Farming application built natively on NEAR. Leveraged yield farming gives participants the opportunity to increase their stake with borrowed funds and maximize their profits!
PEM Token, native token of PembRock platform, supports the financial ecosystem of the platform, reward farmers and stakers, and provide a governance tool for the community.
Sale on Boca Chica Mars
The PembRock Sale is scheduled to happen on May 13th.
There will be 2 Rounds in total (conducted in the traditional, old Boca Chica style):
USDT 1st Round: Start 14 of May 12:00 UTC. Finish Date 14 of May 17:00 UTC
Type — FCFS
Total to be fundraised — 93000 USDT
Allocations — Minimum is 50 USDT; Maximum is 1500 USDT
TGE — on 19.05.22. TGE unlock 40% with subsequent 6 month linear vesting
NEAR Stake is NOT required
Exchange Rate — 10 PEM for 1 USDT
HAPI 2nd Round: Start 14 of May; 12:30 UTC. Finish Date 15 of May 12:30 UTC
Type — Subscription Round. A subscription Round involves a strictly time restricted sale which entails a proportional distribution after the round has been concluded.
Total to be fundraised — 583 HAPI
Allocations — Minimum is 1 HAPI; Maximum is 50 HAPI
TGE — on 19.05.22.
NEAR Stake is NOT required
Exchange Rate — 0,0833 HAPI for 1 PEM
About PembRock Finance
PembRock Finance is the first leveraged yield farming project on NEAR! Founded by NEAR guild masters and having secured a $75,000 grant from the NEAR Foundation, PembRock will provide new tools to reach a wider usership, attracting more investment and expanding the NEAR ecosystem.
About Boca Chica
Boca Chica is a collaboration between the HAPI team and Solana to create one of the main IDO platforms on the Solana blockchain.
SOURCE