Torus Wallet is now on ApeSwap Protocol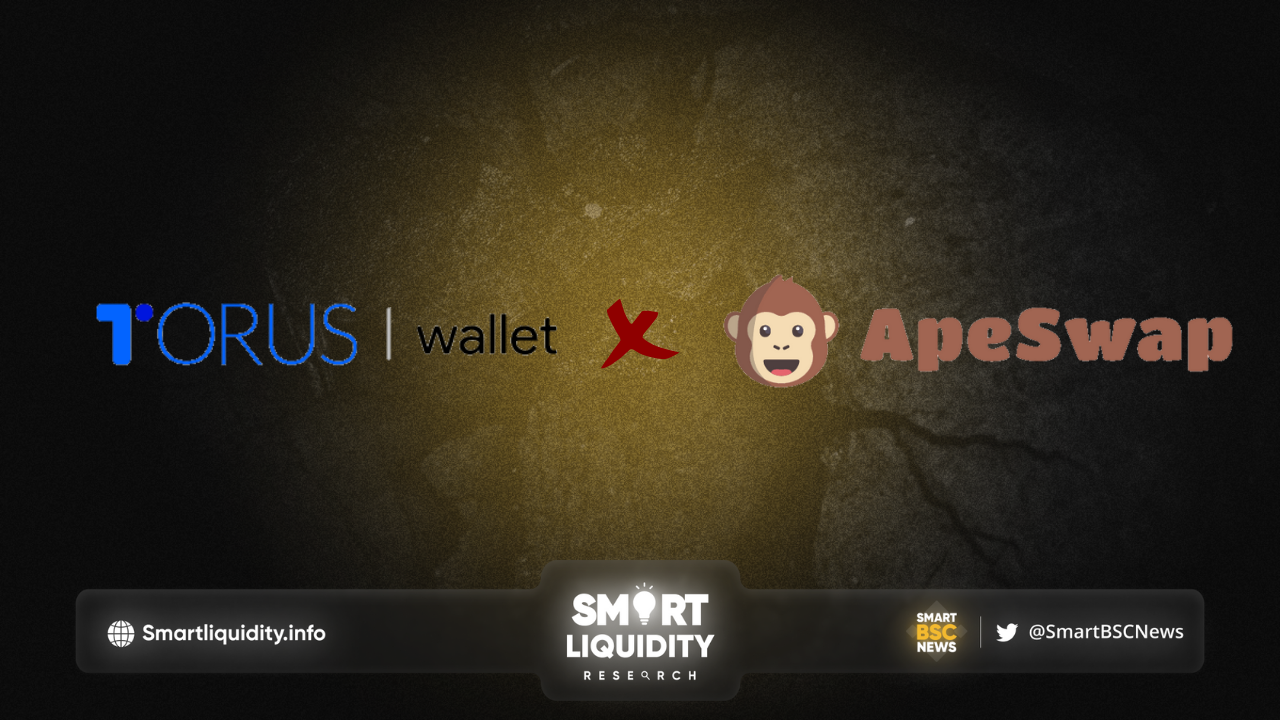 Torus Wallet

is now on ApeSwap Protocol, in which Torus allows users to create a wallet using their social accounts.
ApeSwap fully embraces this approach, which is why they never ask Apes for their personally-identifiable information through any space, including Discord, Telegram, or Twitter. They're taking this commitment one step further by adding Torus Wallet to their list of supported wallet apps.
Why Torus Wallet is a Perfect Fit for ApeSwap
When it comes to accessibility, ApeSwap has always chosen a very progressive approach. By supporting popular wallet apps duch as MetaMask, Trust Wallet, Coinbase Wallet, and Binance Chain Wallet. Their partners are free to engage with Web3 with the tools and resources they trust.
Torus Wallet gives users an additional choice to access the ApeSwap platform. In order to buy, store, stake, or lend assets. Instead of setting up a wallet and securing it with a seed phrase or JSON file. Torus allows users to create a wallet using their social accounts, including Facebook, Google, Reddit, Discord, or Twitch. Users can also set up a wallet with their e-mail account, giving them full access at all times through the services they use on a daily basis.
Because Torus Wallet allows secure connections through social applications, users can select how much of their personal information they want to connect to their digital lifestyle. If you are not comfortable using your Facebook account to create a wallet, you can use another social network with less personally identifiable information online, like Reddit or Discord, to setup your wallet.
In conclusion, users never have to download, install, or register with Torus Wallet to use the platform. This app is available across all browsers and platforms, giving users incredible flexibility no matter what they use.
Sharing BANANA with Friends and Family Using Torus Wallet
Perhaps the best thing about Torus Wallet integration is the fact that you can send BANANA to friends or family and introduce them to ApeSwap — even if they don't have an established crypto wallet! Moreover, Torus Wallet allows you to send tokens to anyone with a Google, Reddit, or Discord account.
To send tokens to anyone based on their Google, Reddit, or Discord account.
Open your Torus Wallet and make sure you are on the BNB Chain (Binance Smart Chain Mainnet).
Click on "Transfer," then choose "ApeSwapFinance Banana" under "Select Item."
Type in your recipient's wallet address or social media ID. Make sure it is correct, otherwise you might be sending BANANA to the wrong person and could be unable to get it back.
Ensure you have the BANANA and BNB available to send to the recipient and pay the network fee. If you don't have enough BNB available, you may not be able to complete the transfer.
Click "Transfer," and share BANANA with your friends and family!
About Torus Wallet
A non-custodial, distributed and open source key management network. Similar to how Auth0, Cognito or Firebase provides auth infrastructure in Web2, the Torus Network powers auth and key management solutions like Web3Auth for Web3.
About ApeSwap
ApeSwap is a Decentralized Autonomous Organization (DAO) that offers a full suite of tools to explore and engage with decentralized finance opportunities. Using the products within our DeFi Hub, users and partners can tap into this new wave of financial innovation in a secure, transparent, and globally accessible way.
SOURCE
https://ape-swap.medium.com/welcome-torus-wallet-to-the-apeswap-protocol-ed08dba11116