Microsoft partners with Astrid DAO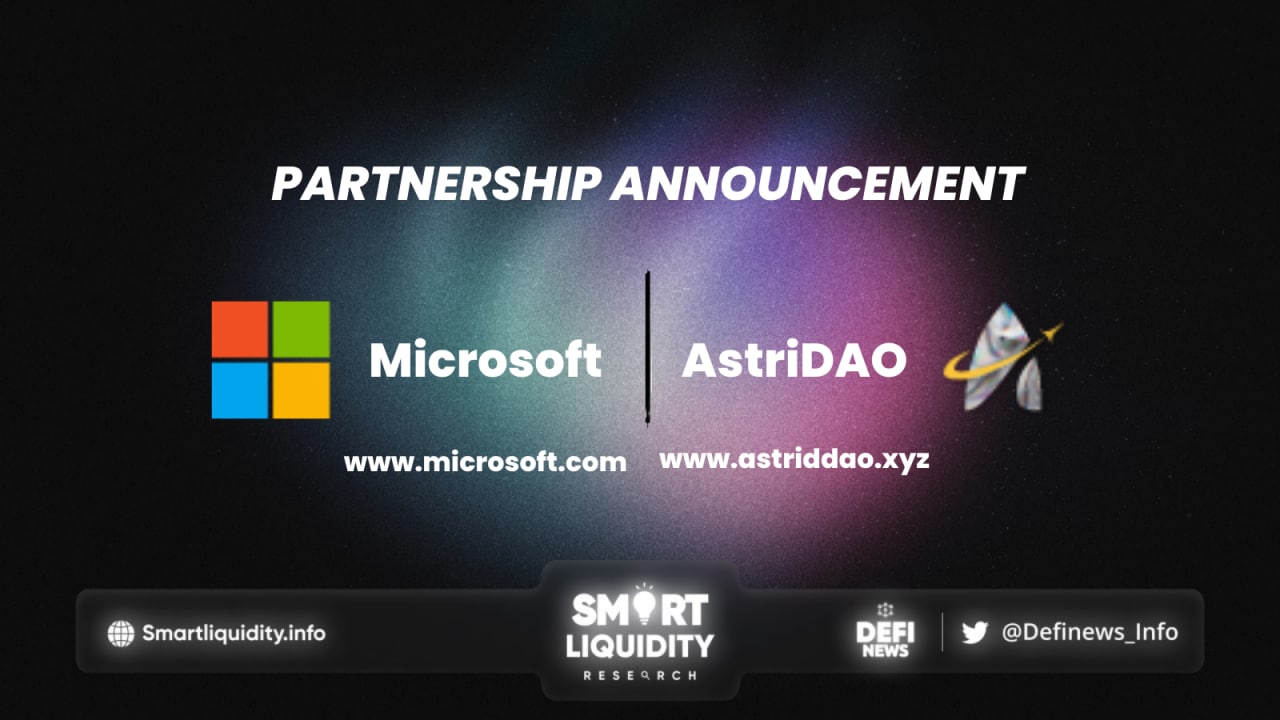 Microsoft partners with Astrid DAO to Accelerate the Growth of the Decentralized Money Market and Stablecoin, $BAI. 
Microsoft, one of the global technology giants and market leaders across various verticals, welcomes AstridDAO to the Microsoft for Startups program!
AstridDAO, a decentralized money market with a native stablecoin called $BAI, has partnered with Microsoft to keep AstridDAO's innovation pace in the DeFi (decentralized finance) space and to accelerate the adoption of its decentralized money market and stablecoin.
PARTNERSHIP HIGHLIGHTS
As part of this collaboration, AstridDAO joins Microsoft for Startups. It will also remove traditional barriers to building a company with exclusive access to technology, coaching, marketing, and support.
Moreover, AstridDAO will accelerate its go-to-market speed with Microsoft's support and maximize its market influence. Furthermore, Microsoft will also provide up to $350,000 worth of benefits through Github Enterprise, Microsoft Teams, as well as Azure credits (up to $150K/ 4 years).
Brief Research About Astrid DAO
AstridDAO is a decentralized money market with a fully backed stablecoin, $BAI, hard-pegged to the US Dollar. As a result, users of the dApp (decentralized application) can borrow $BAI at 0% interest and instantly redeem $BAI for their collateral at face value (i.e., 1 BAI for $1 of ASTR).
Additionally, users can become stability providers by adding $BAI to the stability pool and instantly liquidating under-collateralized accounts. These two mechanisms, i.e., borrowing at 0% interest. Against risk assets and instant liquidation of under-collateralized accounts, create a hard peg mechanism to the USD.
"We are super excited to join the Microsoft for Startups program! With incredible resources sponsored by Microsoft, we will ensure AstridDAO can better serve the community and facilitate BAI to become the dominant native stablecoin for the whole Astar and Polkadot ecosystem." —AstridDAO Team
Furthermore, with Microsoft supporting AstridDAO, the decentralized money market protocol is officially backed by one of the most innovative and tech-driven companies in human history.
ABOUT Astrid DAO
AstridDAO is a decentralized money market protocol and multi-collateral stablecoin built on Astar and the Polkadot ecosystem. It allows users to borrow $BAI, a stablecoin hard-pegged to USD. Against risk assets at 0% interest and minimum collateral ratio. This mechanism also enables users to leverage the value in their risk assets, including $ASTR, $BTC, $ETH, as well as $DOT without selling them.
ABOUT Microsoft
Microsoft is an American multinational technology corporation. Produces computer software, consumer electronics, as well as personal computers, and related services.
RESOURCES
Medium