Onering Beta on Solana Foundation is LIVE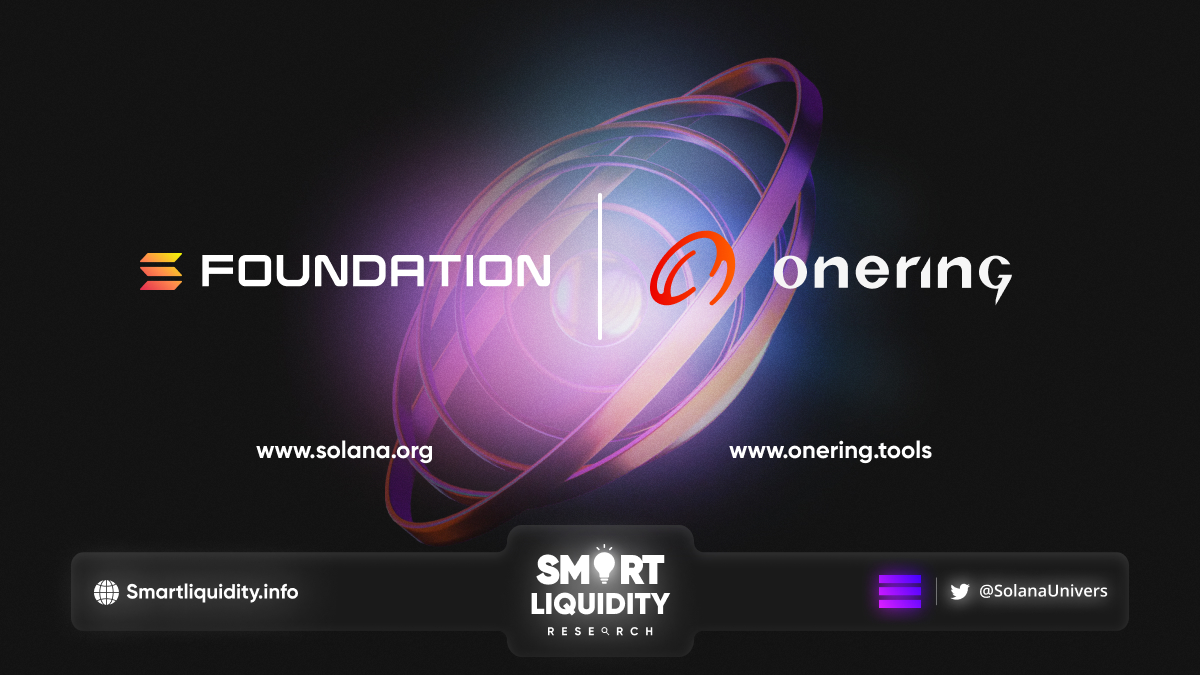 Onering, a multi-chain cross-stable yield optimizer platform, announced its Beta is officially live on Solana Foundation.
Introducing OneRing (Solana)
OneRing proudly announces that their Beta is live and ready to roll out their stablecoin yield optimizer platform on Solana Foundation!
To begin with, the goal of OneRing is to take away the complexity of DeFi and make things easy for the user. By this, they will be able to open the DeFi space for a whole new layer of users that want to receive a yield on their stables instead of just having them sit in their wallets. With a strong network of partners, KOLs, advisors, OneRing aims to go right to the top and set new benchmarks for DeFi.
In other words, the platform is still in beta, and deposits are limited to a USD 10k maximum, while platform TVL is limited to a maximum of USD 100k.
Users are advised not to ape too hard and put in more than they can afford to lose. Take this time to become familiar with what the platform has to offer.
Step-by-step Tutorial
1️⃣ Download and install a Solana wallet
Go to https://phantom.app/download and click the download button to begin the easy installation process. Indeed, always remember to keep your seed phrase safe and never store it online!
2️⃣ Get some $SOL for gas
$SOL is the native token of the Solana network, and you will need a little of it to interact with the Solana blockchain.
3️⃣ Get some $USDC on Solana
4️⃣ Welcome to OneRing (Solana)
Go to Solana.onering.tools and you are almost ready to instantly begin earning yield on your stablecoins.
5️⃣ Connect your Solana wallet to the OneRing dApp
In the top right corner of the OneRing page click the 'Select Wallet' button and choose your Phantom wallet and connect.
OneRing Finance features
Mint
Stake
Swap
 FAQ
Calculator
1USD Balance
Mode
Total Staked: This represents the total amount of 1USD staked on the OneRing platform.
Estimated Rewards: This is the current APY you can expect to earn on your stablecoins on OneRing. Your rewards will auto-compound every 3–4 days on average (we cover the gas for the auto-compound!). The 15.36% APY shown here is the return you would receive after the performance fee is deducted. Please keep in mind that the displayed apy is based on the apy achieved during the most recent compounding period.
About OneRing
One Ring is a new DeFi manager for your stablecoins. Deposit any stablecoin, they will find the best farms available and do the rest; forget about all the struggles.
About Solana Foundation
Solana Foundation is a non-profit organization dedicated to the decentralization, growth, and security of the Solana network.
SOURCE
https://medium.com/oneringfinance/introducing-onering-solana-4b46c6399419