DareNFT Strategic Alliance with Soladefy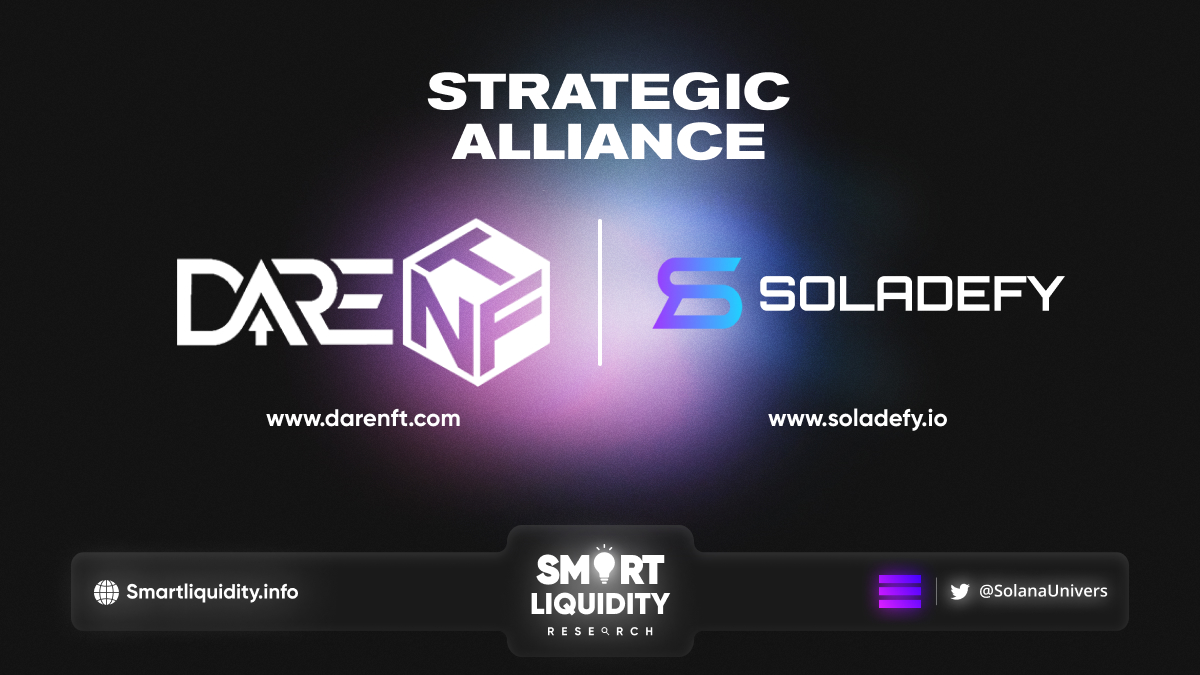 The universal NFT 2.0 protocol for Digital Asset Metaverse, DareNFT announced its strategic alliance with Soladefy, a GameFi launchpad built on the Solana network.
Partnership HighLights
This strategic alliance of DareNFT and Soladefy can gain valuable benefits. Specifically, any Gamefi project launching on the Soladefy launchpad can benefit from DarePlay's services. In fact, these games are going to be listed on the DarePlay Gamefi listing site. Reviewed by DarePlay, and broadcast news and events on DarePlay event Calendar or DarePlay's event listing site.
In general, DareNFT and Soladefy join hands to mutually support gamefi projects, offering an extensive service package to any P2E gaming projects within their network.
Brief Introduction to Soladefy
To begin with, SolaDefy is the pioneering Play2Earn GameFi Platform and ecosystem where its gaming community can play their way to earn IDO allocations and be an early-stage investor in the upcoming GameFi projects.
Furthermore, this active community of gamers is the lifeline of any P2E GameFi project. Indeed, enables SolaDefy to play a dual role of a gaming guild and a decentralized fundraising platform. Making it an ideal and highly sought-after launchpad for all P2E GameFi projects.
Duke Nguyen, DareNFT's CEO
"Welcome Soladefy to DareNFT. I am personally impressed by Soladefy network and their effort in collaborating and facilitating gaming projects in a wide range of initial offering activities. Since, we both work in the same field, we have much in common and certainly can exchange our expertises to better improve our own capability. Looking forward to collaborate closerly with Soladefy in the coming time. "
About Soladefy
SolaDefy is the first ever Solana Based Community Driven IDO Launchpad. Supporting upcoming revolutionary projects.
About DareNFT
DareNFT is the universal NFT 2.0 protocol for Digital Assets. While, the mainstream adoption of NFTs depends on their ability to wholly reflect the benefits of digital assets.
Their first product is DarePlay, the GameFi platform offering INO & IGO launchpad for NFT games, Rent-to-Earn and Lease-to-Earn marketplaces for in-game items NFT, and an NFTifying service for non-NFT games, so-called NFT-as-a-Service.
SOURCE
https://medium.com/darenft/darenft-to-form-a-strong-alliance-with-soladefy-a-pioneering-p2e-gamefi-platform-and-ecosystem-89805efa26ef