Binance Labs Strategic Investment in Tatsumeeko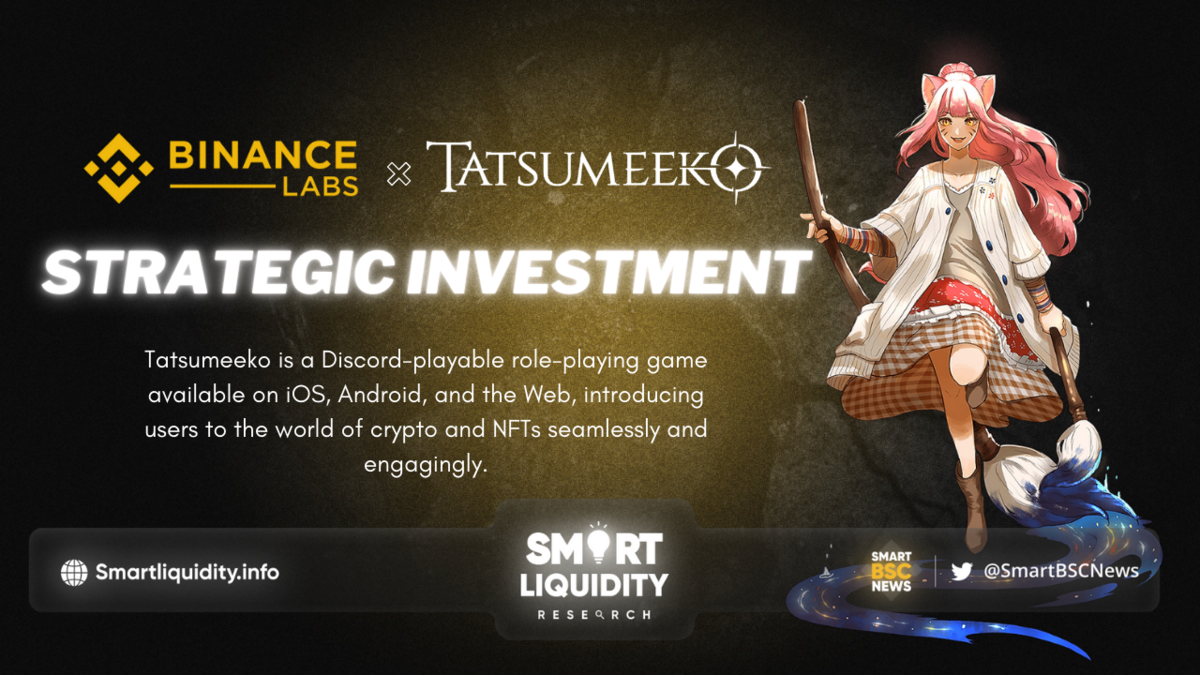 BinanceLabs Strategic Investment in Tatsumeeko —

an immersive modern fantasy

MMORPG-lite game. 
With this investment, Tatsumeeko will continue to develop the MMORPG-lite experience to be released on Ethereum and Solana. In the future, the game also plans to expand to other social platforms and target multiple communities on Ethereum and Solana. It hopes to leverage in-house infrastructure to collaborate with over 2.5 billion chat application users, fan clubs, YouTubers, other metaverses, Web3 games, and traditional games. And now announcing BinanceLabs Strategic Investment in Tatsumeeko.
What does Tatsumeeko offers?
They are building a platform that helps communities thrive — where people can make new friends and form new bonds; in a space where most are hesitant to tread. To bring their vision to life, communities and members will be immersed into a modern fantasy setting
filled with colorful characters, beautiful locations, endless activities and the tales of many
adventures. Tatsumeeko will appeal to both web2 and web3 players and will facilitate the mass adoption of web3 technologies.
Latent Potential
Tank

The Squire – Advances to Knight. Sword Specialist.
Warrior – Advances to Gladiator. Greatsword Specialist.

Support

Cleric – Advances to Priest. Tome Specialist.
Acolyte – Advances to Inquisitor. Handgun Specialist.

DPS

Archer – Advances to Hunter. Bow Specialist.
Recruit – Advances to Sergeant. Rifle Specialist.
Magician – Advances to Wizard. Staff Specialist.
Thief – Advances to Assassin. Dagger Specialist.
"Tatsumeeko has demonstrated their capabilities and consistent community growth and product development. Binance Labs is very excited to support the team as they look to scale the game and improve the gameplay. We believe that Tatsumeeko could help push Web3 games to the mainstream market." — Mia Mai, Portfolio Manager at Binance Labs
In early July, Tatsumeeko will begin the initial sale of Aethereal Parcels, special pieces of land that will provide utility and special attributes to the collectors who hold them or players who interact with them.
­
About Tatsumeeko
Tatsumeeko is a Discord-playable role-playing game available on iOS, Android, and the Web, introducing users to the world of crypto and NFTs seamlessly and engagingly. The fun gameplay involves the players battling monsters, exploring the world of Ielia, building their communities, and meeting new friends and foes. Following a successful Proof-of-Concept (POC) that reached 60,000 monthly active users and 4.5 million in traded items, Tatsumeeko is now ready to grow and expand into new markets.
­
About Binance Labs
Binance Labs identifies, invests, and empowers viable blockchain entrepreneurs, startups, and communities, providing financing to industry projects that help grow the wider blockchain ecosystem.
Binance Labs is committed to supporting fast-executing, technical teams who positively impact the crypto space and build the decentralised web.
­
SOURCE
https://www.binance.com/en/blog/ecosystem/binance-labs-makes-strategic-investment-in-discord-rpg-tatsumeeko-421499824684903985