ThunderCore Now Supports Transak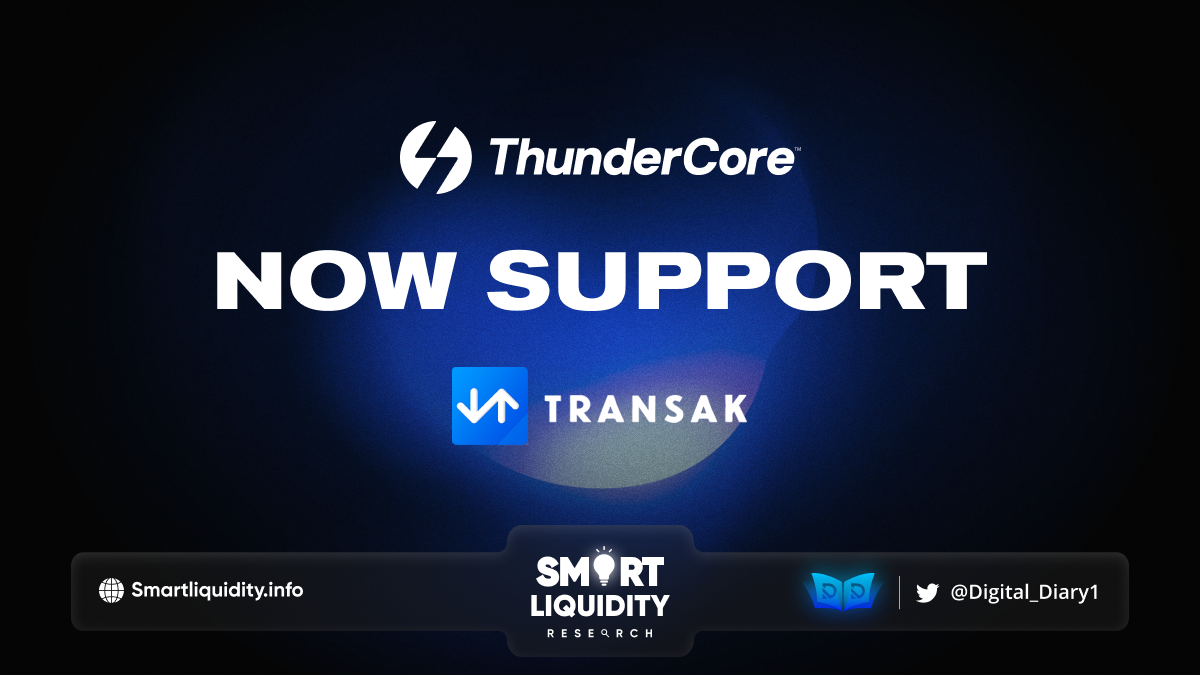 ThunderCore has announced that their TT Wallet is now supporting Transak to enable purchases of BUSD with Euro (EUR)-denominated credit cards.
This means you'll be able to move your Euros by credit cards into the ThunderCore ecosystem and participate in their many amazing DApps that span all areas of Web3, from GameFi, to non-fungible tokens (NFTs), decentralized finance (DeFi), and much more.
Transak is a developer integration that helps applications receive fiat-to-crypto deposits, with fiat currencies supported from all over the world. The company helps onboard regular people into the world of crypto by making it easy for them. To purchase tokens with a variety of traditional payment methods.
ThunderCore is an ultra-fast, security-focused public blockchain that keeps gas costs at just a fraction of a cent. With the help of Transak, they are confident their European user base will find them even more desirable than before for their blockchain needs.
Transak makes buying crypto more convenient
Transak does the heavy lifting for developers looking to integrate fiat-to-crypto deposits. The company takes care of know-your-customer (KYC) issues, as well as those to do with regulation and compliance. It has support for over 100 countries and territories — and well over 60 currencies too. People just register and use their local payment methods to start sending crypto in their desired DApps, protocols, and blockchains.
With over 80 cryptocurrencies supported as well as most of the major blockchains. And the company is adding support for new chains, currencies, protocols, and digital assets all the time.
Integrating Transak into a platform is as easy as setting up the company's widget. Which is customizable with various parameters, UI flows, and web hooks. There is also a white label API available for more advanced users.
How Transak is integrating with ThunderCore
With the new integration, ThunderCore users are now able to convert Euros into BUSD for their TT Wallet, the native wallet of their ecosystem. Once it's there, they can venture over to TT Swap and exchange the BUSD tokens for any others they have available and begin exploring their blockchain's many offerings.
For any users who want to generate steady revenue with their tokens on ThunderCore, it's even possible to stake stablecoins on TT Mining and earn great rewards.
About Transak
Transak is a single integration for applications to enable fiat-to-crypto on-ramps from a global user base. It does so by providing API-driven fiat payment methods to on-ramp 100+ crypto assets and abstracting away the complexity of user KYC, risk monitoring & compliance, payment methods and customer support. Transak's widget can be integrated into an app in just a few lines of code. Transak is backed by top VCs, including Consensys and graduated from the Tachyon accelerator program.
About ThunderCore
ThunderCore is a secure, high-performance, EVM-compatible public blockchain with its own native currency, TT. With a breakthrough consensus protocol that overcomes the scalability "trilemma" called PaLa, the ThunderCore network offers 4,000+ TPS, 1 second confirmation times, and low gas fees that cost less than a fraction of a cent, giving decentralized applications security and scalability.
SOURCE: