The new Crabada $CRA Staking Program will take place on Swimmer Network (Subnet)Users who want to take part in CRA staking will have to bridge their CRA assets from Avalanche C-Chain over to Swimmer Network.
Participate in the newly launched CRA staking program by staking your CRA to receive CRA rewards for a limited only
Users may now unstake their CRA from the legacy CRA staking contract without the 21-day lockup period.
The CRA Staking Program can be accessed through this URL:
https://market.crabada.com/staking
CRA Staking Program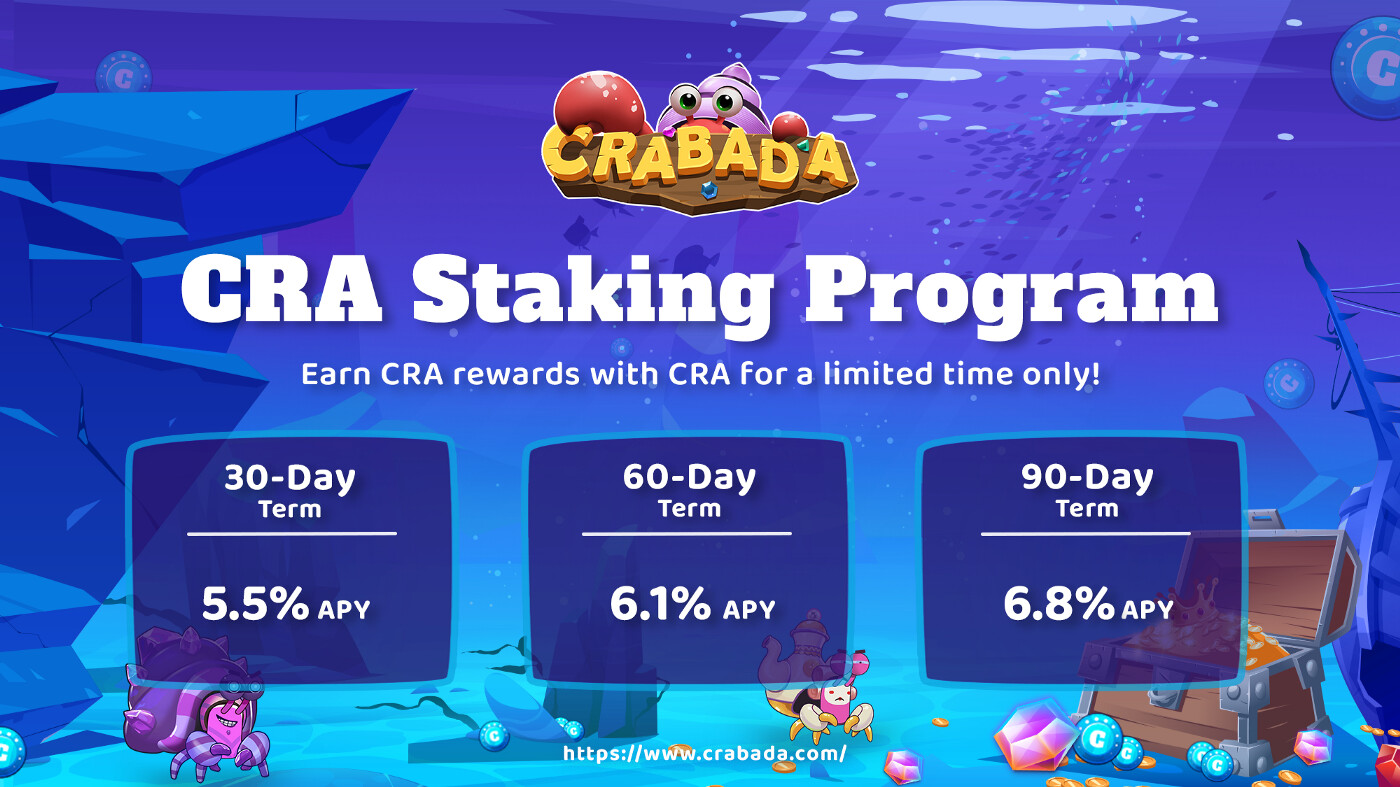 The staking periods and interest rates are as follows:
30-Day Term (5.5% APY)
60-Day Term (6.1% APY)
90-Day Term (6.8% APY)
CRA Staking Mechanics
Staking Plans are not Mutually Exclusive
You can stake CRA on multiple plans at once
You can stake CRA to each plan multiples times
Staking Plans are Accumulative
When a user stakes CRA over multiple instances for the duration of a single term,
– The staking amount is accumulative, and
– The end-date of the staking period will remain the same as when the plan was first started
Rewards are Accumulative
Reward amount is based on the duration that the CRA was staked
Reward amount can be claimed when the staking period has been completed
Step-by-Step CRA Staking Guide
Check out the CRA Staking guide here:
https://docs.crabada.com/cra-staking/cra-staking-guide
Need help bridging over to Swimmer Network?
Check out the bridging guide here:

HTTPS://DOCS.CRABADA.COM/CRABADA-BATTLE-GAME/MIGRATION-AND-BRIDGING-NOTES
About Crabada
Crabada is an exciting play-and-earn idle game based in a world filled with fierce fighting Hermit-Crabs called Crabada (the NFTs). Players will rediscover the prosperous ancient kingdom of Crabada and earn rewards through activities such as mining, looting, breeding, battling, exploring, crafting, and more!
Treasures (Under Sea) from the past await courageous adventurers. Mine, loot, breed, war! Are you the next King of Crabada? Will you spread discord? All is yours. Soon, they'll fear your name.
SOURCE
https://medium.com/@PlayCrabada/crabada-introduces-cra-staking-program-865e586ceb4f