MetaLaunch Formes Partnership with TrustFi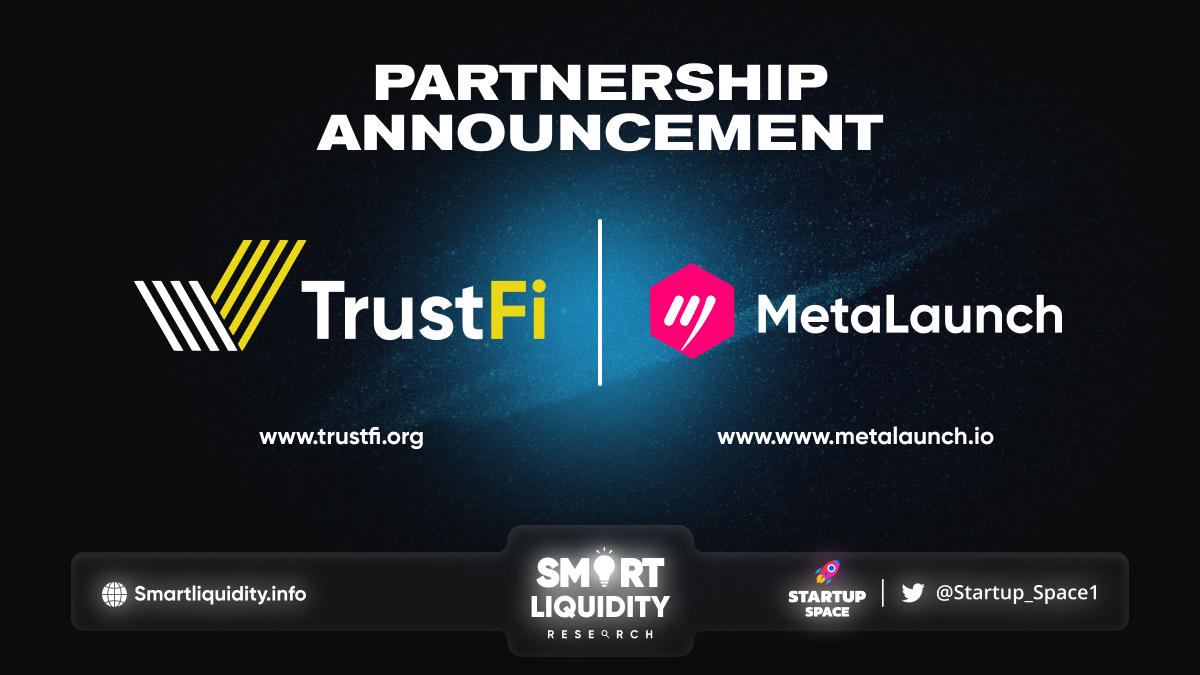 MetaLaunch has announced partnership with TrustFi, decentralized BaaS solution for DeFi market based on multichain environment.
Introduction
TrustFi is committed to provide decentralized BaaS (Blockchain-as-a-Service) solutions for DeFi market based on multichain environments. A complete set of product portfolios developed by TrustFi, including Decentralized Community Driven Incubator (TrustFi Booster), IDO General Protocol with an insured mechanism (TrustFi LaunchPad) and Automated Farm Pools (AFP) Contract (TrustFi Farmer), which is an important supplement to the DeFi infrastructure built on Web 3.0.
Features
Original Pre-IDO Booster
TrustFi Booster is an original pre-IDO platform powered by TrustFi BaaS Ecosystem, acting as a community-driven incubator and on-chain sponsor to help build and fund the crypto startups, as well as community building and market warm-up before their official launch.
Web3 Launchpad
TrustFi Launchpad is running Flash IDO + Main IDO with an insured mechanism built on Web3, powered by the Strong Holder Tier System and Loyalty Governance. All sizes of allocations can be fairly distributed to real holders on their Launchpad. The refundable mechanism protects investors while making the listed project more credible.
Automated Farm Pools
TrustFi Farmer is a liquidity mining and farm pool creation platform powered by the Automated Farm Pools (AFP) algorithm and based on the Decentralized Farm Protocol for Web3. All crypto startups can create token utility & protect price volatility with staking rewards by creating farm pools on their Farmer without permission.
Live on Multichain Ecosystem
As general basic components for DeFi, TrustFi BaaS Ecosystem will be integrated into Ethereum, BSC, Avalanche, Polygon, Polkadot and other blockchains and support the assets on them. They provides crypto startups decentralized modular fundraising and liquidity management tools living on Multichain Ecosystem.
Roadmap
Deployment of launchpads for clients based on the IDO General Protocol

Deployment of Farm Pools for clients based on the Automated Farm Pools (AFP) Contract

Re-Audit to the TrustFi Booster Platform by Solidity Finance team

Official launch and operation of TrustFi Farmer on BSC

Official launch and operation of TrustFi Booster V2.0 on BSC
Official launch and operation of TrustFi LaunchPad on BSC

TrustFi Farmer platform pre-released on BSC

Audit to the TrustFi Farmer Platform by the authority

Official launch and operation of TrustFi Farmer on BSC

TrustFi BaaS on-board new blockchain ecosystems, Polygon, Ethereum, AVAX, etc.
Q2 2022
TrustFi LaunchPad supports all non-EVM chains like Solana, Polkadot, Near, etc.

TrustFi Farmer integrates KCC, OKC, Huobi Eco Chain, GateChain Fantom etc.

Redesign and strategic update of TrustFi Booster platform into NFT field

Launch of Sponsor Program and New DeFi protocol integration into TrustFi BaaS Ecosystem
Q3 2022
Serve for 100+ clients with BaaS tech and verify availability

Partner with 100+ launchpads, KOLs, VCs and Exchanges to power startups

TrustFi DAO Support: Community Governance on upcoming listing and TrustFi Vaults

Develop Metaverse-related product components to empower the ecosystem
Q4 2022
Update on TrustFi BaaS Ecosystem, including LaunchPad, Farmer and Booster

Get grant support and integrations from new ecosystems

Annual Profit Dividends and Buybacks of TrustFi BaaS System
About TrustFi
TrustFi Network is a decentralized BaaS solution for DeFi market based on multichain environment, centering on early crypto assets issuance, liquidity management, community activities and DAO governance to unlock the potential of DeFi.
About MetaLaunch
MetaLaunch is the first-ever multi-chain launchpad and accelerator for Metaverse projects. It delivers strategic fundraising and growth frameworks to fuel virtual world and gaming economies.