Kyber Network and Oxalus Wallet making swap features convenient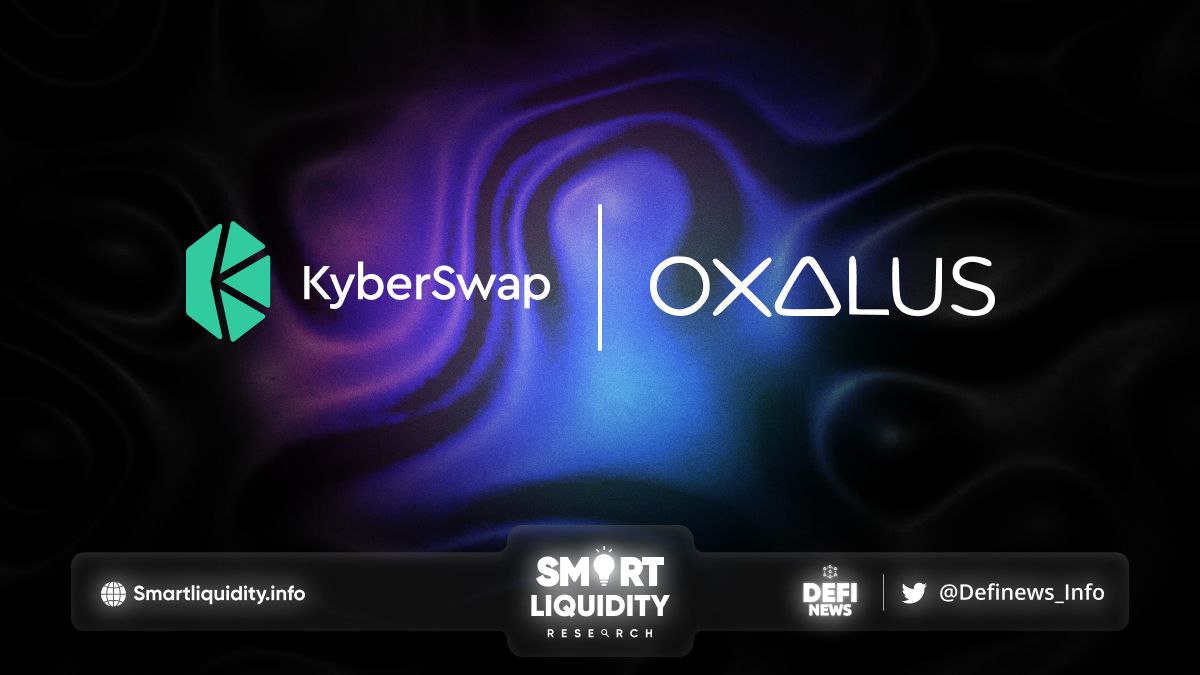 Kyber Network and Oxalus Wallet make swap features convenient. Oxalus wallet is now integrated with Kyber Network DeFi hub, KyberSwap. 
Oxalus mission is to bring blockchain to everyone, with ease, fun, and friendliness. With Oxalus Wallet, your account on all devices is synchronized and data is transferred within seconds.
By using Oxalus, users have access to the display of their NFT Games in an intuitive and interactive way. Security for your assets that will be protected within Oxalus.
Controllability over what they own, where they can take action with full empowerment.
Store and transfer with multi-chain digital assets and tokens, including:
Axie ($AXS)
STEPN ($GMT)
Defi Kingdom ($JEWEL)
Pegaxy ($PGX)
Splinterlands ($SPS)
Illuvium ($ILV)
League of Kingdom ($LOKA)
Sandbox ($SAND)
Decentraland ($MANA)
Voxies ($VOXEL)
MOBOX ($MOBOX)
My Neighbor Alice ($ALICE)
Star Atlas ($POLIS)
Oxalus Wallet is a global product, no matter where you are, and what time zone you are in, you can always have your NFTs within your reach.
Understanding Kyber Network and KyberSwap
Kyber Network is a multi-chain crypto trading and liquidity hub that connects liquidity from different sources to enable trades at the best rates. Its vision is to become the liquidity hub for the decentralized economy, where any user or application can easily access the required tokens for their liquidity needs.
Furthermore, Kyber Network commits to building protocols that support convenient and secure value exchange in decentralized finance, NFT markets, and beyond.
Kyber Network Core Benefits
•Liquidity Aggregation For The Best Token Rates•
Kyber ensures the best rates for traders, Dapps, and aggregators by efficiently sourcing liquidity from multiple liquidity protocols.
•Easy Integration•
Unlike off-chain systems, Kyber allows blockchain apps to easily integrate with its various protocols, saving time and resources.
•Open, Transparent, Verifiable•
All operations are fully transparent and verifiable on the blockchain, with permissionless access for any trader, liquidity provider, or Dapp.
•Cutting-Edge Efficiency•
Anyone can contribute tokens and utilize their capital efficiently, earning fees in every trade. In addition, Kyber is able to cater to the needs of different liquidity providers and market makers.
Moreover, KyberSwap is DeFi's premier automated market maker, providing the best token prices for traders across multiple exchanges, and maximizing earnings for liquidity providers, in one decentralized platform.
Kyberswap gives liquidity providers the option of choosing between two liquidity protocols so they can earn passive income – KyberSwap Elastic and KyberSwap Classic. Simply deposit your liquidity and start earning.
How to earn with KyberSwap 
¤ EARN MORE WITH CONCENTRATED LIQUIDITY ¤
As Liquidity Providers, you can now supply liquidity to a pool within a custom price range. This allows your liquidity to be used more efficiently. Consequently, you will earn more trading fees on your liquidity.
¤ EARN MORE DUE TO COMPOUNDING ¤
Automatically reinvest your trading fee earnings by adding them back into the pool. And so you earn even more with less effort due to compounding.
KyberSwap prevents snipping attacks. Sniping is where an attacker jumps in front of normal liquidity providers by adding and removing liquidity just before and right after a huge swap. To protect its liquidity providers, Kyber has created an anti-sniping feature.
Read also our article here regarding KyberSwap!
Oxalus Wallet Socials
Twitter | Application
Kyber Network Socials
Website| Twitter | KyberSwap