Earn Guild Partners with SolChicks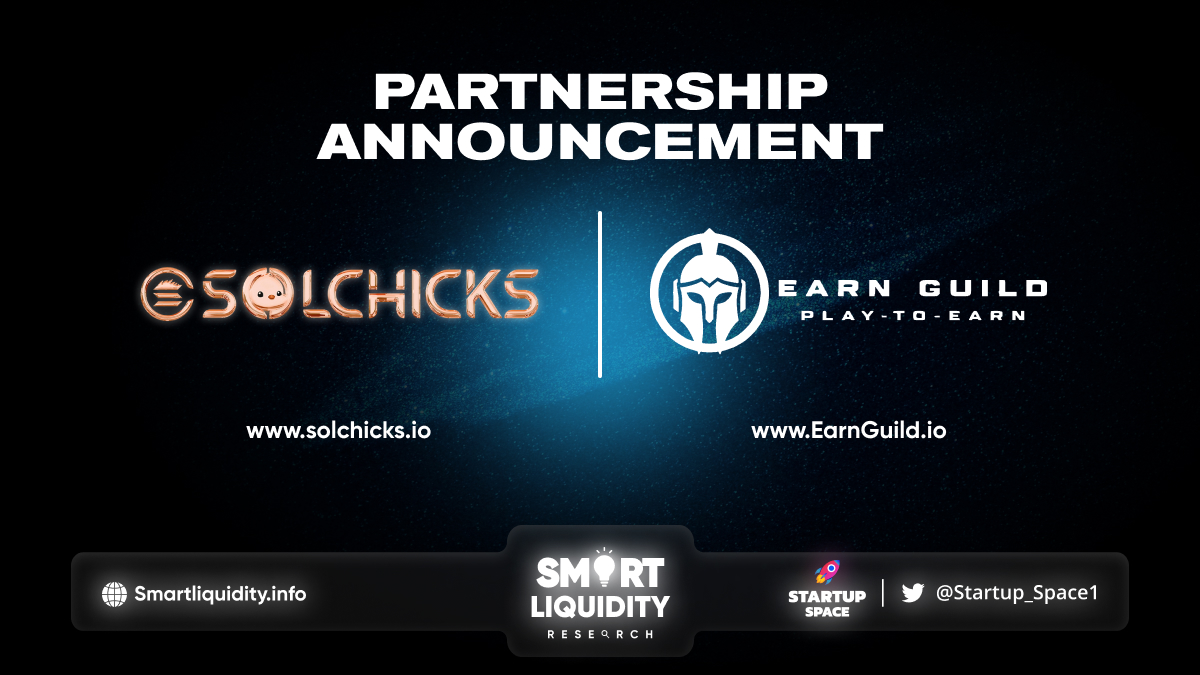 Earn Guild has announced partnership with SolChicks, the leading fantasy powered ,play to earn game on Solana.
Earn Guild has taken pride in being the forefront of guilds adding partnerships. As $EARN grows partnerships they grow their community, and this has provided many opportunities for our ever-growing community of P2E.
The partnership with Sol chicks has enabled their community to grow leaps and bounds. Earning in-game rewards such as $SHARDS and $CHICKS tokens which can be traded on real world exchanges is provided to their community that participates in Sol Chicks. Catheon Gaming is responsible for the magnificent making of Sol Chicks.
"Sol Chicks was a no brainer to partner with from day one. The growth of our partnership has exceeded expectations from the beginning. $EARN community is being rewarded greatly with $SHARDS and $CHICKS tokens." –Darren Olney-Fraser, CEO of Earn Guild.
Introduction of SolChicks
Their flagship title SolChicks Saga is a multiplayer role-playing game where players can own and trade their NFT assets (e.g., characters, weapons, equipment) and through them explore a magical fantasy world they have meticulously crafted. The project promises high-caliber artwork, unique and detailed in-game systems design, and is executed by a strong-credentialed and experienced team.
SolChicks presents an exciting opportunity for you to discover rare collectibles and be rewarded for your playtime, all while taking advantage of the power of decentralization and on-chain ownership that blockchain technology brings. Each SolChicks NFT in your collection is 100% owned by you and gives you a way to interact with the game world we have carefully built. First and foremost a game, SolChicks is ultimately focused on uniting people together in an enjoyable "play and earn" experience through blockchain innovation and integration.
What is SolChicks Saga
SolChicks Saga is a play-to-earn ("P2E") multiplayer role-playing game where the players' unique Sol Chicks NFTs are used as their game characters. The mission is to make SolChicks Saga first and foremost fun and are mainly targeting soft to mid core players who are looking for a unique experience in a friendly setting.
Players can participate in Sol Chicks Saga in multiple ways, be it leveling their characters through participating in PVE or PVP challenges, farming the rarest items, and seeking hidden treasures, or even just treating your SolChicks as virtual pets to pass time. Amongst the key differentiating factors is that SolChicks Saga is NFT driven where the SolChicks NFT will act as the player's in-game avatar.
There will only be 10,000 unique "Gen0" SolChicks NFTs at initial mints which endows their owners with play-to-earn (P2E) privileges. As the game expands, there will be further mints through breeding which could also be used in game, though the NFTs minted through breeding will not have some of the unique privileges to distinguish them from the origins. Players who play the game will earn rewards both in game and on the blockchain.
About SolChicks
SolChicks is a multiplayer NFT game ecosystem integrated with unique P2E elements. Their ecosystem is designed with a gameplay loop and reward system that has a high level of detail and intricacy with P2E at its core.
About Earn Guild
Earn Guild is a Decentralized Autonomous Organization. Every player holds $EARN tokens, and that gives them power and a voice-over their guild.
SOURCE
https://earnguild.medium.com/earn-guild-partners-with-solchicks-1353946d55df