MetaShooter Partnership With Creaticles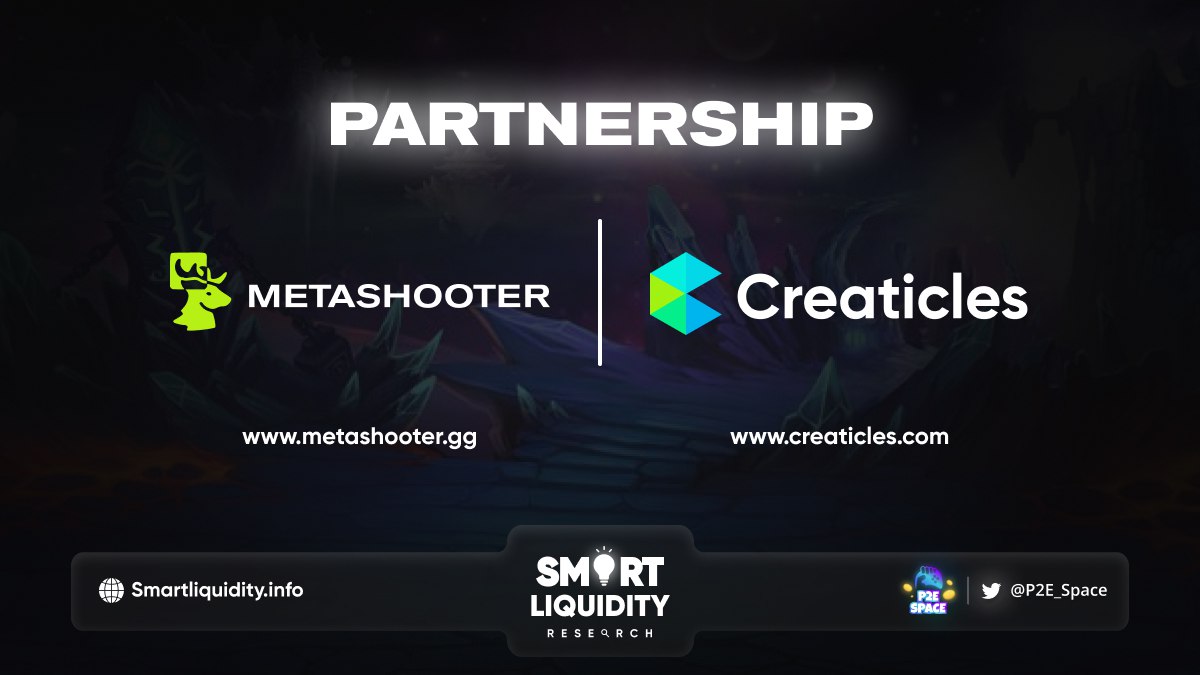 MetaShooter

, breathtaking play to earn hunting metaverse,

announced its strategic partnership with

Creaticles

, a first-of-its-kind custom NFT-request platform that connects talented creators with businesses and brands.
Partnership Highlights
This partnership is a huge opportunity for MetaShooter to meet new people and spend their social circle.
Thanks to this partnership, MetaShooter will be able to create a stronger community that will not only be healthier, but also more energetic.
Learn About

Creaticles:
Creaticles is the first custom NFT request platform in the blockchain industry, and it connects individuals, businesses, and other creators with buyers.
Any enthusiast who has an idea can make a request for a personalised NFT. As a result, artists who bring those ideas to life will have the opportunity to build their reputation and earn rewards in the form of cryptocurrencies.

As a result of providing NFT assets for your product, company, or personal brand. Anyone can post a request for their NFT needs on Creaticles, where they will receive a variety of submissions from a large number of skilled creators at a price that is within their budget.
MetaShooter Features:
MetaShooter enters the Metaverse gaming market by giving new ways of hunting and putting its players first. Players can create their own hunter and prepare to enter huge hunting industry:
Experience real hunting, play in tournaments, multiplayer with stunning visuals with VR compatibility.
Hunt & Earn, receive token rewards by hunting trophies, winning tournaments, and more.
Customise & Upgrade hunting equipment by making their hunter unique.
Develop, buy hunting lands, build towers, breed NFT dogs, and earn passive income.
Explore the open World, hunt anywhere they want, experience various environments, animals, stunning visuals and realistic dynamics.
Experience exciting, RNG technology powered gameplay with logical utilisation of each NFT asset.
About Creaticles
Creaticles is the platform to request NFT assets for any project or occasion. Instead of wasting time and energy trying to sell their creations, artists are able to make a living doing the work that they are most passionate about.
About MetaShooter
MetaShooter is the first decentralised blockchain-based hunting metaverse that joins millions of gaming enthusiasts in a community where they can experience realistic hunting and develop many activities with wide monetization opportunities.
SOURCE:
https://medium.com/@metashooter/the-strategic-partnership-between-metashooter-and-creaticles-has-been-installed-2f06d580396