Only1 Integrated ChainLink Price Feeds on Solana Mainnet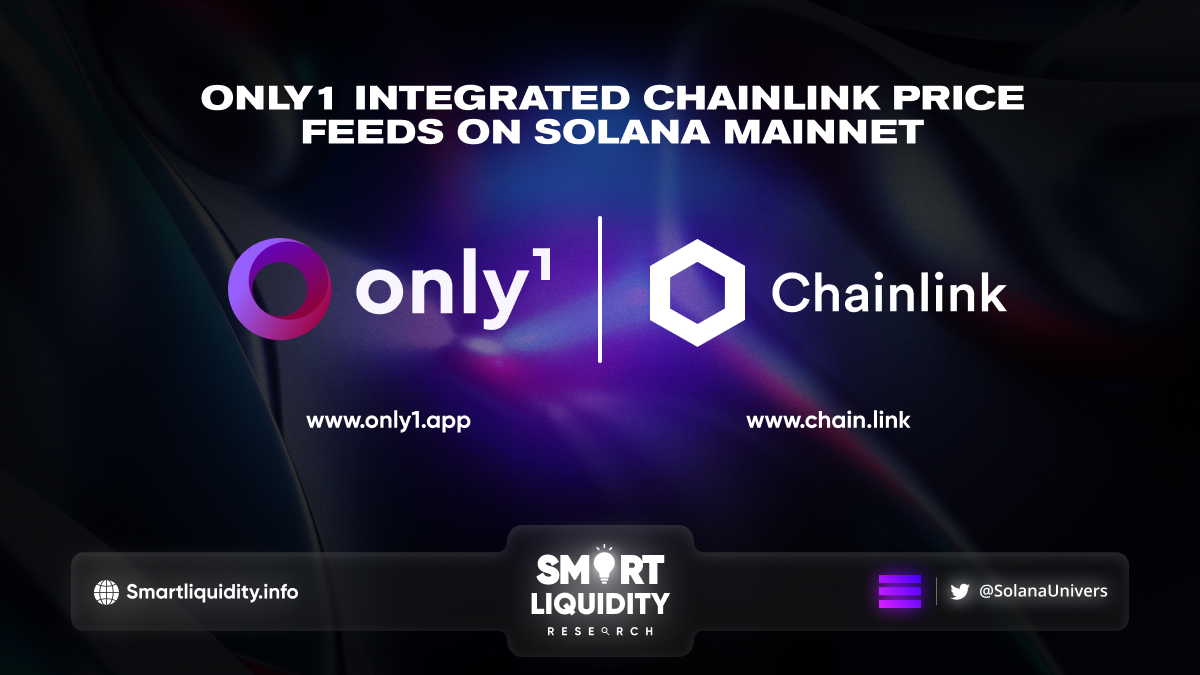 Only1, an NFT-powered social platform where users earn, launch memberpass NFTs and post exclusive content for your fans, has integrated Chainlink Price Feeds on Solana mainnet.
Integration Highlights
Only1, one of the first NFT-powered social platforms on Solana, has integrated Chainlink Price Feeds on Solana mainnet!
Through this integration, Only1 has access to high-quality, tamper-proof price feeds needed for the native NFT marketplace.
Indeed, this integration helps provide their users with stronger assurances that the NFT marketplace has a reliable source of price data and helps users make educated and informed decisions.
Only1 initial integration Chainlink Price Feeds
Only1 initial integration involves the use of the following Chainlink Price Feeds: SOL/USD. They chose Chainlink as their go-to oracle solution because its infrastructure is seamless to integrate and time-tested in production. Moreover, Chainlink already helps secure leading DeFi protocols responsible for tens of billions of dollars in smart contract value. Hence, maintaining robust security and high availability even amidst unexpected events. Such as exchange downtime, flash crashes, and data manipulation attacks via flash loans.
However, by merging existing social network capabilities with blockchain and NFTs. Only1's SocialFi (social finance) aims to revolutionize the relationship between creators and their fans by introducing a C2E (Create-to-Earn) model that incentivizes and rewards both creators and fans at the same time. Built on the Solana blockchain, Only1 provides an accessible, low-cost solution for users — especially Web2 creators. Indeed, by using Only1's one-stop platform, users can enjoy and participate in SocialFi by creating content and engaging with other users to start receiving rewards.
Chainlink Price Feeds Features
High-Quality Data
Secure Node Operators
Decentralized Network 
Reputation System
"Chainlink Price Feeds are the most widely adopted and credible solution in the industry. This integration helps bring accurate and real-time prices to Only1, giving our development team more time to focus on building more novel social features for creators and our community." — Leon Lee, Founder and CEO at Only1.
About Chainlink
Chainlink is the industry standard for building, accessing, and selling oracle services needed to power hybrid smart contracts on any blockchain.
About Only1
Backed by Alameda Research, Solana Foundation, and Animoca Brands. Only1 is an NFT-powered social platform on Solana that aims to decentralize and empower direct creator-fan relationships.
SOURCE
https://only1nft.medium.com/only1-integrates-chainlink-price-feeds-to-help-power-its-nft-marketplace-5d801c69ad5