Metablaze Announces Partnership with Dx Spot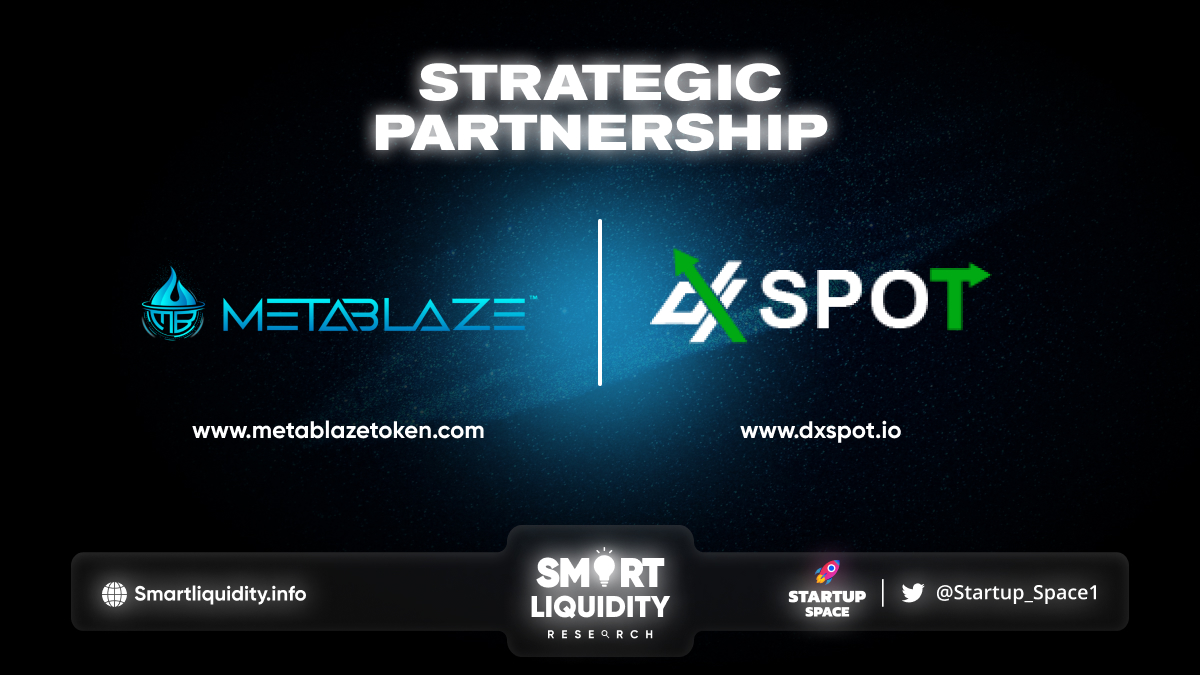 MetaBlaze is thrilled to announce partnership with Dx Spot, an AI application for trading on crypto exchanges, now available for use and download on Playstore.
About The Dx Spot
Dx Spot is an application based crypto trading bot platform that can place trades 24/7 on crypto exchanges. They're a simple and intuitive application for crypto beginners or experts to set up and run. Dx Spot has a DXS token which is a utility token in the Dx Spot ecosystem. It can be used in the staking program and can also be considered a long-term investment as a store of value.
Artificial intelligence (AI) is the ability of a computer or a robot controlled by a computer to execute tasks that are usually done by humans because they require human intelligence and discernment.
How It Works?
Simply download and register on the Dx Spot app with your email address and connect with a crypto exchange API using both the API key and Secret key which securely connects the crypto exchange to Dx Spot app.
Download Dx Spot App
To start using the Dx Spot application, simply search for it in the Google Play Store or IOS and then download the Dx Spot app for free.
Safe & Secure
Secure transactions are carried out on crypto exchanges linked to the Dx Spot app using an API. Your funds and profits are held securely upon the crypto exchange.
Subscription Fee
Unlike many other tokens we do not charge subscription fees. Simply an initial one-time fee and you can access the full range of features that Dx Spot offers for a lifetime.
A User Friendly Interface
The features in DX Spot are super easy to understand. Making it quick, easy and intiutive for anyone to use.
Dx Spot Features
Current and forthcoming (metaverse) features within Dx Spot application include:
Self Trading
TRADING IN YOUR OWN SETTINGS
Copy Trade
TRADES FOLLOWING MASTER TRADERS
Auto trade
AUTO TRADING BY DX SPOT BOT
Staking Program
DXS STAKING AND NFT STAKING
Dx Spot Games
PLAY TO EARN (GAMEFI)
Metaverse
HARNESSING AI IN THE METAVERSE
About Metablaze
MetaBlaze is a blockchain-based gaming company merging elements of both GameFi and DeFi to create a synergistic ecosystem comprised of popular web 3 technologies.