BinStarter Announces Partnership with SLEEP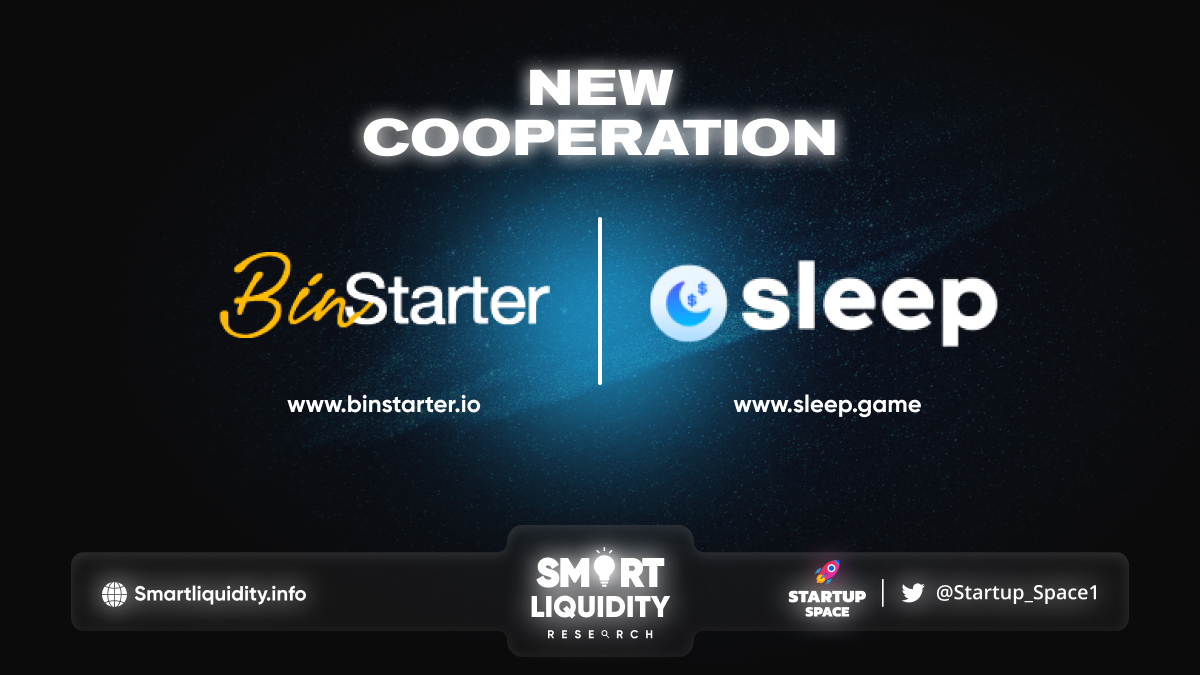 Binstarter – a decentralized mining-style approval mechanism insurance protocol, is thrilled to announce new partnership with SLEEP.
Sleep is building the first Web3 lifestyle app where users learn about the importance of health and quality rest while generating income.
Insufficient sleep is a global problem that is becoming increasingly common in today's society. Compared to a few decades ago, significant changes in sleep culture have been observed worldwide.
Philips, a global leader in health technology, announced the findings from its annual global sleep survey in a report, "The Global Pursuit of Better Sleep Health". The survey, executed each year in recognition of World Sleep Day (March 15), surveyed adults in 12 countries to capture attitudes, perceptions, and behaviors around sleep. Results showed that while awareness of sleep's impact on overall health is on the rise, for many across the globe, achieving quality sleep health remains elusive.
Introduction
S L E E P is the first Web3 lifestyle app with Social-Fi and Game-Fi elements where users can earn $ZZZ for sleeping, relaxing and putting their phone away. At launch, users equipped with NFT beds — sleep to earn $ZZZ, which can be used to level up and mint new beds and other equipment.
Players can choose to rent or sell their NFT beds on the in-app Marketplace; users' S L E E P earnings are stored in the in-app Wallet, which has a built-in Swap function.
Goal
The aim is to make people more aware of the importance of sleep on their general and mental health as well as the risks of their phone use. That's why we decided to reward everyone who puts down their phone or sleeps. It's as easy as it sounds, sleep to earn.
For people who are not invested into the crypto and blockchain space, S L E E P is an amazing way to get started and learn about the amazing world of blockchain. These people can even earn before they learn how to use a Decentralized Wallet. This will also be their first step in the Web3 world.
Game modes
S L E E P contains three game modes. Each game mode has its own NFT asset category. In order to be able to earn $ZZZ in each mode, you need to hold an NFT in the adequate category. Users need to mint the first NFT to get started, afterwards users can buy/sell NFTs on the in-app NFT marketplace.
Sleep mode
How to earn?
Lock your phone in Sleep mode to earn $ZZZ.
NFT category
Beds
Car mode
How to earn?
Lock your phone while driving to earn $ZZZ.
NFT category
Cars
Monk mode
How to earn?
Lock your phone during the day to earn $ZZZ.
NFT category
Buddhas
How to get started?
Users participate in the S L E E P universe by acquiring an NFT in-app to get started, to buy this; users need $SLEEP and $BNB. After collecting the first NFT, users can immediately get started with earning in-game, leveling-up their NFTs and buying/selling NFT assets in the marketplace.
Acquire $SLEEP & $BNB on Binance Smart Chain
Download the S L E E P IOS/Android app
Mint first NFT with 50% $SLEEP & 50% $BNB
Sleep to Earn 😴
Earning with S L E E P
Earn from playing in Sleep Mode, Car Mode & Monk Mode
Rent your NFT to other players
Trade NFTs on the in-app NFT Marketplace
Partners & Investors
– Apollo Ventures
– Crypton Studio
About SLEEP
A Web3 lifestyle app with social-fi and game-fi elements. Players can make great earnings just by putting away their phone or sleeping.
About BinStarter
BinStarter is a decentralized mining-style approval mechanism insurance protocol that is designed to examine projects according to certain criteria for 30 days and to protect liquidity providers against possible financial damages or any negativities.
SOURCE