BAGG STRATEGIC ALLIANCE with SOLADEFY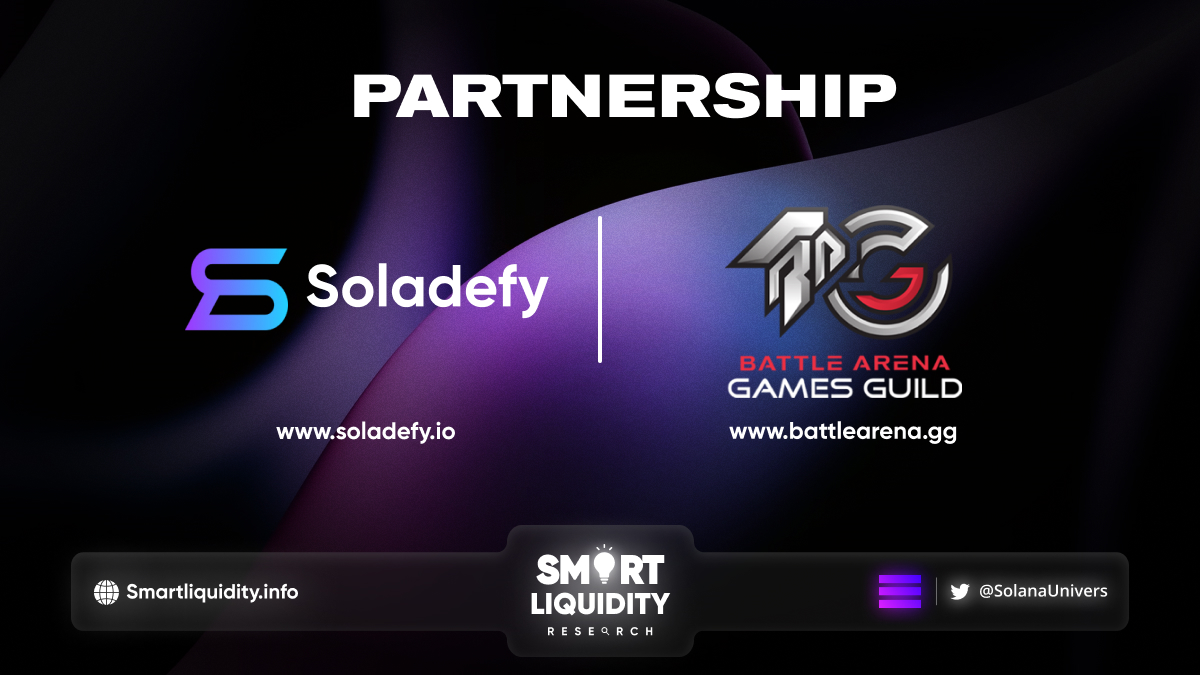 Soladefy, a GameFi launchpad built on the Solana network, announced its strategic alliance with BAGG (Battle Arena Gaming Guild), bridging GameFi and SocialFi with Esports.
BAGG has solidified its strategic alliance with Soladefy with the hopes of propelling both businesses to even higher heights.
BAGG's determination to collaborate closely with Soladefy is an overall effort and a larger endeavor to bring together both communities and stakeholders.
Introduction to Soladefy
Soladefy, a decentralized GameFi launchpad, and ecosystem that is built on the Solana blockchain. Therefore, its mission is to rethink the IDO playbook by introducing unique gamification aspects to the chosen community of lower-tier investors.
Moreover, Soladefy frees investors from the shackles of the corrupt and outdated IDO lottery system. Instead, they are organizing a ferocious and active Resistance Army in which investor corps are allowed to demonstrate their grit and "defy the odds" connected with winning an IDO lottery allocation.
Specifically, the Soladefy platform is powered by its native token, $SLDFY. Though, this token divides the army of investors into 8 tiers, ranging from the aspirational ranks of Recruit (with a minimum investment of 100 $SLDFY) where players "Play2Earn your keep" to the authoritative title of General (with an investment of 40,000 $SLDFY).
Lower-tier users can "level up," which is a fundamental concept in gaming. By performing social and networking duties and engaging with the past, the present, and the future. This ensures sustained management and actionable data for all projects and builds the perfect launchpad for gaming studies students who have a portfolio of titles to release and manage.
Overview of Battle Arena Games Guild
The BAGG, designs to be the ultimate one-stop GameFi destination for traditional and esports gamers, GameFi gamers, athletes, and KOLs to connect and build the future of GameFi. However, BAGG empowers all stakeholders to contribute to and earn from the bridging of the two worlds.
At the heart of the BAGG solution is a decentralized bridge, built upon three pillars.
An onboarding and scholarship system which remove barriers preventing traditional games from entering GameFi.
Incentives built on professional esports infrastructure.
Decentralized governance mechanism that allows stakeholders to guide the future of the collaboration between traditional gaming, esports, and GameFi.
About Soladefy
SolaDefy is the first-ever Solana Based Community Driven IDO Launchpad. Supporting upcoming revolutionary projects.
About Battle Arena Games Guild
Founded in 2018, Battle Arena is Southeast Asia's biggest Esports giant. BAGG is its DAO GameFi Aggregator Guild with an online and offline Esports Ecosystem. Indeed, their platform is design to be the ultimate, one-stop GameFi destination. Allowing Crypto Gamers as well as Esports Gamers, Athletes, and Influencers to connect and immerse themselves in the new Web3.0 era of NFT-powered gaming.
SOURCE