Edensol Upcoming Sale on MagicEden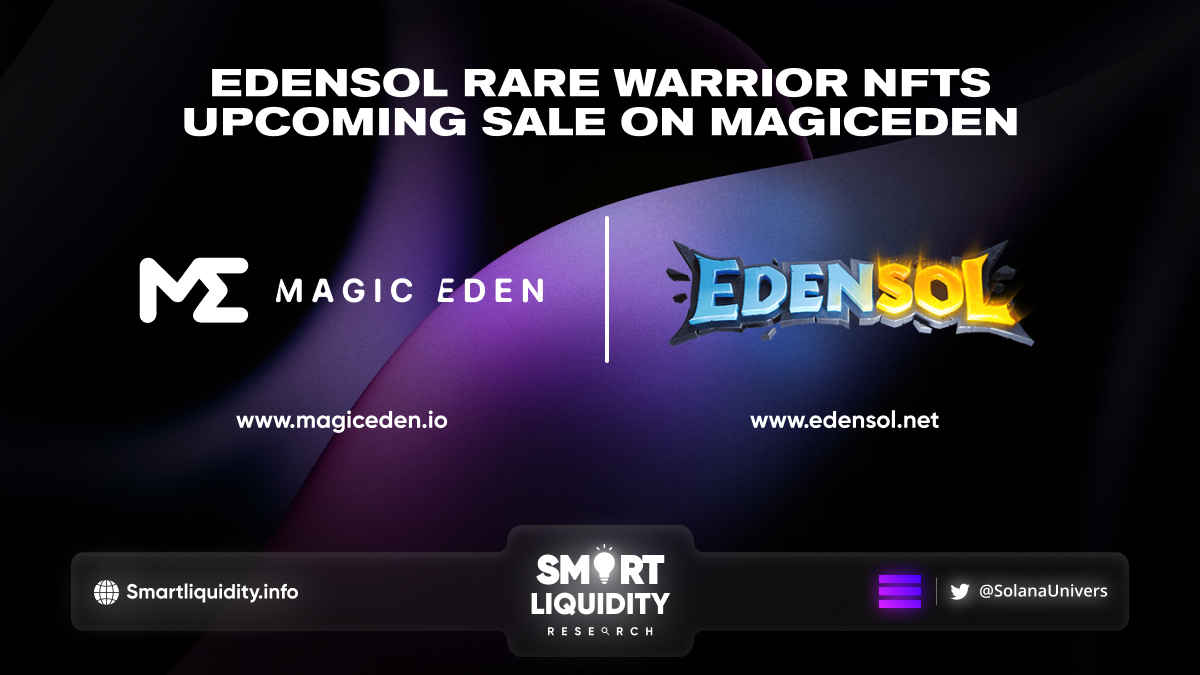 Edensol,

a fantasy gaming metaverse that combines fun-packed action with P2E features and the use of collectible NFTs on the Solana blockchain, announced its upcoming sale on MagicEden, the leading NFT Marketplace on Solana.
This upcoming Edensol Rare Warrior NFTs Sale on MagicEden is the 2nd batch of sales on the leading launchpad on Solana.
Previously Edensol held a sale of their first NFTs which sold out in 7 hours and now they will be having the 2nd sale on the MagicEden at the end of the month.
Before the second sale begins, Edensol would like to invite the community to join the Whitelist and be among the first ones who will be able to get the higher rarity Edensol Hero NFTs.
Launch date: 14th July
Whitelist buy: 2 PM UTC
Public buy: 3 PM UTC
To join the whitelist
Open the whitelist form.
Fill in your email, your Solana native wallet address, and the person who referred you(not compulsory).
Rarity
The categories of NFTs sold will fall under Uncommon, Rare and Legendary. Each higher tier will distinguish itself from the others not only by its stats and strength but also by intricate armor, weapons, and powerful special effects.
Therefore, the rarer the NFT you will have, the better stats you will have. Additionally, rarer NFTs will have more birth signs and better chances of winning battles and thus better $NSOL rewards.
Process of Sale
Like the regular NFT minting process, each NFT bought is randomly distributed. The individuals who purchase the NFTs won't get to decide or even know the rarity, but the chances of getting a legendary type NFT are high.
Why purchase the rare warrior NFTs?
Aside from the fact that all rare warrior NFTs are unique, there are other reasons to purchase hero NFTs, and they include:
The Rare Warrior NFTs offer hints and signs and help individuals to be best prepared for the tough battles ahead.
The more you fight and gain experience, your characters will also develop stamina and become stronger, hence more valuable in battles and when offer in marketplaces.
The Rare Warrior NFTs will have more reasonable statistics, more birth signs, and better chances of winning battles.
To know more about the rarities and attributes of these NFTs, visit https://edensol.net/nfts/ and https://edensol.net/store/.
About Edensol
Edensol is a revolutionary gaming metaverse that combines fun-packed action with groundbreaking NFTs (nonfungible token) Solana technology. Players can win in-game rewards in NSOL tokens (play-to-earn gaming) and win or purchase in-game tools. And characters represented by collectable and rare NFTs, all of which have economic value in the real world.
About Magic Eden
Magic Eden is the community-focused and leading NFT marketplace on Solana and home to the next generation of digital creators.
SOURCE
https://medium.com/@edensol/edensol-rare-warrior-nfts-sale-on-magic-eden-8e5ed5e012bc