SolanaPrime to Host IDO for GIGCO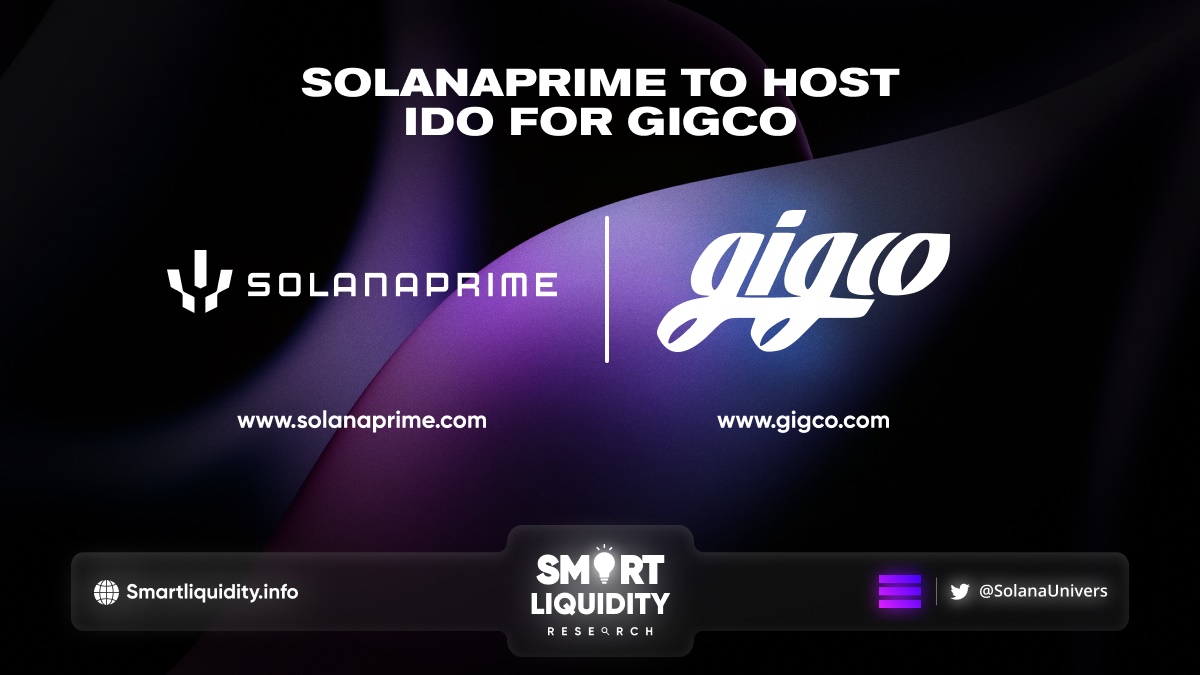 SolanaPrime, a Solana-powered, fully decentralized IDO launchpad platform, announced to host IDO for the launching of $GIG, the token native to the GIGCO platform.
SolanaPrime is excited to host the IDO for GIGCO, the Web3 Music Revolution!
Introduction to GIGCO
GIGCO is a Solana-powered Web3 booking protocol where artists and venues can operate without agents or intermediaries, providing working opportunities for millions of talented musicians.
Furthermore, GIGCO aims to make the music industry accessible to all with an easy-to-use app built on Solana, offering complete control and ownership of your music, gigs, merchandise, tickets, and NFTs. The platform will also connect music fans worldwide with their favorite artists through NFTs and specially designed staking programs.
However, the app focuses on applying smart contracts and Web3 technology to dated legacy systems controlling bookings, ticket sales, music management and more. In addition, GIGCO plans on rewarding early adopters through its token distribution mechanisms.
Partnership Highlights
Moreover, as a fully decentralized launchpad for innovative Solana-based projects. SolanaPrime is working with GIGCO to launch their $GIG token through an IDO. Indeed, they are working closely together to ensure that a fundamental part of GIGCO's vision comes to life seamlessly.
"GIGCO is looking to revolutionise an exciting industry that momentarily is full of intermediaries. We look forward to helping them achieve their plans by hosting the $GIG token launch on the SolanaPrime launchpad." — Ramiro Gamen, SolanaPrime Co-founder and Head of Business Development
The $GIG token, to be launched on the SolanaPrime launchpad, will allow users to transfer value throughout the network quickly and with lower fees. Hence, users will be able to exchange $GIG for goods or services as a digital voucher. A total of 190 million $GIG tokens, created on the Solana blockchain; Indeed, 950,000 tokens will become the initial liquid supply at TGE.
"The music industry will finally see an era of creative ownership in the hands of the community through web3 technology." — Frank de Vryer, GIGCO CEO & Co-founder
About GIGCO
GIGCO is a brand-new live music booking platform incorporating Solana blockchain technology. To provide instantly deployable smart contracts and the network's tokenized payment system. GIGCO connects Artists with Venues and all of us with live music. Generating work for musicians and revenue for venues.
About SolanaPrime
SolanaPrime is a Solana-powered, fully decentralized IDO launchpad platform. It serves as the primary market gateway for the next generation of DeFi, GameFi, and Metaverse dApps. To launch on the Solana ecosystem, either as direct token participation in the IDO or indirect exposure to SolanaPrime in its entirety.
SOURCE
https://medium.com/solanaprime/solanaprime-is-excited-to-host-the-ido-for-gigco-the-web3-music-revolution-c1c0f6c1121b