Earn Guild Partnership with KARMAVERSE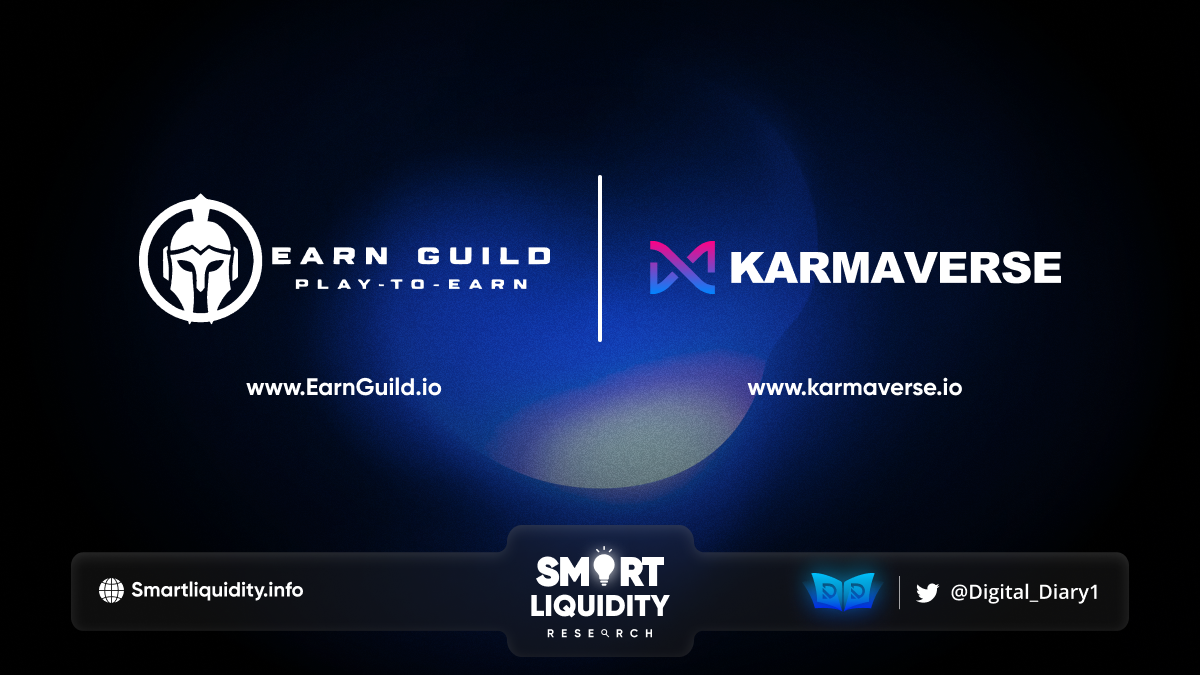 Earn Guild is thrilled to announce its strategic partnership with KARMAVERSE. $EARN is also excited to provide its community with the ability to grow a group, team, clan, or platoon of soldiers and enhance their soldier skills with weaponry needed to destroy the zombies.
These capabilities are possible because of their partnership with $KNOT. This will allow their participating players to enjoy the battles that KARMAVERSE Zombies offer. Battling in regions and capitals that are infiltrated with the ferocious zombies. $KNOT Zombies is just one of many games that the KARMAVERSE Clan has to offer.
Partnership Highlights
This new gaming partnership with KARMAVERSE will not only be financially advantageous and provide growth to each organization it will lead a path of community growth. Players from the EARN Guild community will have an exciting opportunity to play challenging games, shop in the KARMAVERSE marketplace, and enjoy new games. Not only playing but being rewarded for their successes. $KNOT encourages ecosystem development and visiting their dashboard. KARMAVERSE foresees large development growth of gaming in the metaverse and is excited to have partnered with $EARN.
"The partnership with KARMAVERSE allows $EARN and the community, the chance to grows its own team of soldiers and defeat the zombies. $KNOT Zombies is a strategic game that needs to be thought out before adding weaponry. This partnership is adding great visionaries to our community." –Darren Olney-Fraser, CEO of Earn Guild.
Origin of KARMAVERSE
The KARMAVERSE is a metaverse gaming platform based on blockchain technology. It contains multiple game universes produced by Karma Games. As a team with a history of producing successful SLGs and other casual games, they have prepared four independent game universes at launch. New game universes are under constant development!
Each universe within the KARMAVERSE has its own complete game world, with a unique art style, history, narrative, characters, music, and maps. At the same time, we also want to build the tools that enable players to build their own worlds within the metaverse, allowing anyone in the world to add their own creations and stories to the KARMAVERSE.
War Preparedness
To collect resources from the world map, attack zombies, and occupy capitals, you need to put together an army of your own. Building an army relies on Fighters and soldiers. Soldiers may be enhanced by wearing equipment.
If you encounter another player gathering resources from a plot of land, fighting in a zombie area, or battling in the capital area, you will need to fight it out to determine who will occupy that territory. Regardless of the result of the battle, soldiers that have fallen cannot be revived.
Finally, armies cannot cross the border between regions. You can only battle within your own region, except during special events.
NFT's
Players can trade NFTs and Tokens in a unified market that connects the entire KARMAVERSE.
The marketplace allows you to sell, auction, and buy NFTs and Tokens from other players. It includes tokens with limited availability that cannot be generated over time.
Not only is acquiring or selling in-game assets easy, but you can make money as you game!
About Earn Guild
Earn Guild is a guild for play-to-earn gamers on the blockchain. Our focus is on providing the best state-of-the-art games for our community. As we prosper forward, we continue to add games and partnerships. Play-to-earn games are skill-based blockchain games where players earn crypto tokens when they win. As a guild, we support play-to-earn players so that they can earn more.
About KARMAVERSE
The KARMAVERSE is a metaverse containing the game worlds of all the games they have produced so far. And also includes toolboxes for the community to build similar games on their platform. Players – known as Karmanauts – can use NFTs to transfer assets between games or sell them to other players.
SOURCE: MEDIUM