MONIWAR PARTNERSHIP with CLOVER FINANCE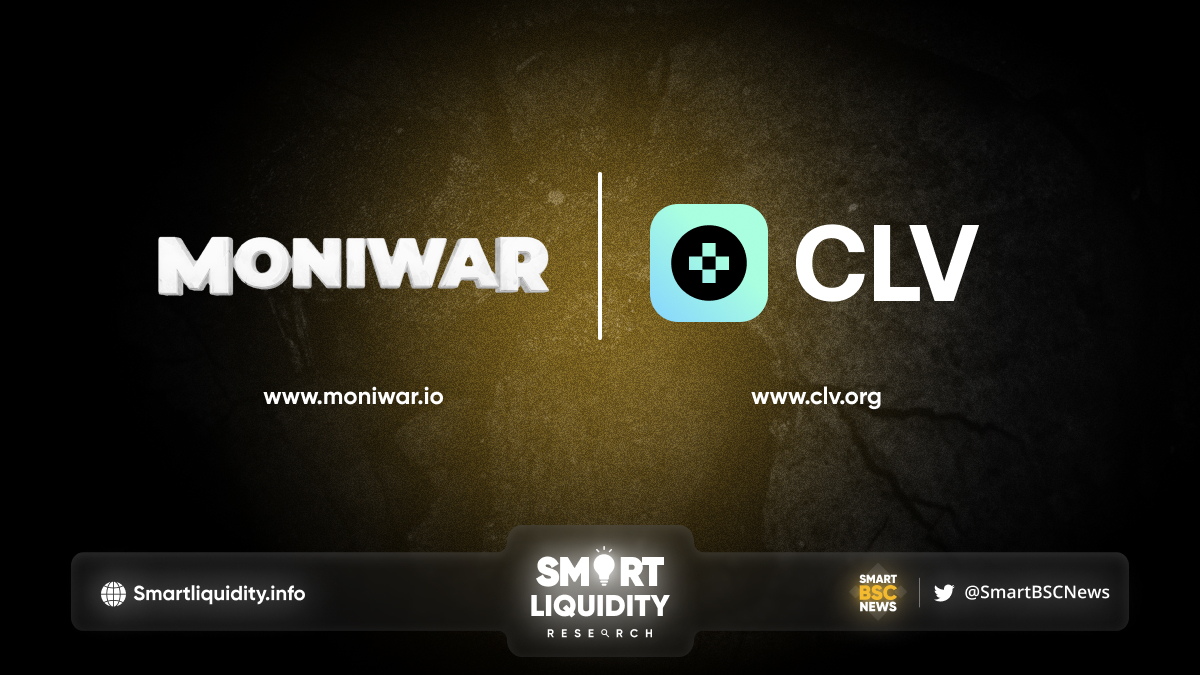 Moniwar Partnership with Clover Finance. Moniwar's native token $MOWA is now available on Clover Wallet.
CLV Wallet (Clover Wallet) is one of the most prominent products of Clover Financepr. Which is a highly compatible Smart Contract platform with EVM, built on Polkadot as a Substrate-based parachain. Additionally, their token (CLV) has been listed on many major exchanges such as Binance, CoinBase, KuCoin, Gate, and others. Promising explosions in the near future. In conclusion, Moniwar announced its Partnership with Clover Finance.
CLOVER'S MAIN FEATURES:
EVM Compatibility: It offers seamless multi-chain indexing across Bitcoin, Ethereum, Binance Smart Chain, and Polkadot.
Gas-fee Redistribution: Clover will automatically share a percentage of the fees to dApp builders in order to incentivize them. In this way, developers can earn passive income in a sustainable manner.
Gasless: users of Clover-based dApps can pay for gas with the asset they transact with (no need to keep a base currency like ETH for gas). While frequent users will benefit from lower gas fees
Identity-based Fee schedule: Clover has a unique gas calculation method that allows users to get gas discounts proportionally to the frequency of their network activity. Fewer interactions -> pay more gas and vice versa
CLV WALLET'S MAIN FEATURES:
Support popular blockchains: Users can connect to CLV, Ethereum, Polkadot, Solana, Binance Smart Chain, Fantom, Avalanche, Kusama, Edgeware and so many other blockchains.
App store for Decentralized Finance: Enjoy a seamless DeFi experience with the ability to browse all kinds of dApps such as derivatives or loans deployed on CLV.
Multi-chain connected wallet: An "Always-on" functionality that allows users to simultaneously connect with Web3js-based dapps and Polkadots-based dapps and interact with all kinds of multi-chain cryptocurrencies and NFT assets.
Cross-chain Compatibility: EVM base assets cross-chain transfers to the CLV chain and vice versa, which enable lower gas fees and faster transaction confirmation.
­ABOUT MONIWAR
MONIWAR is an epic puzzle game with a PvP mechanic for everyone. The project aims to create a new experience for players in the field of gaming and DeFi. Moreover, the game is designed as a suitable mechanism for players to be entertained, and DeFi will bring income and sustainable ways to make money for users.
MONIWAR is inspired by the famous and widely loved game around the world: Battle of Legend. Combined with the stories of ancient Greek myths and with the leading NFT and DeFi technologies in the blockchain. Moreover, by introducing a large number of ACGN Well-known IP, and designers in the field. Making full use of the "interoperability" advantage of blockchain technology. Furthermore, allowing toy figures in the real world to interact with NFTs in the virtual world in the MONIWAR entertainment metaverse, breaks the dimensional barriers.
­SOURCE