Chirpley Public Round Raise on Lithium!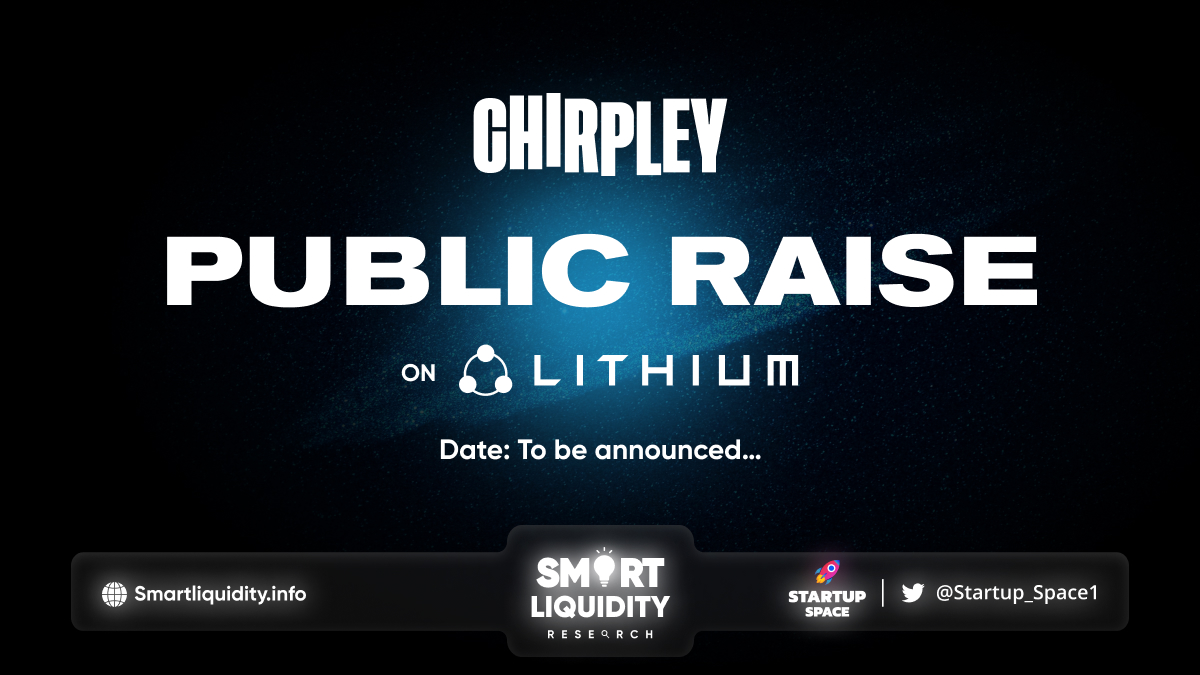 Lithium Ventures will be hosting a Public Round Raise for Chirpley – Liberating small-scale Influencers and Empowering Brands
Highlights
Fully functional product (6k signups already!)
End-to-end automation of small influencer campaigns
AI-drive selection and execution
Decentralized marketplace allowing incorporation of all social media channels
Introducing fair and seamless 'promote-to-earn'
Chirpley Introduction
Influencer marketing is one of the most rapidly growing sectors of the marketing industry. Anyone with access to a platform and a following has the power to influence an audience, which brands are attempting to capitalise. Twitter, Instagram, Snapchat, TikTok, Meta, you name it — we are spending more and more time of our lives on social media platforms, making them a lucrative space to drive marketing efforts.
Product
Chirpley is an independent and fully decentralised marketplace to match brands and businesses with nano (1–5k followers) and micro-influencers (5–50k followers). Brands have been slow to realise that targetting smaller influencers is more lucrative, as their engagement level is almost 600% higher than for big influencers — Chirpley allows exactly this by giving both brands and influencers free access to its platform to connect.
Problem
For brands and businesses, running influencer campaigns manually is extremely time-consuming and inefficient. Furthermore, it is difficult for brands and businesses to understand how much they should pay influencers to promote their products and services.
For nano and micro-influencers, way less opportunities exist than for big and well-known influencers. Further, smaller influencers often get compensated in companies' goods and services, rather than cash.
Solution
Chirpley is the world's first decentralised peer-to-peer influencer marketplace. A decentralised ecosystem powered by artificial intelligence and machine learning, which matches nano and micro-influencers with brands. Chirpley's algorithm then calculates a fair price for a range of services from tweets, retweets, likes, video posts, etc. based on an influencer's amount of followers and engagement.
This allows brands to easily and effortlessly leverage a large number of smaller influencers with complete cost transparency, while creating earning opportunities for smaller influencers themselves.
Tokenomics
$CHRP is the utility token that powers the Chirpley ecosystem. The $CHRP token works as follows: Chirpley offers brands the possibility to either pay a 10% fee on top of their total campaign budget, or a 5% fee on top if they decide to pay in the $CHRP token. Influencers then receive however much of the budget was allocated to them minus a 10% handling fee.
Ultimately, 80% of all Chirpley revenue is used to further develop its ecosystem (marketing, development, community, user rewards, etc.), while 20% of the revenue is used to buyback and burn tokens.
Public Round Raise Details
Date: August (TBA)
Total Raise: $50,000
Public Round Price: $0.021
TGE Price: $0.021
Mcap at TGE: $357,000
Vesting: 15% at TGE, then monthly over 12 months.
About Chirpley
Chirpley is the world's first automated, peer-to-peer, all-in-one influencer marketplace specifically focussed on nano and micro influencers.
About Lithium Ventures
Lithium Ventures is a Crowdfunding Launchpad built on the Polygon Blockchain. We democratise the early investment process by providing frictionless access to users looking to invest in blockchain projects at the earliest possible stage.
SOURCE
https://medium.com/future-venture/chirpley-public-round-raise-on-lithium-1817715f5f25