Mad's Crypto Corner Partners with Luxpad!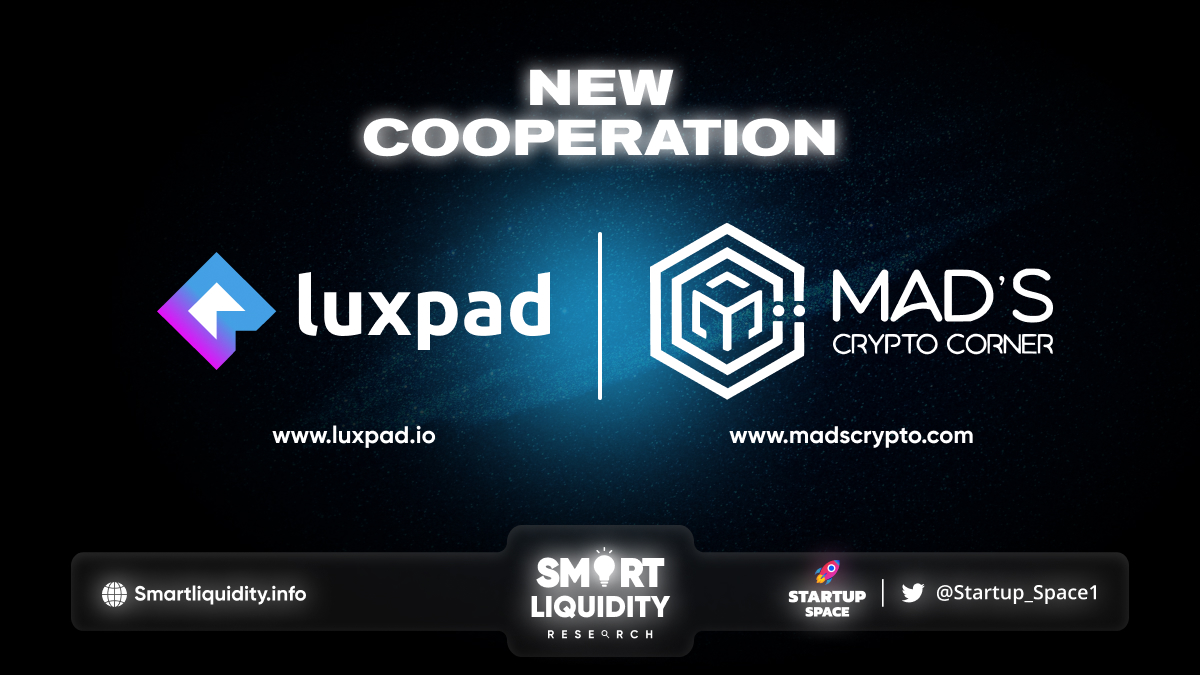 Mad's Crypto Corner is very excited to announce its newest partnership with Luxpad, a decentralized self-served launchpad platform.
Project Introduction (Luxpad)
Luxpad is not only a platform where you can list your project to raise safe funds from the investor but where you can create a staking platform without worrying about coding the platform they provide you a hassle-free platform with only clicking and providing information with your NFT staking this is fully decentralized the ownership of the contract NFT staking is your same as with the launchpad presale and fair-launch.
Why Luxpad?
Providing a safe way of a presale, creating token, and NFT staking is their priority in all developer's project and investors luxpad make sure each user who use the platform a satisfaction decentralized protocol thwy do not own the contract you are the owner and you have access for it. aside from being safe for launching a project, they are the CHEAPEST SERVICE FEE.
Luxpad Token(LXPD) Use-cases
Luxpad Token(LXPD) will be used for the ecosystem of the Luxpad platform
The following use-case below are the future for LUXPAD
Payment for service fee – fair launch, launchpad, creating a token, creating NFT staking contract, and creating NFT in NFT Marketplace.
Stake and earn LXPD
Stake to become eligible for airdrop tokens from other project
Use for vote in the LUXPAD DAO
Use to buy NFT's in our marketplace
Add in liquidity and earn in FARM
Marketing plan
Luxpad's marketing plan is to expand and more exposure to the community in crypto and provide a better and safe place where you can invest and earn more profit from it. The all-in-one safe platform.
List for marketing:
Community airdrop task
NFT artist/creator
Testnet incentivize
Twitter/influencer giveaway
Centralized Listing ( MEXC, KUCOIN, GATE.IO )
High liquidity and locked forever(burn LP) 90% total sale from IDO
Chinese community ads/influencer
Targeting start-up project community to list in Luxpad
Supporting Startup project with a solid plan and use case via Lux-Invest
Institution partnership
What the Partnership Entails
Nothing can't stop Mad's Crypto Corner, because everyday is their day to grow stronger and bigger together and with the help and hands of the other. As always, they believe that they can't get any success without other in their side, and their new partner that they will reveal today will be the same.
From this partnership, Mad's Crypto Corner will join hands with Luxpad strategically as a long-term partner. This is also the opportunity for both parties to expand their horizon to a broaden view.
About Luxpad
Luxpad is a decentralized self-served launchpad platform, create your own customized IDO Launchpad, Token, NFT, Staking contract and launch on any blockchain inside in Luxpad platform with cheapest service fee.
About Mad's Crypto Corne
Mad's Crypto Corner is an Indonesia-based community that was established in mid-2021. With the main mission to provide good quality projects to their community (we called it Madians), they educate global specifically Indonesian cryptocurrency players to increase their understanding about cryptocurrency, and more importantly blockchain technology.
MCC aim is to connect all cryptocurrency players — projects' developers and teams, investors, users, and even airdroppers — to build a healthy community where everyone whoever and wherever they are can actively participate in this still growing and promising prospect industry.
SOURCE
https://medium.com/@madscrypto.corner/95e3ed8a7fde