MetaRing Forms Partnership with Forest Knight!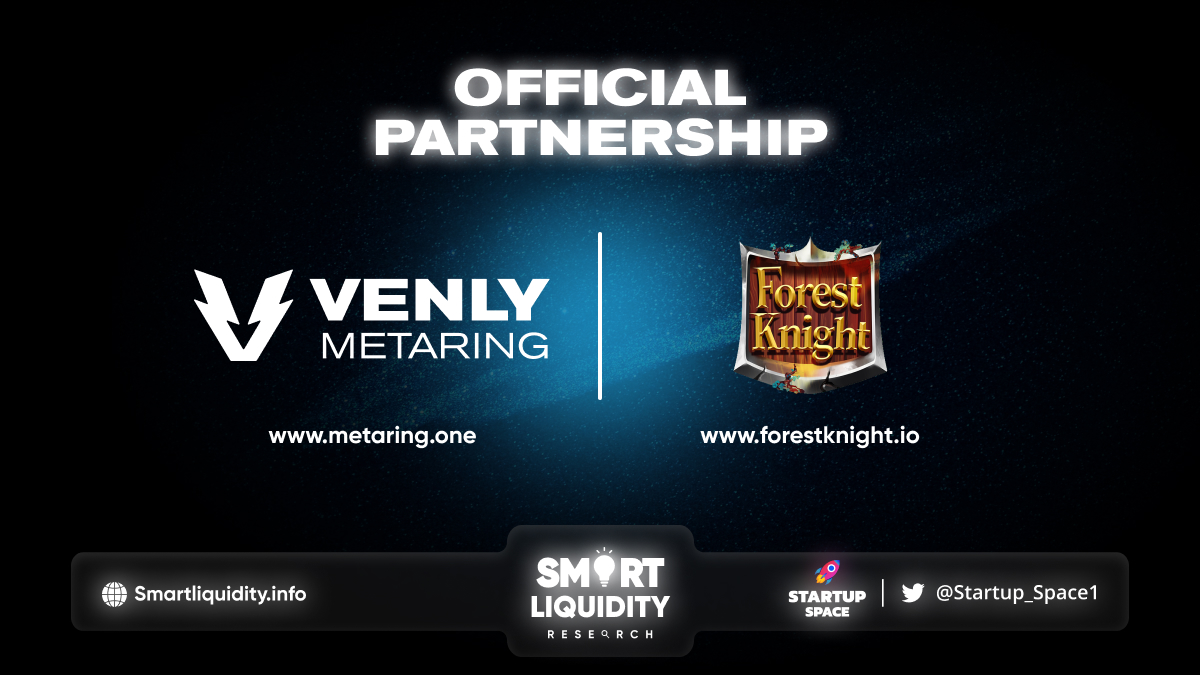 MetaRing by Venly is extremely delighted to announce an official partnership with Forest Knight!
In these uncertain times and markets, it's a sloppy road to point to a specific Metaverse 'to rule them all'. Since there are so many different types, projects, companies, ventures, groups and communities that are building on various platforms and blockchains, Venly took the initiative to unite them under one Ring.
With this in mind, Venly are getting one step closer to achieving their goal of bringing mass awareness and one place to store its value. With no more introduction, they are proud to emphasize their affiliate from Forest Knight — a P2E game that enables a player's utterance. Everyone gains when communities work together. The metaverse enables the interaction of several ecosystems. NFTs have given gamers ownership, and power comes with ownership!
More Overview
They pioneer to create something unique in this era of cross-overs between the Internet, and augmented and virtual realities! This partnership's grander objectives are to bring everyone together under the meta-world. Not only connecting to the Internet via computers or smartphones, but also entering a "virtual" world where everything is interactive. The cornerstone of this approach is NFTs. The concept is that a plain JPEG file is a legitimate asset and might be the next big thing in this brand-new environment.
NFTs don't have to be just collectibles or works of art. The profile picture system gives users instant utility and provides more visibility. MetaRing holders can connect with other communities, form guilds, forge items, and play together in Forest Knight. It's as easy as connecting your wallet to the game and choosing the NFT. No caveats.
By owning a Metaring, you are automatically taking part in the game's VIP system. The aim is We aimed to reward consistency and strategic gameplay while designing the system. All of the game's elements are integrated together via the VIP system. The objective is to give knights more meaningful things to consider when playing the game while yet keeping everything as authentic to the spirit of free-to-play and play-to-earn games as possible.
The NFT Profile Picture system strengthens our belief in empowering the masses, which is similar to the DAO governance. One method to obtain recognition while building a hub for excellent projects is through artistic expression. The functionality enables significant user interaction, which is something we constantly try to incorporate.
About Forest Knight
An uncharted continent is the setting for the turn-based strategy game Forest Knight, where players must assemble a group of heroes and battle evil. The game combines the best of two worlds: an enjoyable and engaging PVE RPG experience, competitive and social PVP gameplay modes and activities, as well as a decentralized asset ecosystem through game items such as NFTs and world-building powered by DEFI elements.
About MetaRing Origin
The MetaRing NFT gives you access to exclusive locations across different virtual lands, platforms and games. The Ring offers unique benefits, unlocks special in-game utilities and early adoption access. One Ring to join them all.
About Venly
Venly is a blockchain technology provider with over 2.5M end-users. It offers users of blockchain projects digital wallets to store assets with a native solution that also works on mobile devices.
Venly also recently launched the Venly Market as the first-ever peer-to-peer and blockchain agnostic NFT marketplace.
With Venly's NFT-tools like unity integrations and a Shopify app, blockchain games, projects, and decentralized applications can tap into an entirely new revenue stream without having experience in blockchain engineering or a complex regulatory framework.
SOURCE
https://medium.com/@tudor.fl/partnership-announcement-metaring-x-forest-knight-38912170c8b4