Palmare Strategic Partnership with StarryNift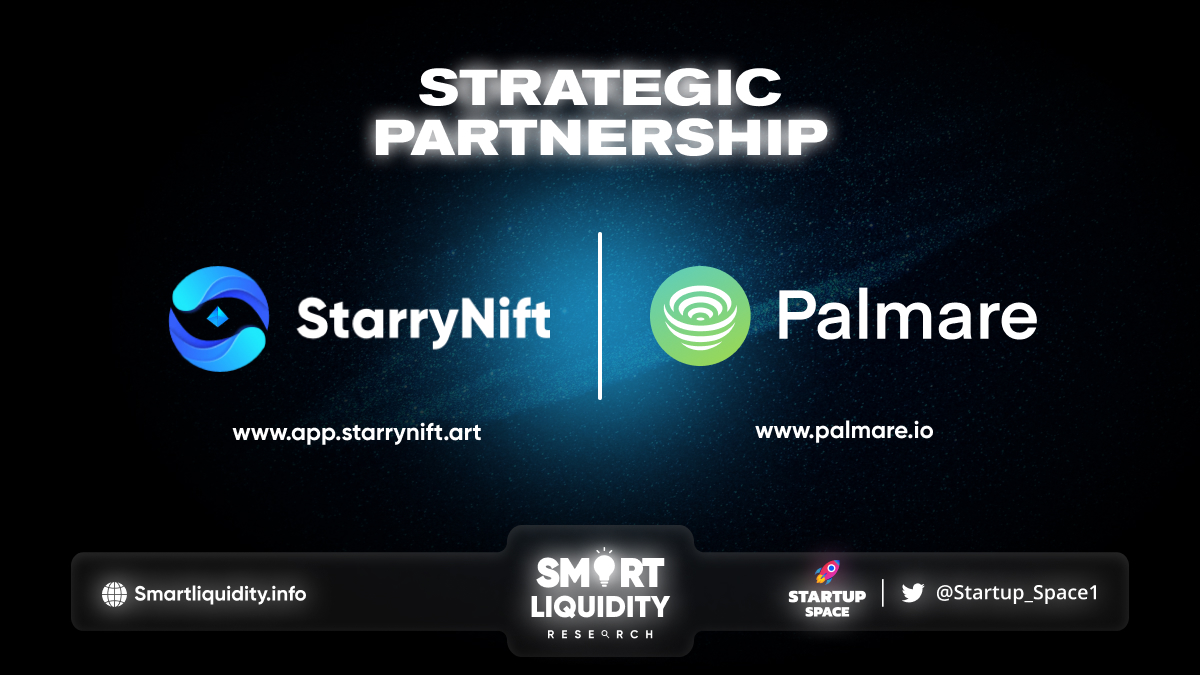 Palmare

is excited to partner with StarryNift, the first large-scale Web3 co-creation platform.
Introducing StarryNift
StarryNift is the first large-scale Web3 co-creation platform that integrates gamified NFTs, NFT art collections and Metaverse creation. Currently, StarryNift has GameFi elements- PVP & PVE NFT card strategy battle, quarterly tournaments, NFT breeding system, etc.
3D Metaverse elements- currently supports interactive exploration games, music parties, 3D galleries, etc.
StarryNift aims to establish an open space where Web2 and Web3 are interconnected, thus supporting access for traditional Web2, emerging Web3, and cutting-edge VR device users. They also hope that players can immerse themselves in their Metaverse, to let loose and have fun while discovering new hobbies and showcasing their talents. In future, players can use provided SDK tools to customize their own virtual space, create their own NFTs to transact in-game, enjoy and reap rewards from participation in GameFi and SocialFi, and contribute to the development of the project.
At present, they wish to build partnerships with more high-quality communities to promote the Web3 spirit together. If your community requires NFT Giveaways (they expect to sell Space NFTs on the ETH chain in July & can provide Whitelists), or participation in Twitter Space activities, they are open to discussions and most willing to provide support.
Overview of Palmare
The introduction of the Move to Earn app has redefined the fitness industry. Based on this success, they decided to make the Palmare app based on researching and optimizing the Earning system and bringing a new experience to the sports community.
In Palmare, each user profile is a token itself. Users create a profile on the app, for which they will mint an ID'd profile NFT. This NFT controls the profile, and thus, its owner becomes the controller of the given profile.
Their app will provide social graph and earning features for Crypto fans and Non-crypto Users. They focus on three types of Earning:
Train to Earn each sport you participate in can help you earn by burning calories (for riding a bike or any of your favorite sports)
Engage to Earn users contribute content to the sports community and earn back from social engagement (include like, share, follow…)
Check in to Earn While users are riding, they can check in lots of places they came by, and for each period of time, We have quests for users to check in as much as they can to earn tokens.
About StarryNift
StarryNift is the first integrated gamified platform and one-stop shop that provides creation, incubation, auction, and transaction for NFT collectibles.
About Palmare
Palmare is a Community-driven Web3 Sports App with an inbuilt SocialFi and SportFi element.
SOURCE
https://medium.com/@PalmareOfficial/palmare-strategic-partnership-with-starrynift-bf8a314c8150