Brave Wallet Partner Program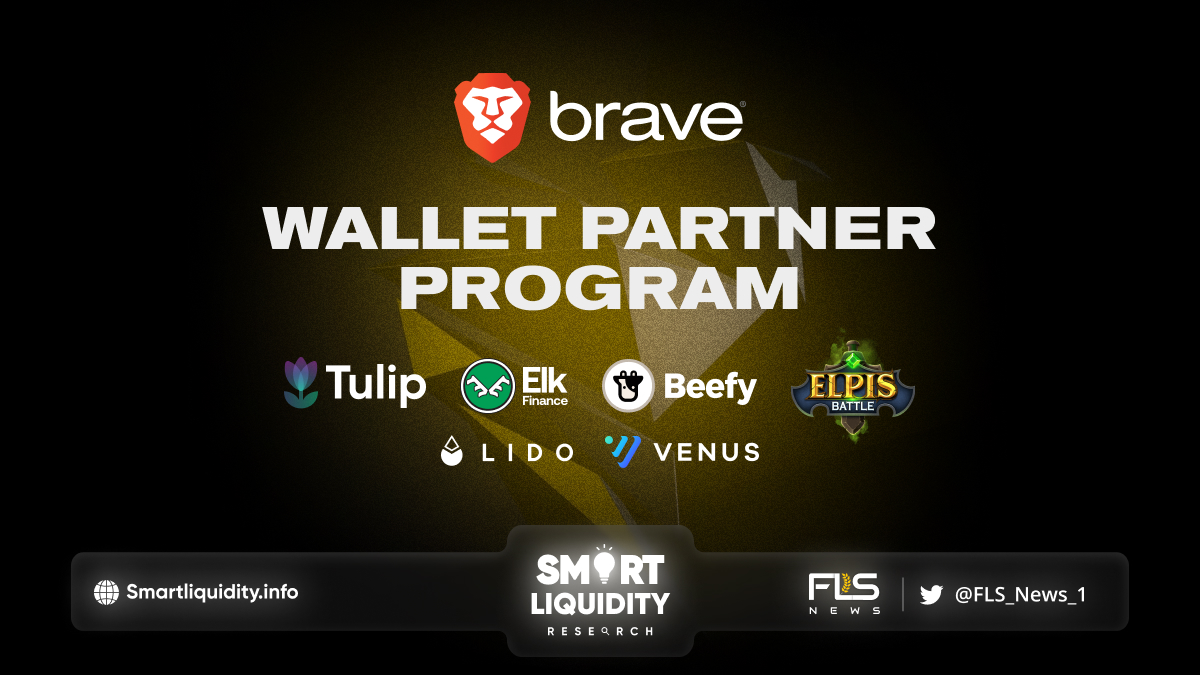 Brave

expands its Wallet Partner program with six additional leading DApps
The Brave Wallet Partner Program and a roster of six inaugural partners who integrated Brave Wallet connection in their DApps (ApeSwap, Arken, Bogged, DODO, Open Ocean, and Skiff). Brave are thrilled to announce six additional leading DApps (decentralized applications) spanning over 10 networks joining the program in July.
Partnering with the most widely-used decentralized applications in Web3 underlines Brave Wallet's ease of use and rich set of features. These include decentralized swaps, multi-chain portfolio view, simple fiat-to-crypto purchases with Ramp and Wyre, and continuous updates and additions to make Web3 more accessible. Importantly, partners in the program benefit from co-promotion of their DApps among Brave's 62+ million users via our blog, community channels, social media, and Brave Ads.
They are excited about the opportunities these partnerships can create for BAT utility and Brave Wallet users, including better access to decentralized finance (DeFi), privacy tools, lively social communities, and more. Each new addition deepens our commitment to providing the leading secure, multi-chain wallet, that we hope will onboard millions of users to Web3.
About Beefy
Beefy one of the largest and most-used yield-aggregators, with smart contract vaults that help users earn more yield on their liquidity positions across 16 different networks and dozens of decentralized exchanges.
About Elk Finance
Elk Finance, a multi-chain bridge network that connects 19 EVM-compatible chains, allowing users to quickly & safely move their tokens from one chain to another. In addition to moving assets, Elk adding cross-chain swaps, offers users choice to receive bridged assets a different token.
About Elpis Battle
Elpis Battle a turn-based RPG NFT Game implemented on BSC network, develop by ZEGO Studio— gaming studio in Southeast Asia. By combining cryptocurrency, NFT gaming, & DeFi. Elpis's developers want to create a new kind of gaming experience for Elpis Battle players. Elpis is a world where players can not only explore stories about an imaginary kingdom but also create value, exchange, buy, and sell assets as participants in the economy of Elpis.
About Lido
With over $5 billion in value locked between Ethereum and Solana alone, Lido is by far the most widely used liquid staking protocol available today. Lido makes easy for anyone to participate in proof of stake consensus, simultaneously allowing users to interact with DeFi protocols.
About Tulip
Tulip Protocol was the first yield aggregation platform built on Solana with auto-compounding vault strategies. The DApp is design to take advantage of Solana's low cost, high efficiency blockchain. It allows vault strategies to compound frequently—which benefits yield farms with higher APYs—without  requiring active management. It also has lower gas fees. Tulip offers a wide variety of strategies for its users: Lending, Auto-compounding Vaults, Leveraged Yield Farming, & their Strategy Vaults.
About Venus Protocol
Venus the leading DeFi market for lending & borrowing, & second largest decentralized application in terms of TVL on BNB Chain. Users can use their many pools & a variety of stablecoins to borrow & lend assets at variable interest rates.