Deploying Fractal on Avalanche, Fractal supports Avalanche by adding DIDs, allowing users to smoothly switch dApps
Seeing the opportunity in Avalanche
In terms of time-to-finality, Avalanche is one of the blockchain industry's quickest smart contracts systems. Avalanche is well-known for being extremely interoperable, enabling the construction of several subnets while its blockchain serves as a common platform. Furthermore, it provides tremendous scalability; 4,500 TPS at minimal gas expenses.
Fractal DID for Avalanche ecosystem
Unlike earlier implementations of Fractal ID with separate platforms, establishing DIDs for the whole Avalanche ecosystem exposes benefits for dApps on Avalanche that are unique in the crypto realm.
No-touch open DID registry
The DID registry is a privacy-preserving identity verification commons that enables direct on-chain identity verification.
As soon as the user connects their wallet, the dApp will be able to toggle the registry and discover the user's identity credentials. That's it. That's how easy onboarding even for full identification requirements or proof-of-personhood use cases can be, maintaining the user's privacy while providing a safe Web3 environment for building. (See Figure 1.)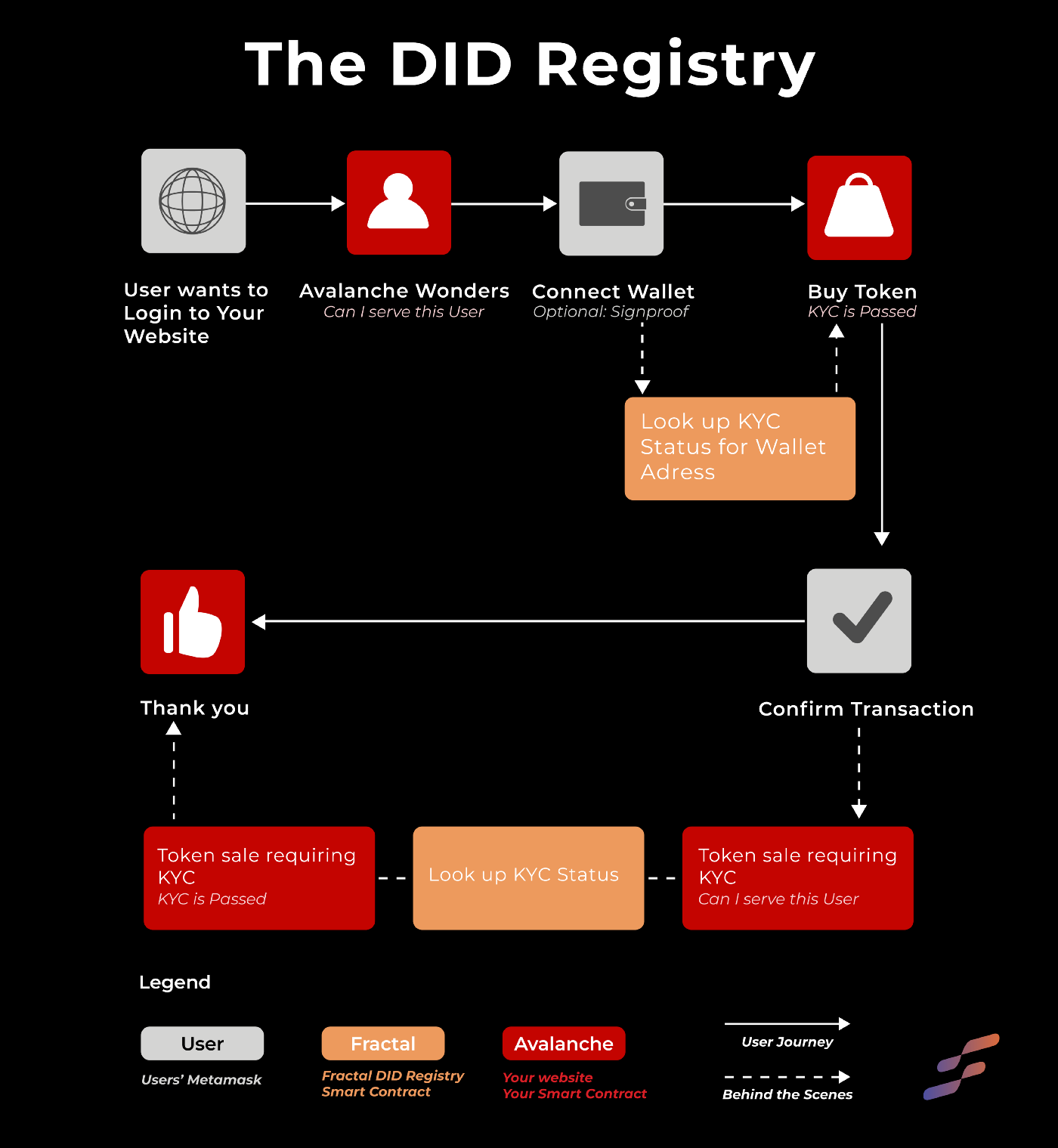 One login, access to all Avalanche dApps
Leveraging Fractal DID provides users with the ability to use different Avalanche dApps. Moreover, the DID registry is open not just for Fractal credentials. That means, whether you have Fractal ID or starting your KYC journey from scratch, you can still connect to the DID registry to access Avalanche's networks.
Using Fractal, the process for new users is simple: When a user uploads their identification documents (e.g. identity card, residency proof) Fractal will verify these documents and issue verifiable credentials that can be selectively disclosed at user's consent. Furthermore, these credentials are reusable, enabling users to present them across different networks and platforms.
Once a user verifies their identity for a dApp, they are instantly ready to use any other dApp without needing to go through a new KYC journey as Fractal verifiable credentials (VCs) are interoperable across all Avalanche networks. (See Figure 2.)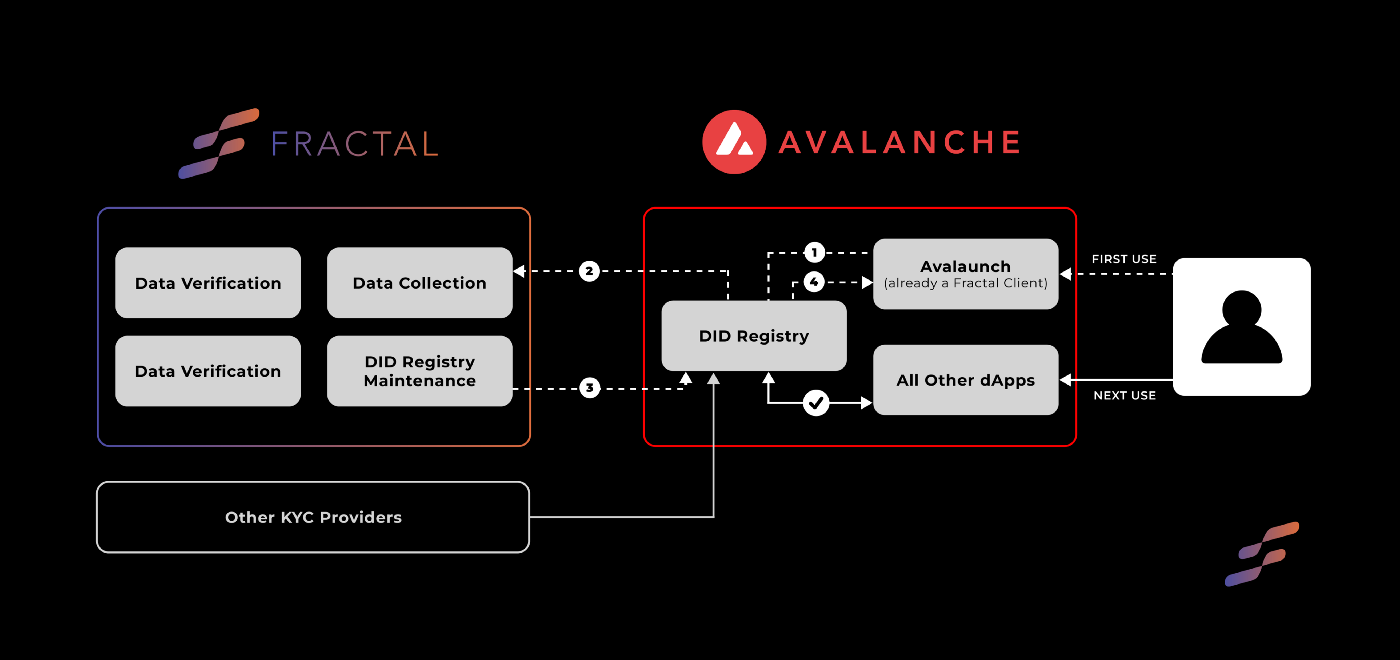 Benefits of Fractal deployment on Avalanche
Fractal deployment on Avalanche aims to create a safe and privacy-preserving ecosystem for builders and users alike.
This implementation brings significant benefits to Avalanche ecosystem users, including:
Enabling Avalanche to seamlessly tap one of the broadest Web3 communities with access to 150k+ pre-verified Fractal users who can be seamlessly onboarded with a click of a button.
Ensuring a regulatory-compliant ecosystem that protects users' privacy as well as the network's reputation.
Bringing back data ownership to users by providing them with reusable, selectively-disclosable verifiable credentials.
About Fractal
Fractal's mission is to empower and incentivize users & businesses to exchange data in a privacy-preserving way so that the balance of power and control between web platforms and their users is restored. Find out more in their roadmap for 2022.
About Avalanche
Avalanche is the fastest smart contracts platform in the blockchain industry, as measured by time-to-finality, and has the most validators securing its activity of any proof-of-stake protocol. Avalanche is blazingly fast, low cost, and green. Any smart contract-enabled application can outperform its competition by deploying on Avalanche.
SOURCE
https://medium.com/frctls/fractal-x-avalanche-bringing-decentralized-identity-to-the-avalanche-ecosystem-71df89a5a0d