Eden Liquid Staking Live on Avalanche, Eden Network announce its new liquid staking product is live on Avalanche.
In partnership with Yield Yak and Geode Finance, Stakeholders of AVAX tokens get yyAVAX, a yield-bearing derivative that aligns incentives between blockchain systems and users. Eden Liquid Staking Live on Avalanche
Proof-of-Stake (PoS) blockchains require users to stake native tokens, in this case, AVAX, to strengthen network security. The more AVAX staked, the more secure the network.
Aligned Incentives
Liquid staking overcomes this incentive mismatch by giving stakers access to a DeFi-usable derivative token (yyAVAX). This enables users to play a crucial part in network security without giving up their chance to earn from DeFi.
Liquid staking overcomes this incentive mismatch by giving stakers access to a DeFi-usable derivative token (yyAVAX).
Eden Network's Role
The landmark partnership between Eden Network, Yield Yak and Geode Finance is the first of its kind on Avalanche, and each party plays an integral role in the liquid staking product.
Eden Network is responsible for amplifying yield; providing users higher returns above the standard platform staking rewards. This is achieved through Eden's bespoke yield generation engine, which uses various strategies and products to accumulate value from blockchain ecosystems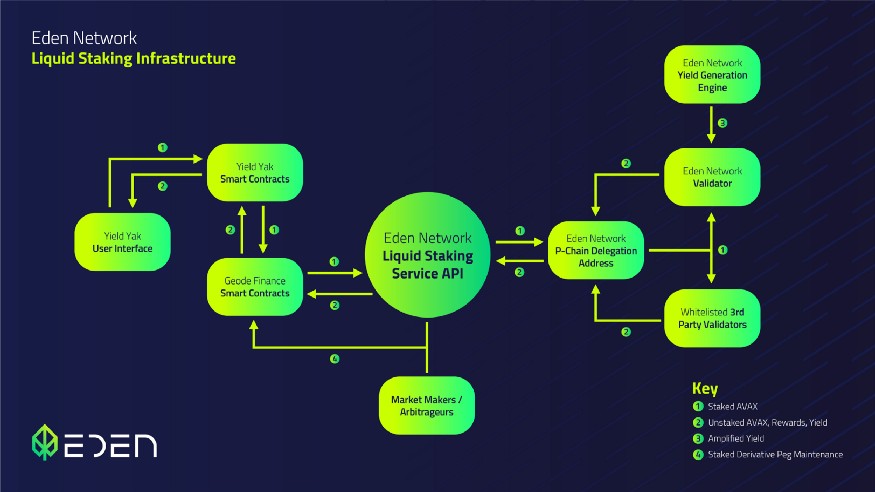 Yield Yak, the premier auto-compounder and one of the most trusted brands on Avalanche, provides the liquid staking user interface, and Geode, a next generation multi-chain liquid staking protocol, provides the smart contracts and much of the back-end infrastructure to power yyAVAX. Geode also recently announced their seed investment, led by Multicoin Capital.
yyAVAX is Eden Network's first new product to launch as part of their multi-chain strategy. They have also partnered with Castle Crush to provide key validation services on their upcoming Avalanche subnet, and will launch more products and services on multiple blockchains — including Ethereum 2.0 — in the near future.
About Eden Network
Eden Network is a multi-chain infrastructure provider. They supply back-end validation framework for the upcoming Castle Crush subnet on Avalanche, as well as Yield Yak's liquid staking product, yyAVAX. Through their expertise in generating value on-chain, Eden Network utilizes multiple strategies to provide stakers with meaningful yield, and partners with increased revenue.
About Yield Yak
Yield Yak makes numbers go up. Ape into new autocompounder farms with quick releases and high yields. Swap on Yak for the best prices on trades with zero aggregator fees. Sit back and just earn, including big APYs on stablecoin farms.
About Geode Finance
Geode Finance provides DAOs like Yield Yak with the ability to provide a liquid staking solution to their users. By providing DAOs with the infrastructure, their own staking token derivative and exit liquidity, Geode are able to open up the opportunity for vastly improved yields and capital efficiency for users across the whole of DeFi.
SOURCE:
https://medium.com/edennetwork/eden-network-launches-new-liquid-staking-product-on-avalanche-3f354bc054b