Invariant Collaboration with Hubble Protocol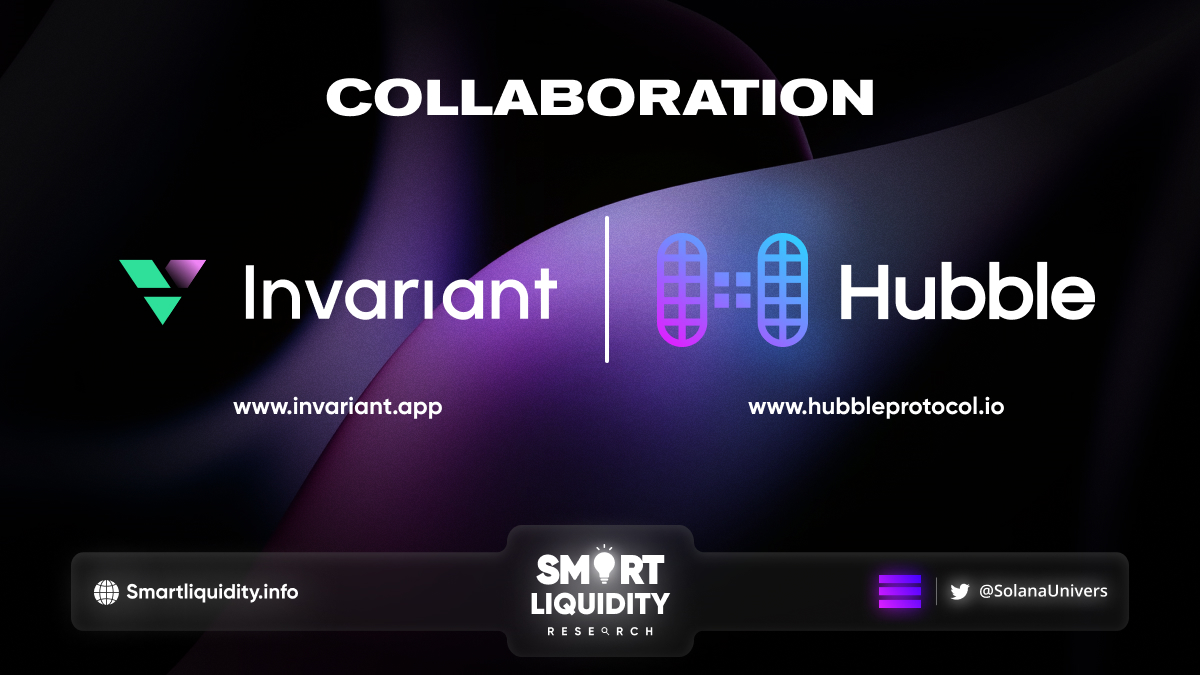 Invariant, the First significant AMM DEX providing concentrated liquidity on Solana announced its collaboration with Hubble Protocol,  a decentralized finance and stablecoin project on Solana.
Invariant announced its collaboration with Hubble Protocol, to bring its users a lot of opportunities to participate in DeFi and pursue capital-efficient liquidity solutions on Solana.
What is Hubble Protocol?
Hubble is supercharging users' liquidity with a collateralized debt position (CDP) stablecoin called USDH.
Moreover, Hubble allows you to borrow USDH by depositing a whole basket of different assets as your collateral. Doing so gives you access to a maximum 80% loan-to-value (LTV) on your long-term holding tokens like SOL, BTC, ETH, and tokens from the Solana ecosystem.
Indeed, USDH can be used to earn yield all over Solana, and now you can earn yield by LPing USDH on Invariant. In addition, Hubble Protocol allows you to stake USDH and HBB tokens for rewards on its platform.
Why should you borrow through Hubble?
If you believe that SOL is going to the moon and don't want to sell, Hubble provides you with a great opportunity. Instead of selling, you can deposit your SOL on Hubble and borrow USDH to do whatever you want while you wait for SOL to appreciate in value.
When you borrow USDH, all you have to do is pay a one-time 0.5% fee. When you pay back your USDH loan plus the fee, you can withdraw your SOL at any time.
What is USDH?
USDH is a stablecoin pegged to the US dollar, and it has been developed by Hubble as a Solana-native and censorship-resistant token. You can mint it through Hubble Protocol, or you can also trade for it on DEXs such as Raydium, Orca, Invariant, and many others.
Why USDH?
The DeFi system, like any economy, depends on a stable currency as a unit of account. Stablecoins are DeFi's unit of account, and they are usually pegged to the US dollar, the world's de facto reserve currency.
4 types of stablecoins
Fiat-collateralized
Crypto-collateralized
Commodities-collateralized
Algorithmic (however, this approach has already shown several times that it is not fully safe, as in the case of Terra's UST)
However, Minting USDH gives users the flexibility to choose what assets they want to borrow against. Because there are currently nine tokens that can be use as collateral, with more on the way. Anyone can verify USDH's collateral backing by checking data on-chain, which is much more transparent and open than fiat-backed stablecoins.
Why should you use USDH on Invariant?
You can use USDH to become a liquidity provider on Invariant. All you need to do is to open a position in a USDH liquidity pool. If you want to know how to become a liquidity provider (LP) check their tutorial.
When you become a USDH LP, you can earn fee rewards from trades that use your tokens, and with Invariant's concentrated liquidity, more of your tokens are put to work than with other DEXs. This is a low-risk DeFi play that can earn you consistent real yield.
Also, after you open a provide USDH liquidity in the Invariant pool. Users will be able to stake your position in the yield farm on the Farms page and earn even more. Currently, HBB token rewards are being distribute to users who deposit USDC-USDH liquidity on Invariant.
About Hubble
Hubble protocol allows users to take interest-free loans against multiple crypto assets. Hubble works with USDH, Hubble's decentralized stablecoin.
About Invariant
Invariant is the first significant Automated Market Maker (AMM) DEX providing concentrated liquidity on Solana. 
The Invariant protocol is a peer-to-peer system for exchanging assets on the Solana blockchain. The protocol is implement as a set of smart contracts that prioritize censorship resistance, security, self-custody, and an ability to operate without using trusted intermediaries who can selectively restrict access.
SOURCE
https://medium.com/@invariant_labs/invariant-x-hubble-protocol-3cb241a5f539