Dapp Play Store Partnership with SolaDefy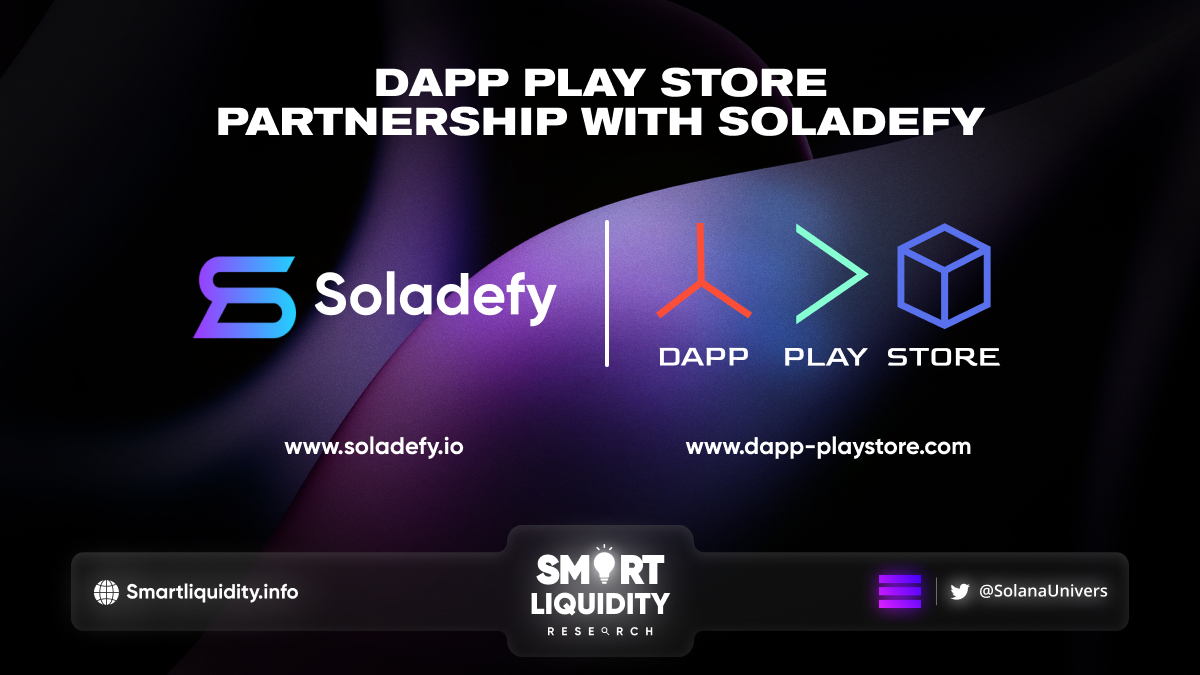 Soladefy, a GameFi launchpad built on the Solana network, announced its partnership with Dapp Play Store, first Dapp marketplace that connects to all web3 applications.
Dapp Play Store is pleased to announce its partnership with SolaDefy. GameFi launchpad is a more involved platform that allows you to buy its token to get exposure directly to new and exciting projects listed on it. And that is what SolaDefy is here to offer.
What is SolaDefy?
SolaDefy is the first ever Solana-based Decentralized gamified IDO launchpad. It's a GameFi Launchpad that allows its users to enjoy the benefits of the IDO allocations in its ecosystem. SolaDefy provides a community-governed ecosystem with eight tiers systems that users can hold. It also ensures fair distribution of IDO tokens for users. SolaDefy provides marketing and other necessary support for projects after launch and monitors them.
Each member in the SolaDefy ecosystem is rank base on the number of tokens they hold. It also rewards incentives like airdrops of rare NFTs that are launch on it to members who hold and stake SLDFY. This can also be used for leveling up.
"Saad Laghari, the Founder and CEO of SolaDefy is an expert on System networks. A Senior System Engineer for one of the largest telecommunication providers in Australia. After running a successful e-commerce brand for several years, He decided to dive into the Blockchain space and become the driving force behind the community-driven IDO GameFi Launchpad, the first of its kind in Australia."
Why you should choose SolaDefy
Changing the GameFi ecosystem
Increase participation in GameFi
Building a new dual ecosystem
Play to Earn IDO
Guaranteed Tiers
IDO Accumulation
Auto-Invest Feature
Rug Proof Mechanism
Partnership Highlights
Home to the most creative and inclusive Dapps in the world. Dapp Play Store is the next generational Web3 application store & content management system.
The first platform to house all dApps, built on a variety of blockchain networks, a digital distribution platform utilizing the decentralized infrastructure for software storage and scalability. Due to our decentralization and tokenomics, they are able to reward each dApp that submits their project to the Dapp Play Store with our native token for their participation.
A peer-to-peer marketplace for decentralized applications. Essentially, the Dapp Play Store platform provides a comprehensive set of software solutions to run, create, download, monetize and interact with an easy user experience, complete interoperability and an infinite amount of dApps at your command.
By the virtue of this partnership, SolaDefy will be joining the family of DApps on the DApp Play Store.
About Dapp Play Store
Dapp Play Store is a multi-coin wallet that allows users to search, play and install all blockchain applications uploaded to the store, whilst autonomously connecting to all the dapps submitted to the dapp play store wallet which ensures an easier user experience as opposed to using third party entities. Ensuring the dapps are connected to the DPS wallet allows users to easily change the mainnet to comply with whatever chain the dapp is built on.
About Soladefy
SolaDefy is the first ever Solana Based Community Driven IDO Launchpad. Supporting upcoming revolutionary projects.
SOURCE
https://medium.com/@DPS1017/dapp-play-store-partners-soladefy-best-gamefi-ido-launchpad-c38349ae8bf3