Rangers Protocol Collaborates with Non-Custodial Wallet UniPass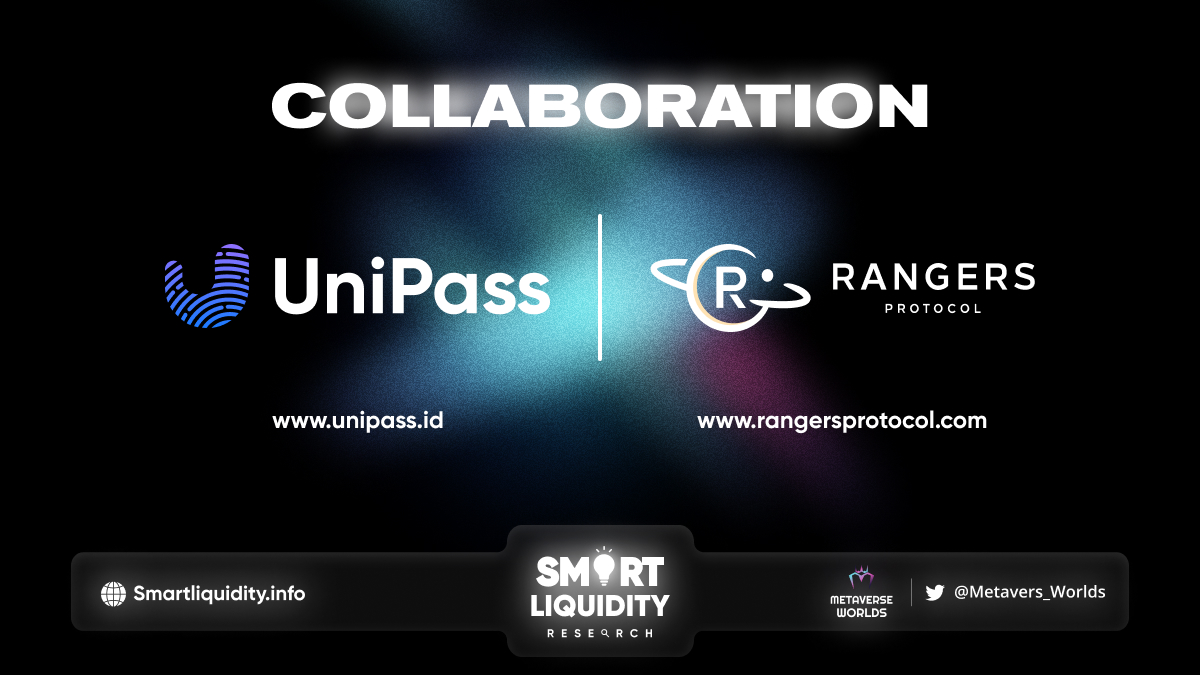 Rangers Protocol reached strategic partnership with the non-custodial wallet UniPass, aiming to lower the usage threshold for vast dApp users on the Rangers Protocol network.
On July 26, 2022, the Web3 Engine infrastructure Rangers Protocol commenced a strategic partnership with Unipass, a user-friendly, non-custodial wallet providing a seamless experience for mass users and Web3 developers.
Rangers Protocol has been providing technical support for Web3 core areas such as NFT, GameFi, and Metaverse. After cooperating with Unipass, users can enter Web3 applications through Web2 login methods. Which lowers the threshold for users of Rangers Protocol and attracts more Web2 users into the Rangers Protocol ecosystem.
Additionally, UniPass will help the dApps deployed on the Rangers Protocol network to better attract Web2 users. With Unipass as the solution, users can get non-custodial wallets and start their dApp experience in an easier and safer way only through a simple email registration.
Why UniPass?
UniPass is a universal passport to the Metaverse. It revolutionized the current application of non-custodial wallets. UniPass greatly lowers the on-ramp threshold for mass users, reduces the integration difficulty for dapp developers, and facilitates the Web3 transformation of Web2 social applications.
Using Unipass's original decentralized on-chain social recovery solution, users can submit account recovery emails to the smart contract on the chain through multiple Internet users as guardians when the key is damage or lost, so as to achieve zero-threshold social recovery. Therefore, users no longer need to record mnemonics when creating an account.
UniPass has already developed a customized version for the Rangers Protocol network and integrated with DeHeroGame, the first dApp deployed on the Rangers Protocol network.
Recently, a technical testing of DeHeroGame was held on the Rangers Protocol mainnet, the gas fee for which is covered entirely by the project. With no need to pay the gas fee, users are saved from the trouble to obtain project tokens. And are able to fully focus on the product itself, which greatly lowers the entering threshold of Web2 users.
UniPass is now actively developing and deploying on Rangers Protocol as a part of the thriving ecosystem. It will continue its regeneration to improve users' experience on Rangers Protocol.
About UniPass
UniPass is a user-friendly, non-custodial, multi-chains-supported smart contract account. UniPass uses threshold signature technology to manage the account key, and it is based on Multi-Party Computation to solve the potential single point of failure problem in the process of key generation and usage.
Lastly, UniPass empowers users to seamlessly manage their private keys without even knowing what private keys or recovery phrases are. UniPass is dedicated to helping more people easily access and use Web3 products. UniPass will be compatible with the latest ERC4337 account abstraction protocol and is a leading-edge smart contract account solution.
About Rangers Protocol
Rangers Protocol is the backbone of a Web3 engine for creating immersive Web3 applications. It minimizes the development difficulty for Web3 developers and maximizes the user experience of its Web3 applications. Rangers Protocol provides comprehensive infrastructures for efficient complex-app development. Successful cross-chain and mass distribution, diverse in-app NFT and DeFi features, and more. Through its full EVM-compatibility, strategic industry partnerships and its curated all-in-one IDE, Rangers Protocol supports AAA and indie developers to succeed in the Web3 world.
SOURCE:
https://medium.com/rangersprotocol/rangers-protocol-collaborates-with-non-custodial-wallet-unipass-65ca9fa4ef13