SupraOracles Partnership with MeMusic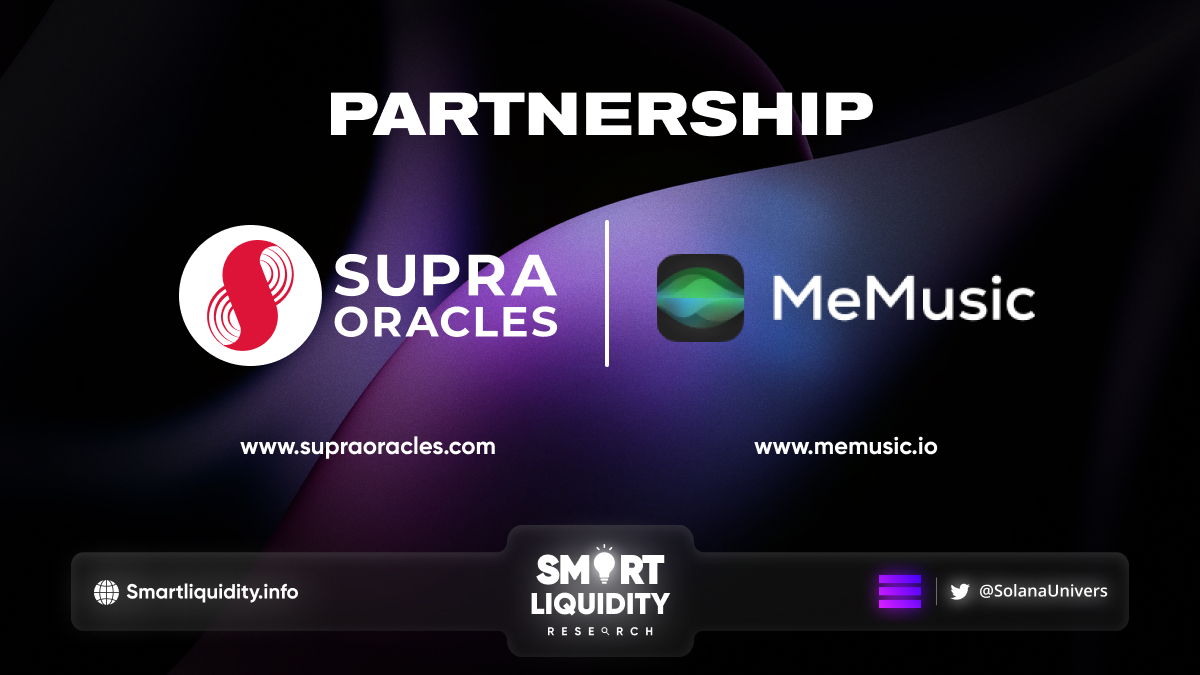 SupraOracles combines traditional financial markets with Web3 is thrilled to announce its partnership with MeMusic, a blockchain-based platform to provide an inclusive ecosystem through a multitude of services.
SupraOracles announced a partnership with MeMusic, a blockchain-based music ecosystem.
Introduction to Memusic
To begin with, Memusic is a blockchain-based platform that provides multiple services within an inclusive environment. MeMusic is an innovative platform transforming the music business that uses blockchain technology to customize the music ecosystem for its consumers. Indeed, they offer the most pleasing user experience and technological advancements.
Furthermore, MeMusic's architecture is a combination of decentralized storage and blockchain technology. On the other hand, blockchain implementation lets users participate in transparent rewards, incentive activities, and decentralized governance. In addition, decentralized storage can minimize operational expenses and improve the platform's security.
Moreover, MeMusic employs NFTs and the notion of social tokens. Using artist tokens, artists can tokenize themselves. As a result, artists can develop a platform-independent economy with their followers and investors using artist tokens. In addition, artists can offer exclusive access to live performances, merchandising, and even non-fungible tokens.
Through this partnership with SupraOracles, MeMusic will be able to utilize the use case of blockchain to record and distribute royalties for the music that is available on MeMusic. specifically, it will help MeMusic to grow more.
Management Quote
Youngsung Chong, CEO of MeMusic, commented:
"We are pleased to be connected with SupraOracles. The partnership with SupraOracles is an excellent opportunity for us as we can use their use case regarding the blockchain for recording and distributing the royalties to the owner of the music. In addition, the data provided by the SupraOracles will also help our community to grow immensely."
Joshua D. Tobkin, CEO and Co-founder of SupraOracles, commented:
"We are happy to partner with MeMusic, which provides a personalized music experience for its users. MeMusic is a blockchain-based music ecosystem, and we believe it will be able to engage more users in the future as their music platform continues to entertain the masses."
About SupraOracles
SupraOracles connects traditional financial markets to the web3 environment. Indeed, its mission is to empower the developer community by providing a strong cross-chain oracle. SupraOracles integrates real-world data into public and private chains, enabling interoperable smart contracts to safeguard the future of financial markets. It also gives developers a toolbox for designing, deploying, and managing data applications that are faster, more agile, and more resilient.
About Memusic
MeMusic is the next-generation competitor to Spotify, utilizing blockchain technology to create a tailored music experience. MeMusic is an end-to-end platform for all participants in the music distribution vertical supply chain, including artists, publishers, labels, distributors, and listeners. We are constructing an inclusive ecosystem to offer various services, including streaming, Defi, NFTs, and commerce.
SOURCE
https://supraoracles.com/news/supraoracles-partners-with-memusic-a-blockchain-based-music-ecosystem/