RedKite Partnership With DESports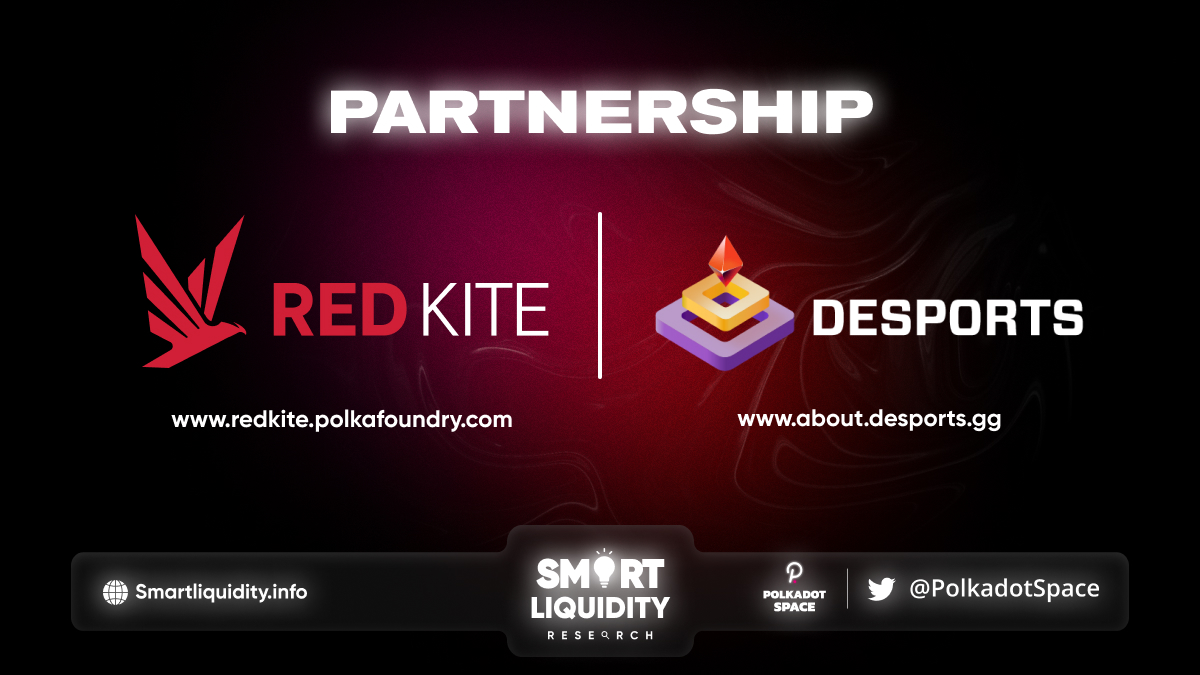 Red Kite and DESports Join Hand to Expand Ecosystem and Enhance Gaming Experience for Gamers and Esports Enthusiasts
RedKite partnership with DESports — a decentralized esports platform that provides the enlightened edge for all traditional and NFT game enthusiasts.
DESports aims to integrate passion, professionalism, & advantages serving as an inspiration for both the traditional gaming industry & blockchain gaming industry. It provides a blockchain-powered esports platform where gamers & esports enthusiasts can play favorite games & make money utilizing their skills.
There are numerous outstanding features users can explore & experience such as tournaments, ladder ranking systems, leader boards, DAO, marketplace, etc. Using blockchain technology and focusing on elevating the gaming system through a professional and transparent platform. DESport is the future of esports in a decentralized structure.
DESports offers cutting-edge technology to the eSports sector and establishes a "win-win" scenario for all players:
For players and teams: Players of conventional games may now compete to earn and use their abilities to achieve lucrative rewards in addition to playing to earn in NFT games without having to worry about fraud schemes.
For game guilds: DESports helps guilds develop their communities efficiently with ladder systems and special perks, create more activities, and rewards guild masters and guild members.
For fans: Providing engaged ways to simultaneously earn incentives and support users' favorite KOLs, teams, and games they love through a quick donation feature.
For KOLs and streamers: Bringing a new ecosystem for teams, guilds, and organizations to grow their communities, build a fanbase, and get funded via blockchain technology.
Red Kite and DESports partnership
The aim of the partnership is to advance mutual goals of growing the Red Kite & DESports ecosystems, bringing the greatest gaming experiences. Removing barriers for everyone to enter the blockchain world in general, and the gaming world in particular.
We will support each other to promote marketing and community activities to reach out to more users, investors, influencers, etc. The Red Kite community will have a chance to join a fantastic esports platform where they can play games, compete in tournaments, trade valuable NFTs, get attractive rewards, and more. Besides, DESports can approach a sizable number of users, experts, investors, and advisors thanks to Red Kite's extensive network.
Being a new project, DESport is facing various challenges such as lack of professionalism, payment-related issues, limited money-making stream, etc. Red Kite can give some useful suggestions to help communities and ecosystems grow. In contrast, this is a great opportunity for Red Kite to enter into a currently potential niche market — gaming.
About DESports
The platform DESports was created for traditional & NFT gamers & will take the professional gaming industry to a whole new level. In an all-encompassing playground for players, teams, fans, KOLs, & streamers. Users may earn enticing prizes through compete-to-earn, contribution, and view-to-earn features. Additionally, DESports offers all tournament organizers the best experience for hosting, tracking, and awarding participants in a potentially limitless number of esports events across multiple esports games, including NFTs and non-NFTs.
About Red Kite
Red Kite a cutting-edge launchpad powered by PolkaFoundry as a part of the growing $PKF ecosystem. RedKite projects are carefully chosen through vetting, which takes everything from the origins of the project teams to legitimacy & implementation capacities into account. These projects are also support by a network of our high-class marketing partners, leading influencers, and interactive communities.