Moverse Upcoming IDO Launch on Pandora!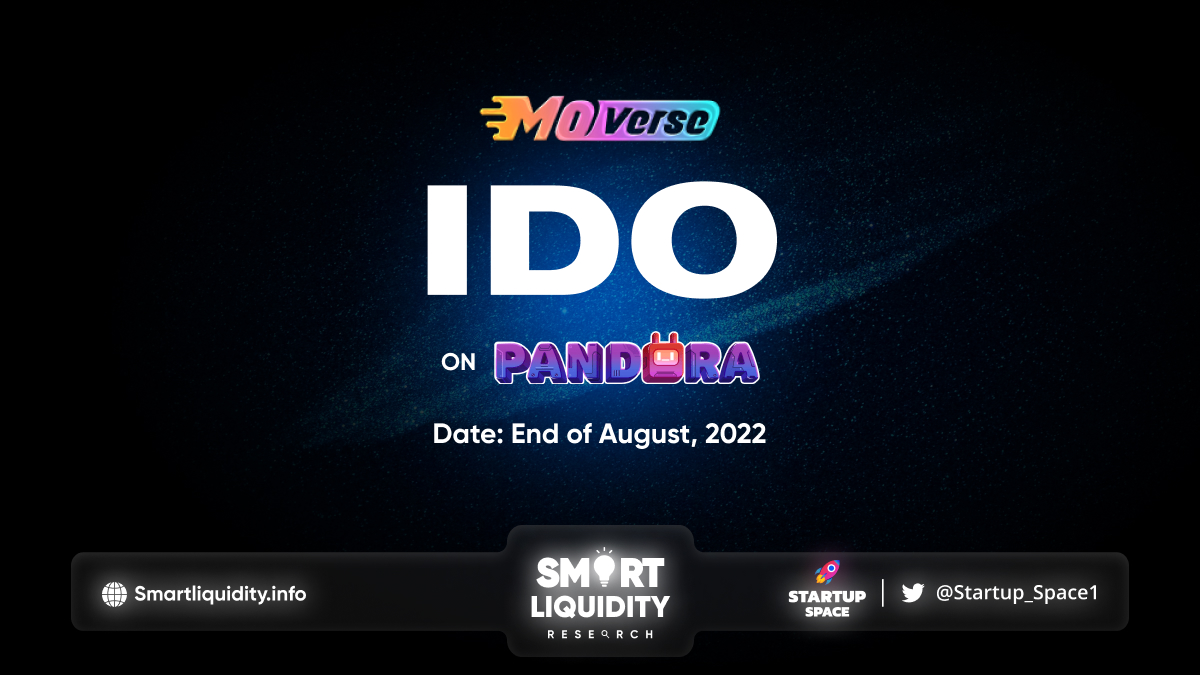 Pandora is super excited to announce its upcoming IDO project: Moverse, which would take place this month (August, 2022).
Project Overview
Moverse is an all-in-one fitness Dapp with a mission to dominate the Health and Wellness industry. Where active users are adopted into their community, making fitness habits stick by strengthening muscles & mindsets, including personalized coaching powered by AI technology. Using recognition and tracking algorithms, "Anti-cheating" mechanisms are built into the platform, ensuring a proper workout every time.
Their goal is to bring wholistic health solutions to users not only to increase their quality of life but to also empower, reward and incentivize you on your fitness journey. Through the Moverse M2E, Social, NFT Marketplace & Metaverse platform, users can connect and educate each other while gaining massive benefits through traditional brands, trainers and other 3rd party partnerships. It's parallel monetization models & revenue streams come from both the Crypto and Traditional space, future proofing its business model to the benefit of all involved – from users to investors.
WHAT MAKES MOVERSE DIFFERENT? 
One-stop Fitness Dapp
Moverse is a pioneer fitness Dapp using futuristic technologies combined with the blockchain which focuses exclusively on improving users' health and wellness. AI technology assists users in mastering multiple sports, accompanied by machine learning to keep track, give advice on training and recommend suitable personalized nutrition meals for each user.
Profitable fitness experience
Moverse grants value to both crypto and non-crypto users through a decentralized governing economy. Not only providing profit on the move but also empowering users to have their say, making decisions on many critical aspects such as NFTs and even the inflation rate in the ecosystem. All of this is realized by a community-driven system, or DAO to ensure the well-being of all investors.
Burning Mechanism
All activities built-into the Moverse are oriented towards removing massive amounts of tokens out of circulation, along with the substantial growth of users through competent marketing strategies to increase the demand for $MOVE. Both of these ensure the value of tokens at an un-inflated rate and give long-term benefits to investors.
Social Eco-system
Moverse considers training for better health not just a physical activity but also a mental and social one. They aim to bond people who love to exercise and live a healthy lifestyle across the globe together and spread this positive vibe. This will be realized through Moverse's built-in SocialFi and Metaverse worlds, which allow users to connect and grow as fitness addicts together.
Moverse might have started as a usual M2E Dapp, but they've also clarified themselves as more specifically a Fitness and Earn platform, which requires much more in-depth knowledge, expertise, experienced people, and most importantly, the technologies they apply, of which AI and Machine Learning are the 2 core factors. The Ambassadors are crucial, and they got the best people in sport, training, and nutrition to guide, mentor, and teach the AI system and all users how to have proper and optimized training processes and results (physique improvement and rewards).
TOKENOMICS
Token name: MOVE
Ticker: MOVE
Total Supply: 15.000.000.000

Token utilities:
In-app:
Shoe repairing
Shoe upgrading
Shoe sockets unlocking
Gem upgrading
Accessories upgrading
Shoe minting
Marketplace:
Buy/sell boxes
Buy/sell shoes
Buy/sell gems
Buy/sell accessories
Energies generated from exercises can be converted into tokens to supply upgrading demands from investors
NFT purchasing and benefit earning
Staking & Farming
Voting (governance)
CORE TEAM
Bruce Hoang – CEO
Former COO & Head of Partnership | Moniwar Former Business Development Manager | Kambria OhmniLabs Vietnam
Former Head of Business Development | Houze Commerce, Houze Group
Former Sales & Acting Business Development Manager | Kootoro.com – 7.5 years of experience.
Neil Meintjes – CSO
Former Head of Business – IGO's, NFTs of Seedify
Co-founder of Crypto Banter Leading blockchain gaming, metaverse and NFT incubator and launchpad
Alex Hoang – CPO 
Former COO | FAM Central Former Vice President | Kootoro Vietnam Former Project Manager | VNG Corporation 16.5 years of experience.
Kim Do – CBO
Co-Founder and Vice Director Ecomobi PTE Country Manager | Adflex EWAY JSC.
Soarkoha – CMO
CEO | BSC Army 6 years of experience.
Austin Vu – CDO
Data Scientist | One Mount Group Senior Consultant | Data Analytics | Raffles VN – AI Engineer | VCCorp Corporation 6 years of experience.
ADVISORS
Simon Ho: Coach for many champions of Iron Man Coach of Boi Dap Chay Good evaluation of professional skills in Vietnam
Anh Tu Pham: Bronze medal of VPA Championship 2018 U75kg Gold medal of VPA Championship 2019 U82.5kg Gold medal of VPF championship 2020 U83kg
Phong Vo: Managing Director of Hololab
ROADMAP
About Moverse
Moverse (MOVE) is a FitnessFi app that rewards you to exercise and transcend a healthy lifestyle through advanced AI-powered solutions.
About Pandora
Pandora is the first DEX to innovate an inclusive incentive scheme for all users and introduce a gamified system for decentralized finance.