SafeProof New Collaboration with Solaunch!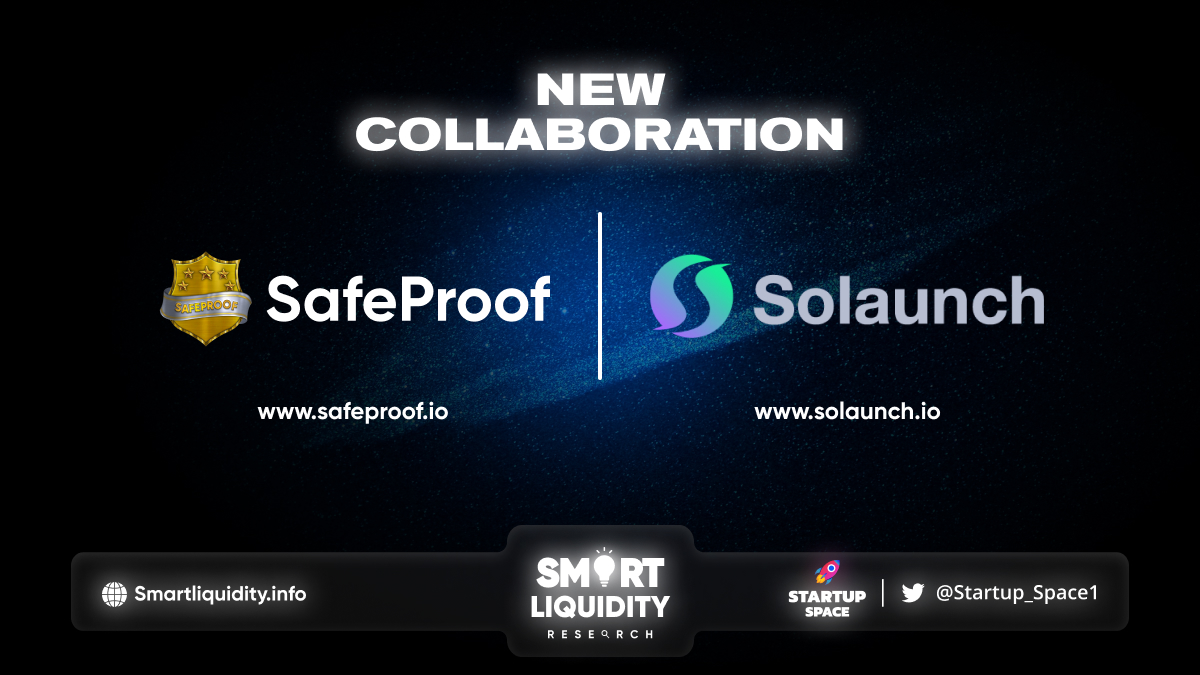 SafeProof is extremely delighted to announce collaboration with Solaunch, The first contagious launchpad for DeFi, art and games. Invest early in future trends.
A Brief Introduction to Solaunch
What is Solaunch? The first contagious launchpad for DeFi, art and games. Invest early in future trends.
Solaunch is a decentralized crowdfunding platform for fundraising across all major crypto networks. With Solaunch's contagious marketing strategies, they help NFT, DeFi and GameFi projects at their early stage quickly build communities. Solaunch aims to provide fair and safe investment opportunities for the blockchain industry.
What distinguishes Solaunch from other launchpads?
1. Contagious marketing: it is a unique marketing strategy they use on their website, requiring users using their own invitation code to invite 5 friends to get double allocation. Check it out: solaunch.io/#/invite. In this way, they accumulated lots of early users.
2. IDOs are not exclusive to their token holders: It means without holding Solaunch native tokens, you also have chance to participate in their IDOs! All you need to do is to complete some simple tasks! Apart from the regular way of holding native tokens to join IDO, they offer another option for investors-completing tasks. The tasks will vary according to the different requests from IDO projects. Think of this as playing a game, some players spend money to get to higher levels faster, while others choose to spend their time completing tasks to get to advanced levels.
3. Support Solana and EVM compatible chains: this makes them the FIRST launchpad that has heterogeneous cross-chain interoperability in the whole crypto industry. They currently support BNB, Ethereum, Avalanche and Solana chain, which greatly shortens the waiting time and introduces wider range of amazing IDO projects from different crypto space.
No KYC — users' privacy is their priority. Being decentralized is always the fundamental principle in the blockchain industry. That's why Solaunch choose to not collet users' information. Some may be concerned about security issues — please rest assured that security is something they take very seriously at, their dedicated dev team are definitely taking precautions to keep your data safe.
Why Choose Solaunch?
Active contagious and social marketing
Fair value-driven distribution
No KYC
Supports Solana and EVM compatible chains
In other words, Solaunch's mission is to give everyone early access to premium projects and allow their community to invest in the ideas of tomorrow safely.
About Solaunch
Solaunch is the first IDO platform with contagious marketing. Solaunch is also the first heterogeneous cross-chain interoperability protocol that supports crowdfunding across major crypto networks.
Their mission is to ignite promising projects and teams through rapid community growth and brand exposure and marketing.
About SafeProof
Security solution in blockchain technology that specializes in verifying identity of a project's owner and audit your crypto project smart contracts.
SafeProof is a company that specializes in security, such as identity verification KNOW YOUR CUSTOMER (KYC) of crypto project owners and smart contract audits, which aims to provide a sense of security for investors in investing to know the progress of project owners and avoid individuals who are not responsible for committing criminal acts, because considering the many frauds in this case that result in personal losses.
Why does your project need KYC Verification?
Know your customer (KYC) is a process of verifying the identity of the project team (Developer). SafeProof verifies the identity of team's project in order to make safe in the cryptocurrency.
In the blockchain technology nowadays, financial institutions are increasingly vulnerable to illegal criminals. Know your customer (KYC) is designed to protect investors and financial institutions from fraud in the cryptocurrency.
SOURCE
https://medium.com/@safeproofofficial/safeproof-partnership-with-solaunch-ad5c2d9a0880