.bit Raises $13M Series A Funding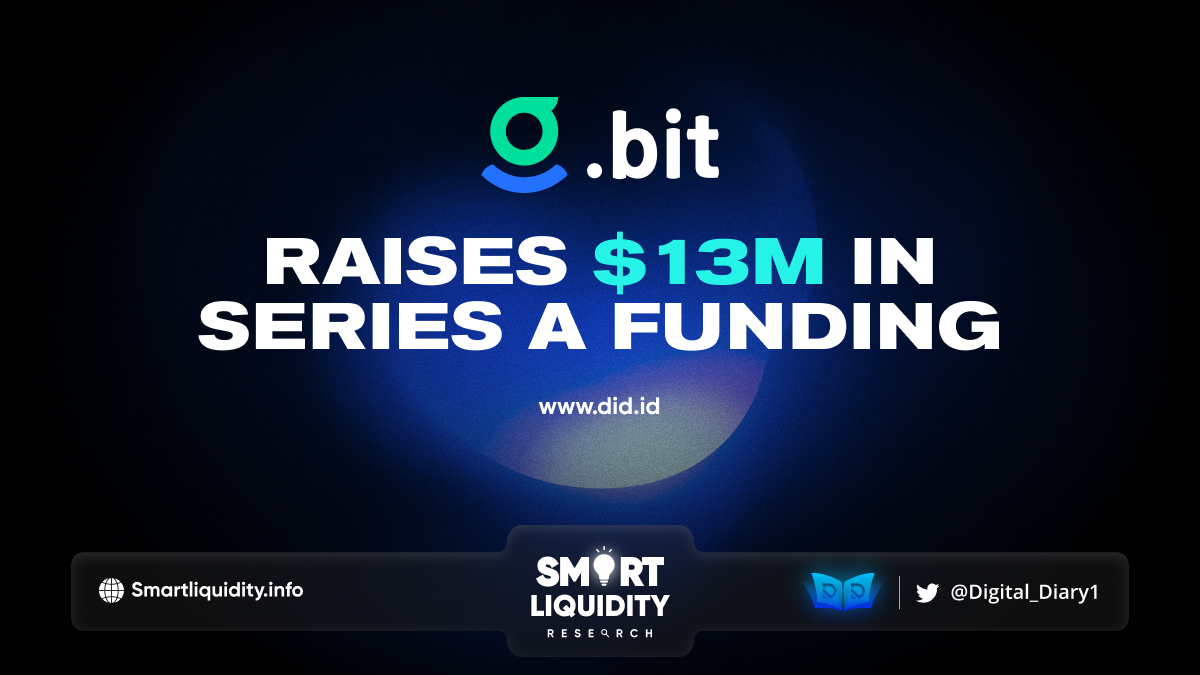 .bit has announced that they have closed $13 million in a Series A funding round from CMB International, HashKey Capital, QingSong Fund, GSR Ventures, GGV Capital, and SNZ.
.bit, an open-sourced decentralized identity protocol built on the blockchain, is committed to providing permissionless and irrevocable decentralized identity for individual users and DAOs, establishing the awareness of identity sovereignty around the world. With the joint effort from the development team and the community during the past year, .bit has achieved a breakthrough from 0 to 1 and reached rapid growth for both user and active developer communities. So far, more than 38k independent addresses have registered for more than 110k .bit accounts, and nearly 100 mainstream wallets and Dapps have integrated with .bit (please check here).
Users have never really controlled or even owned their identity online or offline. In Web2 world, social accounts used to present who they are or how they relate with others are stored on centralized tech giants, who can easily revoke or tamper with the data. Platforms can block their accounts at any time, refuse to provide services, and thus remove users from their own social graphs.
The emergence of blockchain technology, with the permissionless and irrevocable features, makes it possible for us to truly own and control their data and identities. Permissionless means that they can own an identity on the blockchain at any time, and no one can stop them; Irrevocability means that no one can erase the identity they already have. They will thus realize identity sovereignty, both as individuals and as organizations.
They are excited and confident to be a part of the challenging work of building the infrastructure for Web3 identity protocol.
To construct the leading decentralized identity system and expand the adoption of the decentralized identity, .bit team will apply the funds and resources to the following areas:
Cross-chain
.bit has supported Ethereum, Tron, Binance Smart Chain, Nervos CKB, and Polygon. In the future, .bit will cover all mainstream public chains such as Bitcoin, Dogecoin, Polkadot, Solana, etc. As well as software and hardware devices that support asymmetric encryption algorithms.
Cross-culture
The world is culturally diverse with multiple languages and writing systems. People should be able to register their decentralized identities with the languages they prefer for daily use. However, similar characters shared among different writing systems provide possibilities for fraud.
.bit Team is committed to the challenging task of supporting all the writing systems in the world while preventing scams and frauds as much as possible, so that users from different cultures in the world can own reliable decentralized identities and get equal chance to enter Web3 ecosystem safely.
Cross-verse
Cryptocurrency transfer, decentralized domain resolution, personal profile display, etc. are only parts of the usage scenarios of .bit. As an identity protocol, .bit could be widely used as membership and credential management for DAOs, brands and IPs, celebrities and fans, clubs and communities, etc.
.bit is a unified identity for users to take into different spaces including centralized and decentralized applications. The team will build a series of robust tools to help all types of application developers to integrate with .bit easily. Which ultimately provides users with an exceptional experience.
Upcoming Features
NameDAO
To encourage people with different cultural backgrounds to use decentralized identity and improve cultural diversity in Web3. They initiate the concept of NameDAO. By handing over a portion of the .bit protocol revenue to the DAOs. The team aims to motivate more people around the world to spread their culture and better access Web3 through NameDAO.
Sub-account
4-9 digits account available to 100%; open up 3 digits account
They always insist on gradually increasing the availability of .bit accounts as the global influence of the project expands. Such a strategy brought an unsatisfactory registration experience to users to some extent. But it also reflects their determination to launch .bit in a fair way.
Now, .bit has integrated with the leading wallets and Dapps, and the community is growing strong and active. They think it is time to further lower the threshold for registering accounts.
About .bit
.bit is a blockchain-based, open source, decentralized cross-chain account system that provides a worldwide unique naming system with a .bit suffix that can be used in different scenarios, such as cryptocurrency transfer, domain name resolution, identity authentication, etc.
SOURCE: .bit BLOG