Bridge Oracle Launches on BNBChain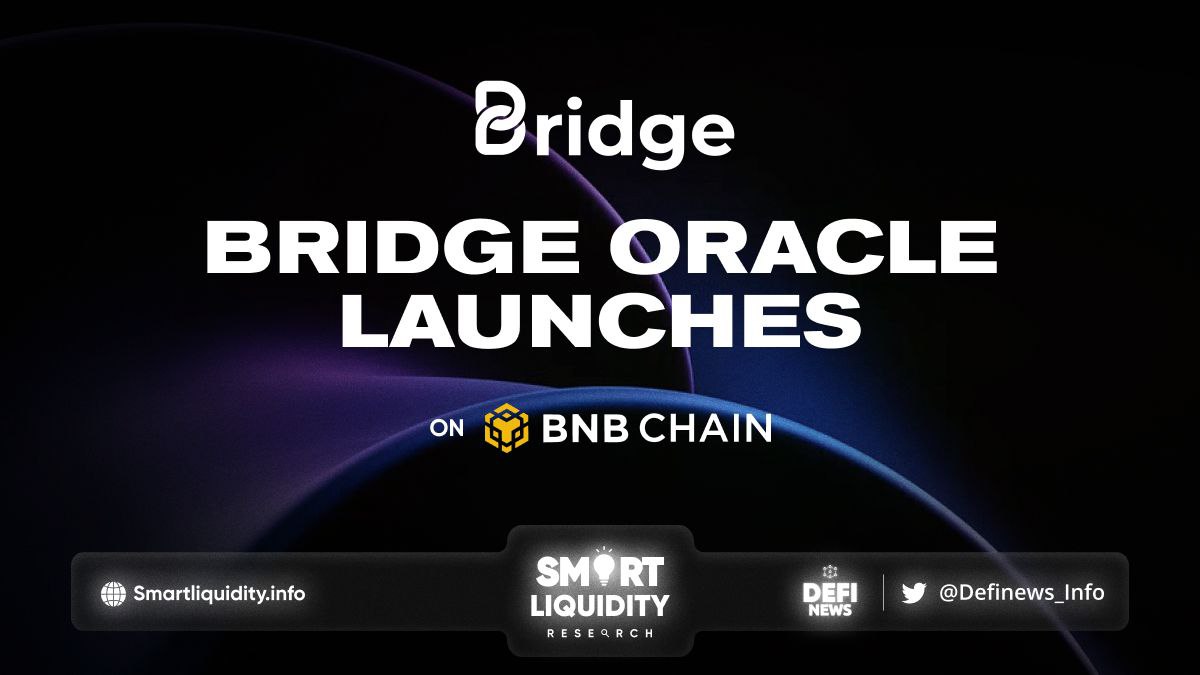 Bridge Oracle launches on BNBChain Mainnet. The Bridge Oracle project is an oracle system that has been under development since 2019. Planning to come out as one of the cheapest and most public oracles. Also provides the safety of smart contracts' injected data with high-level security algorithms.
A public oracle for BNB Chain's DApps and Smart Contracts
The open-source solution seeking to provide a critical link–turbo-boosting events in the BNB Chain. It will provide external, vetted, trusted, and tamper-proof data to BNB Chain-based DApps and smart contracts.
It is a milestone for the Bridge Oracle, coming over three years after the idea was first conceived in Q4 2019.
This will be possible because projects would extract data via several APIs and parsing helpers such as XML, JSON, and HTML. Payment can either be in BNB or BRG — Bridge Oracle's native currency.
For tamper-proof data, the platform would also allow multi-proofs to authenticate the validity and the authenticity of data.
Types of Bridge's oracles
Specifically, there will be three oracles types in Bridge Oracle.
The first one is a public oracle system. Extractable via a public API contract in which the contract will "obviate requirements" from the external data that the validity of data or its proof is not important for the end-user.
The second type is the Enterprise oracle system which is customizable. This is possible via its corresponding Enterprise API contract. Provided to enterprises and private companies with detailed data that can't be shared publicly. However, these data will be available to certain companies with access via the Bridge Oracle link. All data requests will be injected privately by the source enterprise.
Another service provided by Bridge is a decentralized oracle system available via a decentralized API contract set for platforms aiming to achieve decentralization. Herein, the platforms would be able to fetch external data from a fully decentralized system provided by Bridge.
Furthermore, users relying on the Bridge Oracle can pull different data forms. These include those from the Wolfram system, URLs, enterprises, and decentralized platforms.
Why the need for Decentralized Oracles?
It is vital that a decentralized system takes place with a robust, tamper-proof, and secure source of price feeds to avert exploits in the whole crypto space and especially in DeFi.
DeFi, though currently sitting on billions of dollars in Ethereum's DeFi ecosystem, upwards of $38 billion as of Mar 15, is still vulnerable to malicious actors and hackers' bad behaviors.
This can happen in the absence of trusted, tamper-proof external platforms that source price feeds.
It can be catastrophic to rely solely on a single DEX, especially if the DEX is AMM-based and susceptible to rug-pulls and other advanced exploits.
As a result, DeFi protocols operating in the low-fee environment of the BNB Chain can benefit from a reliable link, connecting them to external trusted data, which is crucial to their operation.
Bridge Oracle, as previously mentioned, aims to make small businesses integrate oracle solutions into their workflows. Bridge's goal is to reduce and even eliminate the cost of this integration for businesses, especially those concentrated on product developments. Besides that, the BNB Chain network has also offered Bridge a conducive environment to grow.
Bridge Oracle's Roadmap
For Q4 of 2022, Bridge Oracle is scheduled to list its native token, BRG, on tier 1 exchanges, reach for more audits besides Certik — which was achieved in Q3 of 2022, and set up more payment methods via BRG token using which, everyone would be able to use BRG tokens as a payment method in the real-world purchases.
Also, the official website of Bridge oracle is set to be redesigned by the end of 2022. Furthermore, the Token Bridge platform and services are scheduled to be developed in Q4 of 2022. More staking platforms will be available for BRG holders to use and stake their tokens in.
By the beginning of the first quarter of 2023, there would be more node registrations towards the decentralization of the oracle system.
Moreover, since Hybrid Smart Contracts are the ideal solutions to address the reliability issues that might occur in using a single centralized oracle. Bridge Oracle is working on ideas to get hybrid smart contracts available in the system.
For generating random numbers that enable smart contracts to access random values without compromising security or usability, Bridge Oracle will be providing clients with a Verifiable Random Function (VRF) that makes this possible in a verified and secure way by the Q1 of 2023.
Also, more data sources will be added to Bridge Oracle. It will be available for clients and users at the same time.
Furthermore, Bridge's devs are working on more proofs for the authenticity of the injected data by the oracle system. It will come out by the end of the first quarter of 2023.
Enterprise Oracle systems are also under development for further use cases of the project. Finally, by the Q2 of 2023, the decentralization of the oracle system will come to its final steps.
ABOUT Bridge Oracle
Bridge Oracle's system is a public oracle technology based on the BNB Chain network. Provides all oracle services for blockchain-based DeFi platforms and decentralized applications.
RESOURCES