Impossible Partners with Aurigami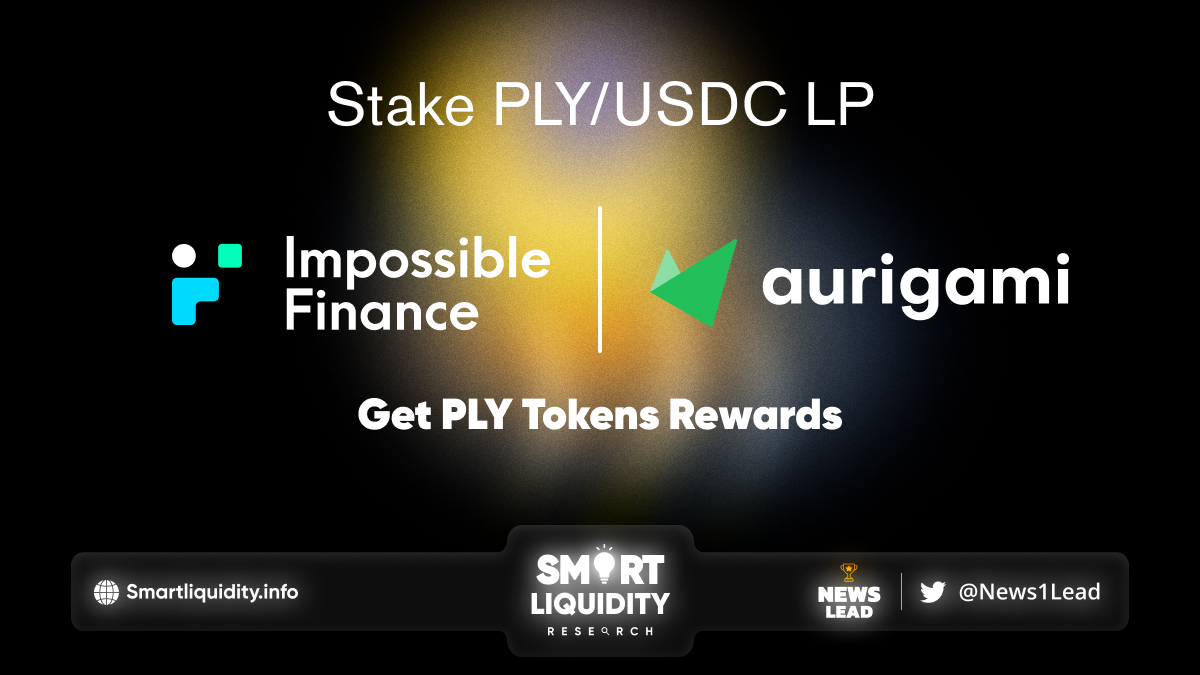 Impossible Partners with Aurigami, a native money market on Aurora, to be Impossible's next LP Rewards project.
Exciting rewards are available for participants during the campaign! For this LP Rewards campaign, you will be able to get free PLY token rewards by staking PLY-USDC LP tokens on Impossible. Impossible Partners with Aurigami, The campaign will continue for a total of 3 months and is held on the Aurora chain.
LP Rewards Staking:
Staking starts: 18/08/2022 2PM UTC
Staking ends: 18/11/2022 2PM UTC
PLY Tokens Rewards Distribution:
18/08/2022 to 18/09/2022: US$5,000 in PLY Tokens
19/09/2022 to 18/10/2022: TBC in PLY Tokens
19/10/2022 to 18/11/2022: TBC in PLY Tokens
How to participate:
Step 1: (if you do not have PLY tokens): Purchase PLY on the Impossible Swap. You will need to connect your wallet on the Aurora Chain (Official contract address: 0x09c9d464b58d96837f8d8b6f4d9fe4ad408d3a4f)
Step 2: Add PLY and USDC liquidity to receive PLY-USDC LP tokens
Step 4: PLY token rewards will be automatically airdropped every 30 days
Users that have passed KYC are eligible and encouraged to stake their PLY-USDC LP tokens for the entirety of the campaign period to maximize their PLY token rewards.
Not sure what to do? Check out some of our user guides here👇🏼
Learn how to add/remove Liquidity on Impossible Finance
Learn how to use the Impossible Finance Swap
KYC Details
KYC Preparation Period: Rolling ongoing basis. We require 50 IDIA or 25 IF tokens to start KYC to prevent bots from spamming our KYC partner. Users can KYC anytime during the entire IDO timeline, but will not be able to stake until their KYC is completed. To maximize the staking utility of users' IDIA, users have to pass KYC before the staking period begins. In other words:
If users pass KYC after the end of the staking period, they will miss the opportunity to participate
If users pass KYC during the staking period, they will only be able to stake for the remaining staking period and receive a lesser allocation than if they were to start staking from the beginning of the staking period
About Aurigami
Aurigami is a decentralized, non-custodial money market on Aurora. The team has developed the most gas-efficient lending market on Aurora through contract optimization and deploying a proprietary liquidation engine. Aurigami now offers core money market services such as deposit and collateralized lending for the 8 largest assets in the Aurora ecosystem.
About Impossible Finance
Impossible Finance is the go-to crypto investment platform that empowers you with high-quality, fair, and accessible crypto opportunities. We simplify DeFi so you can enjoy fairer investing, cheaper trading, and better yields through our accelerator, launchpad, and swap platform.
SOURCE
https://medium.com/impossiblefinance/impossible-lp-rewards-2-aurigami-ply-921ecb66f99b