Dapp Play Store x Hydraverse Collaboration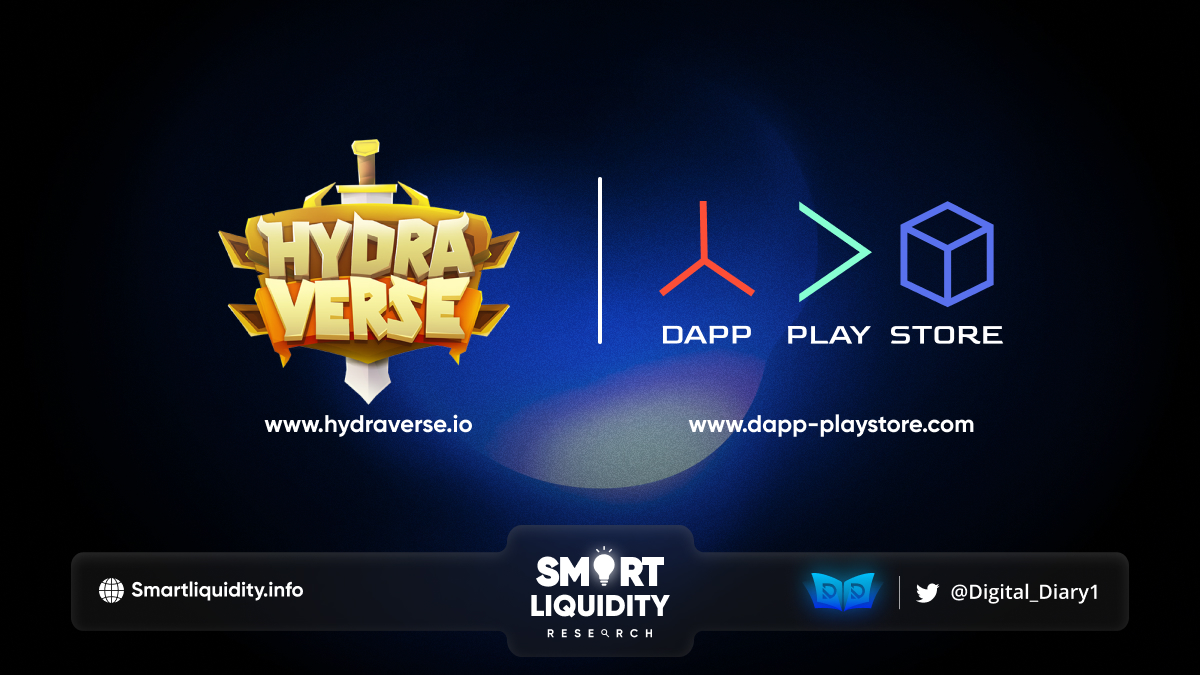 Dapp Play Store is thrilled to announce its new partnership with Hydraverse, a Metaverse play-to-earn racing game.
Over the years, play-to-earn (P2E) games have gained massive adoption in the gaming industry. The games that enable users to earn while having fun. There are now various games in the P2E space that gamers can explore. But, there is none with advanced designs and a user-friendly interface like Hydraverse.
By the virtue of this strategic partnership, Hydraverse will be joining the family of DApps on the DApp Play Store.
What is Hydraverse?
Hydraverse is a Binance Smart Chain(BSC) network-based play-to-earn NFT Dragon racing game. It is a perfect collection of traditional race gaming with an NFT gaming system combined with advanced AR and VR features. In Hydraverse, players will not only get the chance to race with their dragon NFT but also be able to earn simultaneously in Hydraverse in-game tokens or through the sales/rent of their NFTs.
Hydraverse enables players to spend time breeding, training and racing with their dragon. Each dragon starts from an NFT egg which hatches into a unique racing dragon. Players can race with these dragons and earn rewards for winning. When players are too busy to play, the dragon can be rented or displayed in Hydra park to other players to earn income.
Hydraverse makes use of two tokens. The governance & native token– HDV and the in-game token — Dcoin. HDV is a native token that can be acquired through purchases on exchanges or by joining HydraVerse reward programs. Dcoin is the in-game currency earned via playing the game and can be used to pay in-game fee.
Hydraverse:
The combination of Dragon racing x 3D NFT x Metaverse
Dragon Racing
Though Hydraverse follows the traditional racing game system, its characters are unique as it allows players to compete with dragons. The dragon's readiness to race is measured by the happiness rate. These rates increase as players train and race with them. The happiness rate is also called the win rate.
Dragon Egg
Dragons are purchased directly in the marketplace or through the hatching of dragon eggs. The three types of dragon eggs are standard eggs, epic eggs and legendary eggs. The difference between these eggs is the number of dragons they hatch. The standard egg hatch 1–3 stars dragons, the Epic egg hatch 2–4 stars dragons and the Legendary egg hatch 3–5 stars dragons. All eggs are available for sale on the marketplace.
3D NFT
With the increase in the number of gamers moving to NFT games lately, Hydraverse aims to tokenise in-game items so that players can also earn with them. They believe by leveraging blockchain technology, players will have ownership of in-game assets in the form of 3D NFT.
Metaverse
Hydraverse will also blend in the current wave of so-called "metaverse" gaming, providing a virtual world in which players can navigate their dragons Hydraverse: The Race Only one dragon can be selected at a time to participate in the race. The dragon can either be the player's own or hired. There are three unique races in which players can participate. They are ;
Realtime racing
In this type of race, the player's dragon will compete with the other 6 dragons. During this, the player will control the dragon to avoid obstacles. They can also push the acceleration button to run past opponents and collide with them so that they can deviate from their path, slow them down, and experience scuba diving.
Offline racing
players can participate in races without internet connections and get race results. To join, Players will be required to have 6 energy. They can also use Dcoin to join races and earn more when they win.
Hourly racing Hydraverse also has an hourly race where players can play on a different race track at a fixed race time. The number of dragons racing at the same time can be up to hundreds, with the token reward and a lot of prizes at stake.
Hydraverse: The Hydra Park — stake and earn
In Hydraverse, there is a park named Hydra Park. The Hydra Park is where players can display their dragon and earn massive Dcoin tokens. In this passive way, players can earn more income without doing anything, even if they don't spend much time racing.
The reward depends on the number of dragons in the park and the Dragon's attractiveness. Each player will get 2 free slots, but if players have more than two dragons a new slot can be purchased with Dcoin. The slots in Hydra Park are unlimited and no charges are paid when players are placing their dragon in the park. Also, players can change places for their dragons if they want. Note players can still race and train their dragon NFT while staking them.
"Our mission is to inspire players with stories of dragon trainers overcoming challenges and spread blockchain knowledge together with play-to-earn chances to our global community. Our vision is to build up an inclusive metaverse ecosystem and achieve NFTplay-to-earn industry leadership in the near future".
Hydraverse aims at building an innovative metaverse ecosystem and unique platform for the P2E industry. Also, it plans to stand out with a unique P2E racing game with 3D NFT Dragons, multiple types of races with different race courses, Blockchain technology applied in renting system, and a High-quality AR/VR Gaming Experience.
About Dapp Play Store (DPS)
Dapp Play Store is the next generational Web3 application store & content management system. The first platform to house all dApps built on a variety of blockchain networks. A digital distribution platform utilizing the decentralized infrastructure for software storage and scalability.
About Hydraverse
Hydraverse is a metaverse play-to-earn PVP dragon racing game. Players get the chance to open the dragon eggs, which later create unique dragons. These dragons can take part in the race and receive rewards for winning. Players can also generate value by renting their own dragons or displaying them in Hydra Park.
SOURCE: MEDIUM