Nexus Mutual Utilizes Chainlink Proof-of-Reserve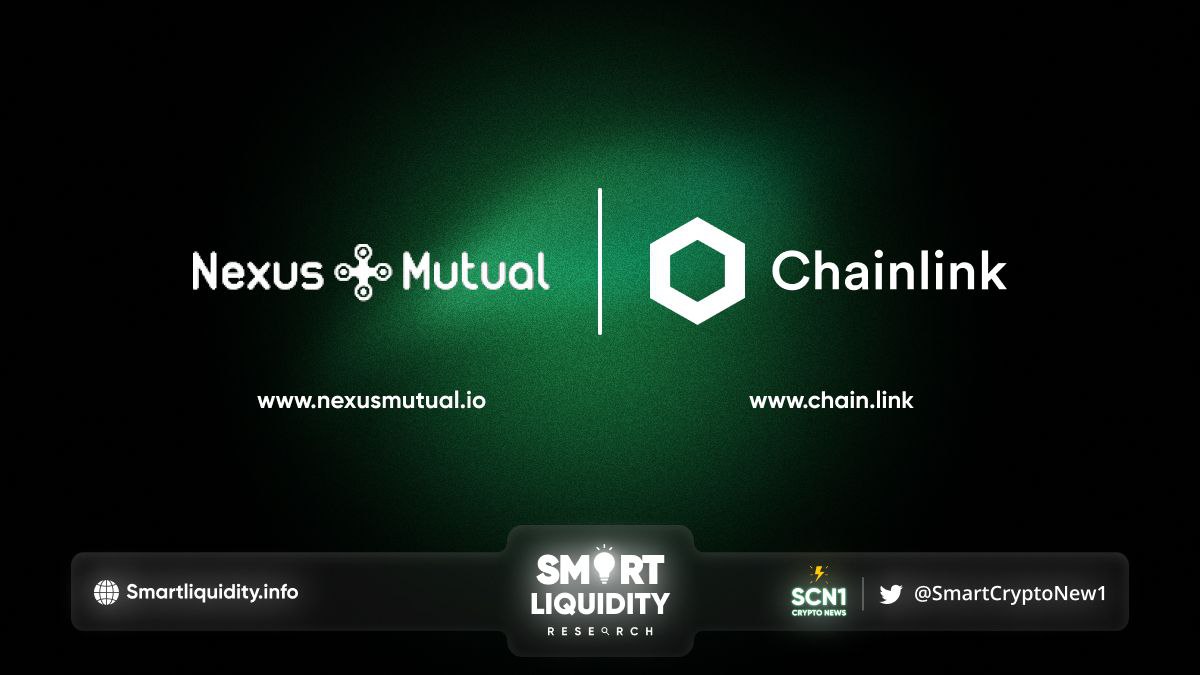 Nexus Mutual utilizes Chainlink Proof-of-Reserve to verify deposits on Maple Finance and integrates with Enzyme. Chainlink Proof of Reserve enables the reliable and timely monitoring of off-chain or cross-chain reserves using automated verification based on cryptographic truth.
The mutual is using Chainlink Proof of Reserve to track, verify, and report the price per share of interest-bearing tokens held in its Enzyme vault, which represents its deposit in lending protocol Maple Finance.
Without Chainlink Proof of Reserve, its recent investment of 15,348 ETH into the Maven 11 lending pool on Maple Finance would not have been possible.
Accessing Yield Through Maple Finance via Enzyme
Nexus Mutual is a member-driven community where anyone can join and share risks with others. Instead of relying on a centralized insurance company, users and projects can protect themselves against smart contract and technical risks, custodial risk, and validator slashing risk.
Its members own the capital pool, which holds the assets the mutual uses to underwrite coverage. The capital pool grows when members buy cover, contribute ETH in exchange for NXM, and investment earnings accrue.
Through investment allocations, Nexus is maximizing its returns and preserving capital by investing within its established risk constraints. Diversifying its investment allocations and adhering to its risk constraints allows the Mutual to maintain sufficient liquidity to cover obligations and generate long-term growth.
Approved Proposal
Members have approved a proposal to allocate a portion of ETH in the capital pool to Maven 11's wETH lending pool on Maple Finance. Nexus has converted 15,348 ETH to wETH and invested it into a pool managed by Maven 11, a blockchain and crypto asset investment firm.
Credit teams run lending businesses on Maple infrastructure and evaluate companies' creditworthiness through traditional due diligence and credit checks, as a result, Maven 11 is able to issue uncollateralized loans that earn higher yields. Maple Finance's institutional crypto-capital network has issued over $1.65B in loans to premier crypto companies throughout the industry.
Nexus Mutual is using the on-chain asset management solution Enzyme to deposit and manage these funds. Enzyme seamlessly connects dozens of protocols at the smart-contract level, which allows for swift, efficient deployment of funds across the DeFi ecosystem, so they can take advantage of attractive yields.
After the wETH was deposited into Maven 11's lending pool, the mutual received 15,348 Nexus Mutual Treasury Yield (NXMTY) shares that represent the Maple pool tokens held in our Enzyme vault.
Enzyme's transparent infrastructure plays a crucial role. It enables Nexus Mutual to verify and track its deposits using Chainlink Proof of Reserve. This creates new opportunities for the mutual to increase investment allocations within DeFi.
Verifying On-Chain Assets With Chainlink Proof of Reserve
Nexus is using Chainlink Proof of Reserve to verify the amount of lending pool tokens in its Enzyme vault. This enables them to automatically track and report the value of its assets on Maple Finance. This allows them to maintain transparency. It also enables any user to independently verify the value of the assets we hold in its Enzyme vault.
Chainlink Proof of Reserves provides proof of collateralization of on-chain or cross-chain assets. It compares the asset's current supply to the reserves backing it. Verifying the deposits they hold on Maple Finance helps support a diversified capital management strategy and transparent governance process.
"As a decentralized insurance alternative that helps Web3 projects mitigate their financial risks by providing smart contract cover, it's essential that we minimize our own risk using highly secure, decentralized infrastructure. By integrating Chainlink Proof of Reserve, we're able to verify our deposits held on Maple Finance in real-time, helping give our users high confidence in the capital reserves that underpin our protocol." —Hugh Karp, Founder of Nexus Mutual

"We're pleased that Nexus Mutual is using Chainlink Proof of Reserve to help automatically verify the assets deposited on Maple Finance. Definitive on-chain proof of the Pool Tokens held by Nexus Protocol helps underpin transparent capital management and governance processes."— Tomasz Wojewoda, Head of Global Sales at Chainlink Labs.
ABOUT Chainlink
Chainlink is the industry standard for building, accessing, and selling oracle services. Needed to power hybrid smart contracts on any blockchain.
ABOUT NEXUS Mutual
Nexus Mutual is a decentralized insurance alternative built on the Ethereum blockchain. The mutual was created to give people a way to hedge against the unique risks in on-chain markets. Nexus Mutual is the leading provider of crypto-native coverage. Its members protect more than $252.6m in productive assets and have paid out $8.4m in claims to date.
ABOUT Maple Finance
Maple is an institutional crypto-capital network bringing the trillion-dollar capital markets on-chain. Maple provides the infrastructure for credit experts to efficiently manage and scale crypto lending businesses. Connect capital from institutional and individual lenders to innovative, blue-chip companies.
About Enzyme
Enzyme is a DeFi operating system designed for the next generation of asset managers, DAOs, treasury managers, and investors. Enzyme connects with dozens of DeFi protocols at the smart-contract level. Meaning asset managers can build composable strategies that harness the full power of DeFi. Its goal is to decentralize traditional asset management and lower barriers to entry, thereby opening access to more global consumers.
RESOURCES