Resurgence Partnership with UniX Gaming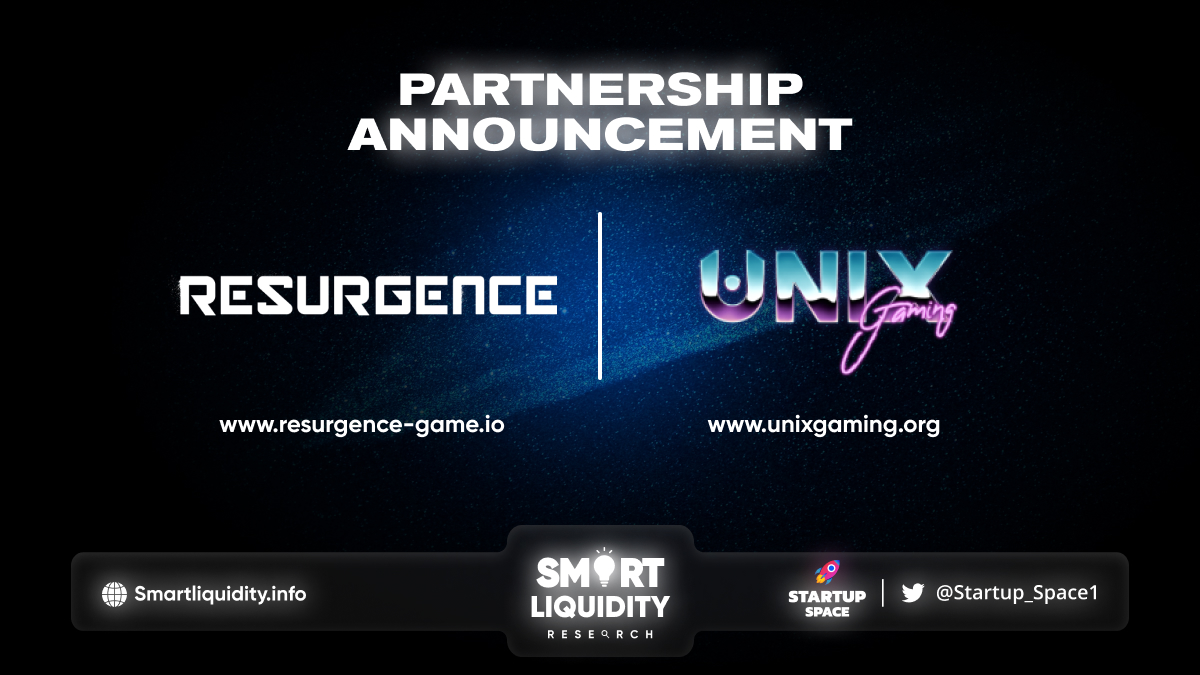 Resurgence is thrilled to announce partnership with UniX Gaming, a DAO on the Ethereum network for play-to-earn economies.
There are brand collaborations and there are exceptional brand collaborations. Stepping into a partnership with UniX Gaming certainly falls into the latter. One of the first pioneers to the GameFi sphere, UniX helped pave the way for the wave that was to follow.
A Gaming Guild with a difference, UniX's goal is to be the largest Guild in the metaverse, fully utilising and augmenting their community owned assets for ultimate efficacy. UniX Gaming is an ecosystem and a platform to onboard new GameFi projects into their own Metaverse.
They are a DAO that empowers gamers to have a voice on how they want the landscape of web3 gaming to be. Focused on growing the GameFi space, they have multiple projects in the ecosystem, that are designed to bring as much value to all of their gaming partners and community.
Not just one but their five missions are stated below:
UNIX's mission is to be the first digital nation with the biggest virtual economy utilising their community assets and DAO token in the metaverse.
UNIX's's aim is to be a complete web 3 gaming ecosystem. To play, support, develop and create gamers and games.
UNIX aims to be a bridge between web 2 to web 3. Taking a huge step in this direction already when partnering with AZUR games to become their exclusive web2 to web 3 bridge.
UNIXThey provides training, management and support for their gaming talents to help them perform at the highest level.
UNIX aims to build the first true gaming web 3 marketplace and gaming hub, designed by gamers for gamers. They have also developed a revolutionary SDK which enables web 2 and web 3 aspiring studios to connect to the blockchain with ease.
Aligning with one of the most premium Guilds out there will bring enormous talent, opportunities and exposure to the Resurgence project. Resurgence in turn looks forward to offering the UniX Community a first taste at experiencing a AAA MMORPG game, the likes of which has never before been seen in the web3 space.
"We are looking forward to welcoming the UniX community and team on board and are excited to nourish their NFT and gamers collections with our AAA game. We are psyched to partner with a Guild of this calibre. Their great goals and aspiration to be a leader in the metaverse, is inspiring to say the least and we at Resurgence are proud to unite with such a venture." comments Resurgence CEO Ian Hambleton.
About UniX Gaming
UniX Gaming is the leading GameFi 2.0 ecosystem with a network of 200K+ active gamers and 40+ game partnerships. They're creating the ultimate support network for developers & publishers looking to kickstart their transition to Web 3.0. Welcome to the UniXverse, home to the launchpad Final Round, UniX Guild, 1MHz game-dev studio, and soon MetaMeet social app & NFT marketplace.
About Resurgence
Resurgence is a cinematic game, built by designers and developers that come from the likes of PlayStation and Sony. They have also worked on games such as Horizon Zero Dawn, Gran Turismo, FIFA, Tomb Raider and many more.
SOURCE
https://resurgencegame.medium.com/launching-into-the-unixverse-298ef632f2d