GAGARIN Strategic Partnership with iXiRPAD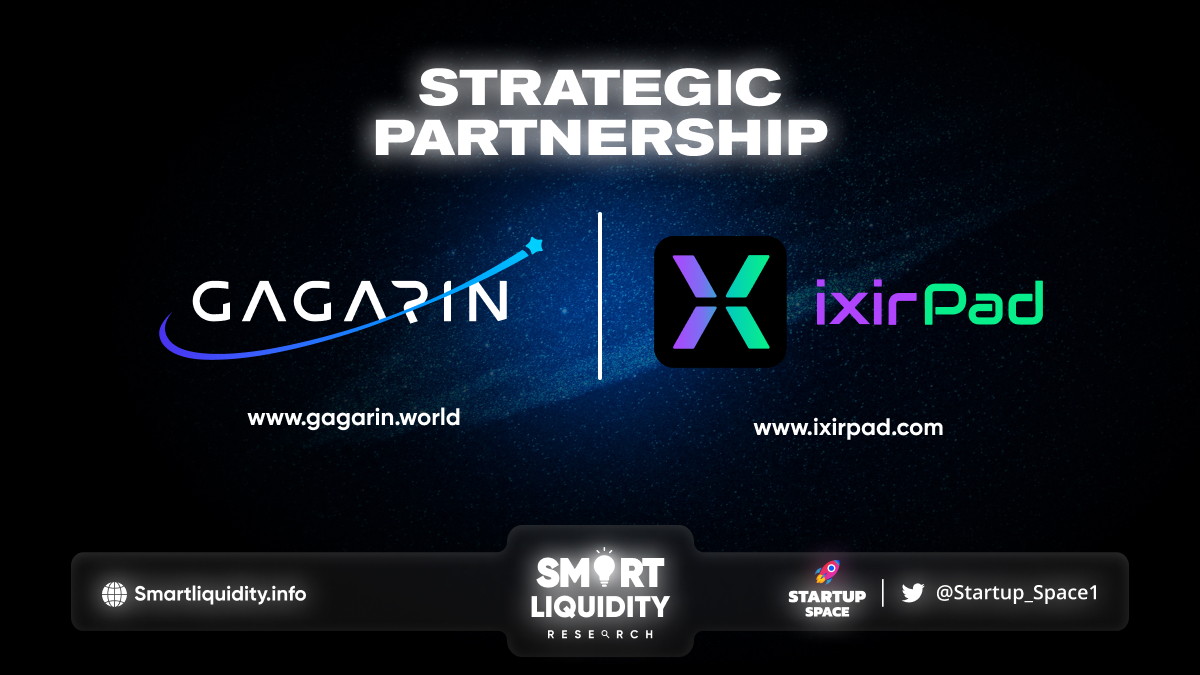 GAGARIN Launchpad has announced strategic partnership with iXiRPAD, a decentralized cryptocurrency and crypto exchange platform.
What Is The ixirPad?
iXiRPAD is the world's first launchpad to protect small investors. When participating in IDOs on ixirpad, the priority is the time to be staked rather than the amount staked.
Before placing a project on the ixirpad launchpad, By checking it with its own audit values, it is safe, with a bright future, up to the contract and site details. ixirpad analyzes projects in detail and brings you only quality projects.
The Ixirpad project, together with its experienced management staff from the crypto industry, has done a very meticulous and comprehensive research on its fields of activity and is equipped with features that distinguish it from other projects with point-to-point applications that fully meet the needs.
While aiming to create a stress-free investment environment for all its investors, it also aims to provide a regular income in a way that will be least affected by the fluctuations in the crypto market.
When their staking rules are examined, it will be seen that the 1-year stake pool is highly encouraged in order to get high allocation from quality projects with a low investment. Thus, it is arranged to be advantageous for everyone who trusts their project the most and shows this trust with a long-term stake. The 1-year token locking action of the investor who comes to participate in each new project offered for sale shows that the number of IXIR in circulation will tend to decrease continuously. It will support both the token price and making it a remarkable attraction for new investors.
It is an absolutely indispensable principle that the projects presented to the investors in the Launchpad section consist of projects that can survive in the market with their quality during and after the vesting period.
What is the iXiRPAD Launchpad?
Which will be on pre-sale ; IDO (initial Defi offering) , ICO (initial coin offering) , IMO (initial metaverse offering) and IGO (initial game offering) It is the place where the first launch sales of the projects that will take place in more than one lane will be made.
How will Pre-sales be made on ixirPad Launchpad?
In order to participate in the pre-sales on ixirpad, you will first be able to make a guaranteed allocation according to the weight you will create on the pool by staking the ixirpad tokens you have on https://app.ixirpad.com/staking.
What Is The ixirPad Stake Pool?
There are 2 stake pools in the ixirpad stake system. Pools; It is divided into two as 30 days and 360 days. It is the platform where investors participate in pre-sales by adding as many ixirtokens as they want to the pools and receive a certain amount of APY (annual interest) annually.
What is the Difference between 30 Days and 360 Days Stake Pools?
The 30-day staking pool gives you a buy rate of 1x the token you stake.
The 360-day stake pool gives you the right to buy 30x the token you stake.
For Example:
Let's say you stake 1000 ixir tokens to both stake pools.
Allocation from the 30-day pool: 1000ixirtoken*1: 1000 ixirpoint,
Allocation from the 360-day pool:1000ixirtoken*30:30000 ixirpoint
In that case; By investing the same amount of tokens, you can increase your normal buy right by 30 times by long-term staking.
TOKENOMICS
Reserved Funding (One Year Lock): 7.000.000
Advisor (%1 Unlock Per Week): 10.000.000
White List: 3.000.000
Pre-Sale: 30.000.000
Liquidty (Five Years Lock): 5.000.000
Development (Six Months Lock): 10.000.000
Stake & Farming (Unlock Per Months): 5.000.000
Marketing (One Months Lock): 10.000.000
Partnership (One Year Lock): 10.000.000
Reserved Funding (One Year Lock): 7.000.000
What is the IXIR token IDO prices and informations?
Total Supply: 100,000,000 ixirtoken
Whitelist Price : 0.018 Usd($)
1st round price : 0.024
2nd round price : 0.028
3rd round(listing) price : 0.032
Is there any additional fee on Buy & Sell?
The spillage is %0,1 and there is not any buy & sell & transfer fee on iXiRPAD token.
About IXIRPAD
IXIRSWAP is a decentralized cryptocurrency and crypto exchange platform. It is also a comprehensive project that includes the ICO Launchpad and Audit platforms.
About GAGARIN Launchpad
The GAGARIN launchpad is an expert platform for launching cryptocurrency projects and conducting IDOs.