MOVENS Partnership with Galaxy Arena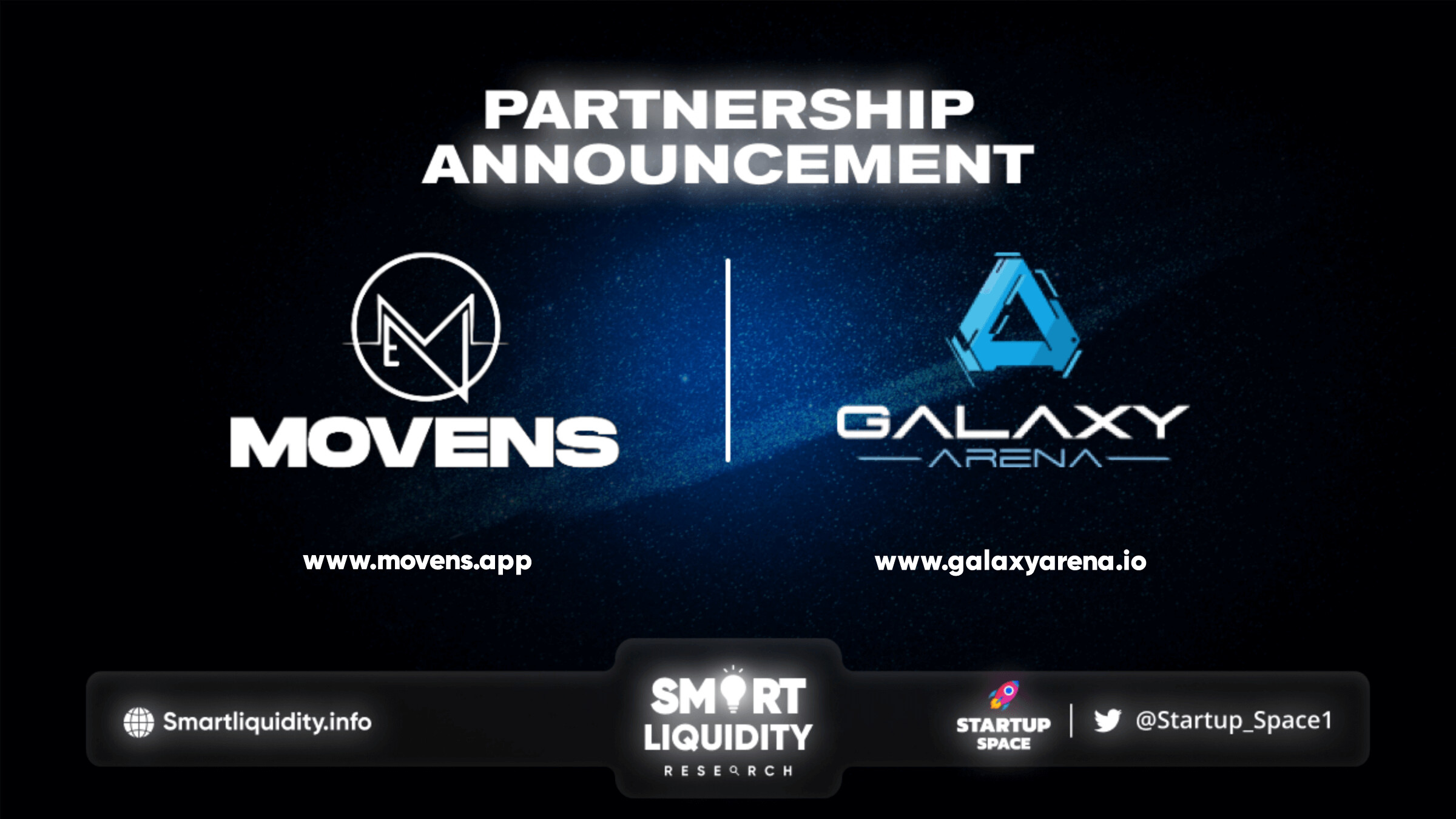 MOVENS is super excited to announce its newest partnership with Galaxy Arena, the one and only VR Earn game aggregator metaverse HUB.
Overview of Galaxy Arena
Galaxy Arena Metaverse is an entertainment venue that puts on events, live fights and acts as a hub for all other "to earn" platforms.
They have pioneered the "Train to Earn" concept and their vision is to keep users healthy and fit in the metaverse. Their product is actually ready and explorable. Users are able to explore everything as of now.
The other major part of their project is to host celebrity events & live fights. This will be done using volumetric capture technology to give an immersive experience. GA comprises of 3 sectors :
The Galaxy Arena (for fighting events, shows and exhibitions)
The Galaxy Gym (offering opportunities to train with top tier fitness coaches and athletes, TRAIN TO EARN and participate in group or private sessions)
The Galaxy Tower (where you can enter the celestial casino, own VIP facilities and have meeting at restricted access lounges)
The Galaxy Arena Ecosystem
The Galaxy Arena ecosystem is large and requires an efficient economic system to bootstrap the play-to-earn business model. However, they do not rely on fiat to do this. Instead, like most blockchain ecosystems, Galaxy Arena adopts a token for incentivization and other important activities.
The Essence token (ESNC) drives several activities within the Arena, such as purchases, wagers, and exchanges. Given this, each user kickstarts their journey in the Galaxy, purchasing a ticket with a single Essence token. Other use-cases for the token include gambling, purchasing additional passport tickets, acquiring avatar upgrades, skins, in-game items, real estate.
Overview Of MOVENS
MOVENS is the first project to combine battle and sports features. They built app with Game-Fi and Social-Fi Element. It is not just a move2earn project. MOVENS is MOVE BATTLE EARN.
As a mobile application, MOVENS leverages a variety of technologies to accurately monitor and track exercise activity, providing a full-fledged exercise tracking and management solution. These technologies include GPS tracking for distance measurements, boost zone participation, and personal challenge completion as well as blockchain technology for assigning and distributing rewards efficiently.
Unique features
MOVENS boasts a wide variety of features and attributes — including:
GAME-FI ELEMENTS
Monsters will spawn once every 12 hours with different amounts of HP. System will automatically convert the steps you collect and calculate them as damage. Players will be given one ticket daily to participate in the Boss Battle.
GET YOUR CROWN
In specific Locations, the Crown will Spawn. Additionally, the Crown has different tiers and has an extra cooldown time when unlocked based on that tier.
DeFi Elements
Their in-app wallet will have built-in swap, stake and export functions to other wallets and NFT marketplaces. Putting crypto assets in the hands of millions, we will support our community with web3 education and increase crypto adoption. Earn and then learn…
SOCIAL-Fi
Players can create or join clans. By joining a clan players can interact and complete quests together.

Clan Quests
Team Quests
Sending Energy to Members
Chatting

Deflationary tokenomics
In order to balance long-term sustainability with fair rewards, MOVENS will make use of a variety of burn and lock mechanisms, as well as gradually expanding utility for the MVNS (and associated VNS) token.
Leaderboards 
Humans, are by nature, competitive creatures. With this in mind, MOVENS will feature local and worldwide leaderboards, allowing users to push themselves to their limits and pit themselves against others if they choose. Given the scope and visibility of the MOVENS platform, the leaderboard will also serve as a spotlight for top performers — unlocking a huge amount of exposure and potential sponsorship opportunities.
About Galaxy Arena
Galaxy Arena is a virtual reality play-to-earn metaverse that uses groundbreaking volumetric motioncapture technology to give users an experience unlike any other. With the Arena as the focal point, players can watch live stream professional fighters duke it out from their favourite leagues with the help of cutting-edge technology. Spectators can watch pay-per-view broadcasts from every conceivable angle — more detailed than if they were ringside.
About MOVENS 
MOVENS is the first project to combine battle and sports features. They built app with Game-Fi and Social-Fi Element. It is not just a move2earn project. MOVENS is MOVE BATTLE EARN.
SOURCE: https://twitter.com/movens_/status/1567062664526073856