DeQuest partners with Revolve Games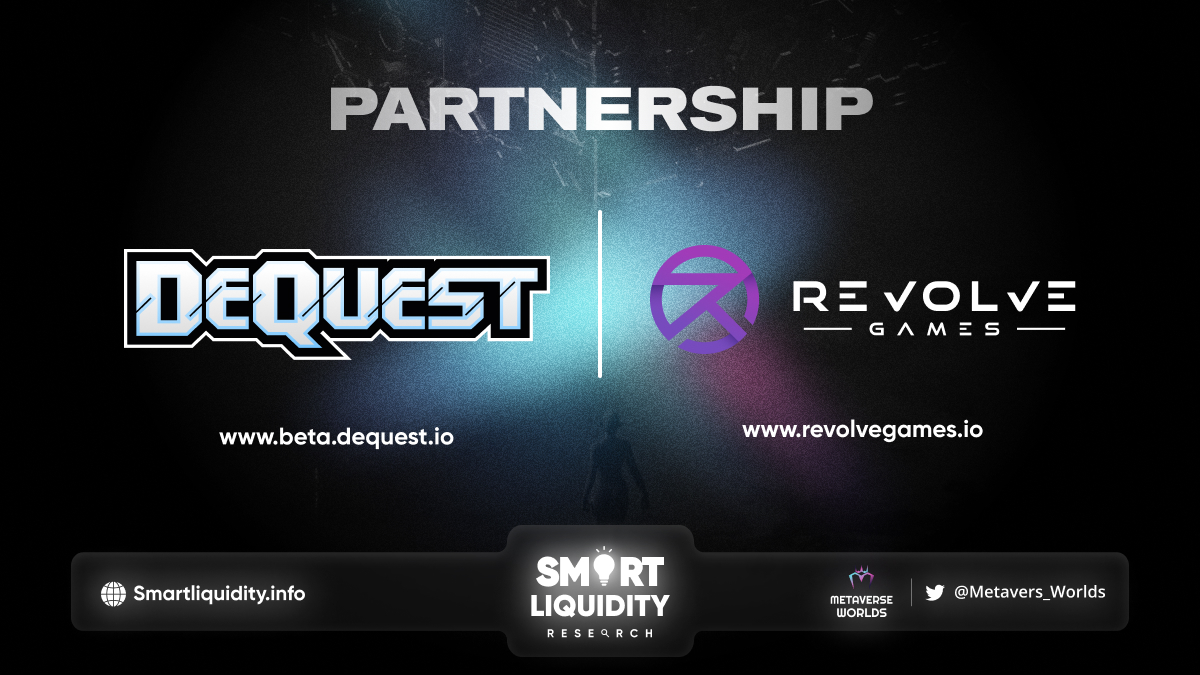 DeQuest is a Metaverse hub with a focus on gamified learning and user reputation building, partnership with Revolve Games.
Through this alliance, they will explore the Metaverse together. Focusing on developing valuable and rewarding opportunities to their respective communities. Which includes working together with the common goal of bringing entertaining, engaging and educational adventures. There will be token rewards up for grabs, and of course, Soulbound Tokens, all the while learning skills to guide you through their world.
Soulbound Tokens (SBTs)
Soulbound Tokens cannot be sell or move to another wallet, in contrast to other NFTs. The value they offer is a metaverse representation of your skills and game knowledge. They are a unique item and can only be obtain by individuals who can prove their knowledge of Revolve Games and its metaverse! Questers in Revolve Games can record their reputation and accomplishments on the blockchain thanks to DeQuest's ability to tokenise actions and achievements with SBTs.
Revolve Games SBTs and the DeQuest Metapassport
The Revolve Games Soulbound Tokens (SBT) will add to your GameFi identity via DeQuest's proprietary MetaPassport. Which serves as your ID throughout the whole metaverse, once you have received them. To increase the number of abilities and trophies on your profile. Fill it out using the information from your Steam account and complete additional missions on the DeQuest platform.
The MetaPassport is a crucial part of the DeQuest Reputation Layer, identifying a new generation of players who are actually improving web3 ecosystems. High-level MetaPassport users will have access to private forums for open discussions with like-minded players of similar skill levels, as well as exclusive awards and game beta testing.
About Revolve Games
Revolve Games is redefining GameFi , with a play-to-earn blockchain gaming ecosystem where users earn staking rewards according to their in game performance. The Revolve gaming mechanics and token utility are deliver through the Revolve Games galactic metaverse.
Actionable assets in the ecosystem are tethered and representative of an RPG (the native token of Revolve) stake. Simply, these NFTs will need to return to the staking contract in order for players to withdraw the corresponding RPG staked. NFT staking contracts can also be bought and sold through the Revolve NFT marketplace. This model ensures that the value of NFTs is always contained within, and supports the value of the native token.
About Dequest
We are the first multi-chain and cross-metaverse GameFi platform that verifies the achievements, activities, and behaviours of Metaverse citizens. DeQuest introduces playful ways to evaluate, build upon, and verify these to create a reputation layer for the Metaverse.
v1 — By completing quests related to your user persona and the games that fit your character. You can earn experience points (XP), badges (Soulbound Tokens), and non-monetary as well as monetary incentives. The quests we offer include content and activities that let you learn basic skills about web3 gaming in our Skill tree paths.
SOURCE:
https://medium.com/dequest/dequest-partners-with-revolve-games-d586cfd06b75