6 Stablecoins Index Pool Now Live On Balansol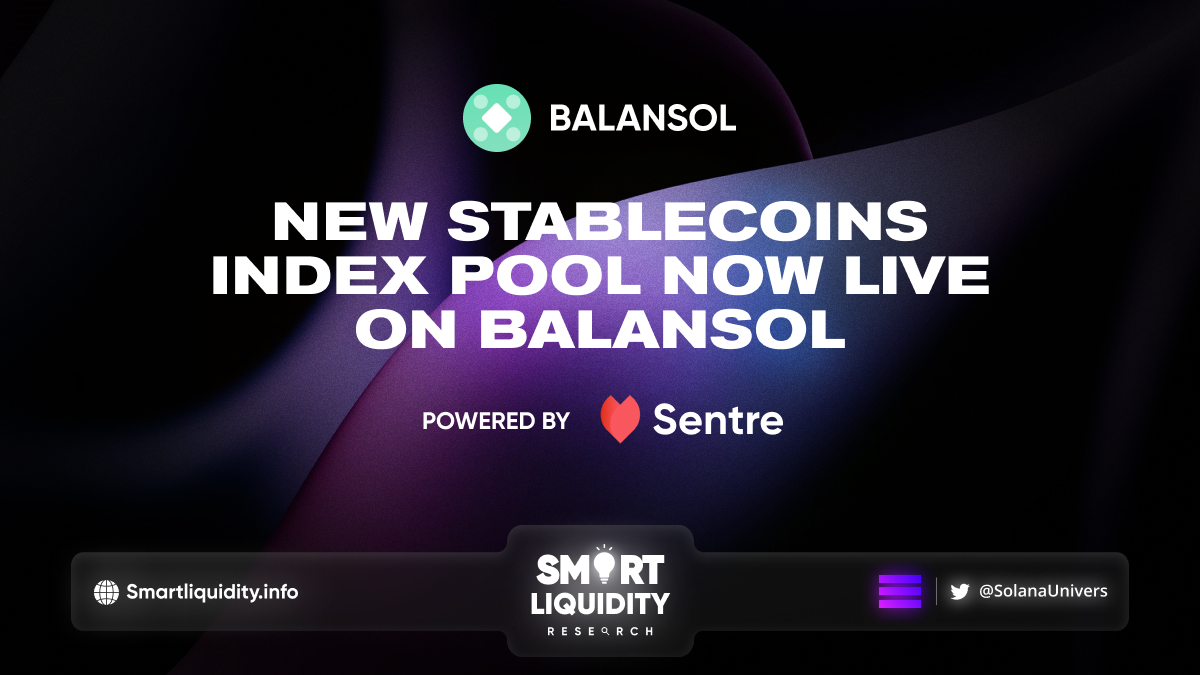 Sentre the First Solana All-in-one Open Platform with DApps Store and Universal Protocol for Liquidity, announced 6 Stablecoins Index Pool Now Live On Balansol.
The new 6 Stablecoins Index Pool is now Live on Balansol, powered by Sentre.
With this 6-stablecoin index pool, users will be shielded from the volatility of the crypto market while also earning a lovely return on  their investment.
The pool includes six stablecoins: USDC, USDT, PAI, USD, USDH, and USH.
Why choose a Stable Index Pool?
Stable pools are a great way to increase capital efficiency for like-kind swaps. These pools are designed specifically for assets that trade at a similar price, so traders and liquidity providers can take advantage of the pool's stability to make better trades.
By investing in a basket of different stables, you are less exposed to the volatility of any particular coin. This can help mitigate some of the risks associated with investing in cryptocurrency.
Another benefit of investing in a Stable Index Pool is that it gives you exposure to a wider range of projects than if you were just buying individual coins. By holding LP tokens, you are effectively invested in every project that makes up the pool.
Balansol stable pools, like Balancer, have the advantage of being plugged into the same protocol as weighted pools. Trades are much more efficient because all of the tokens are stored in the same vault.
How to deposit in Balansol's Stable Index Pool
It's time for your investment in the 6-stablecoin index pool! This pool is a great way to diversify your portfolio and get exposure to some of the most popular stablecoins on the market.
Install Balansol

Then, search for the pool address below: HCoxPbYLG4ayAn4iXHdhouJPG2qwH4uVhKFMRJpJaEnpOr look for the pool on the pool dashboard.

Start depositing
Click on the "Deposit" button to start your investment in the pool.
A window will appear below, where you can enter the number of tokens you want to deposit. The number of LP tokens you will receive is list at the bottom. When you are finish, press the "Deposit" button.
Once you've completed these steps, you will be automatically enroll in the pool and will start earning rewards based on the performance of the underlying assets.
After you deposit into the pool, you can track the TVL (Total Value Locked), APY (Annual Percentage Yield), and look for your LP in contribution on the top of the dashboard.
About Sentre Protocol
Sentre Protocol is a DApp Store for All Things Solana where:
Users can install and use their favorite DApps on a single platform;
Developers and partners can deliver their DApps through Sen Store, fully use available resources and contribute to the platform with no restriction.
SOURCE
https://academy.sentre.io/6-stablecoins-index-pool-balansol/